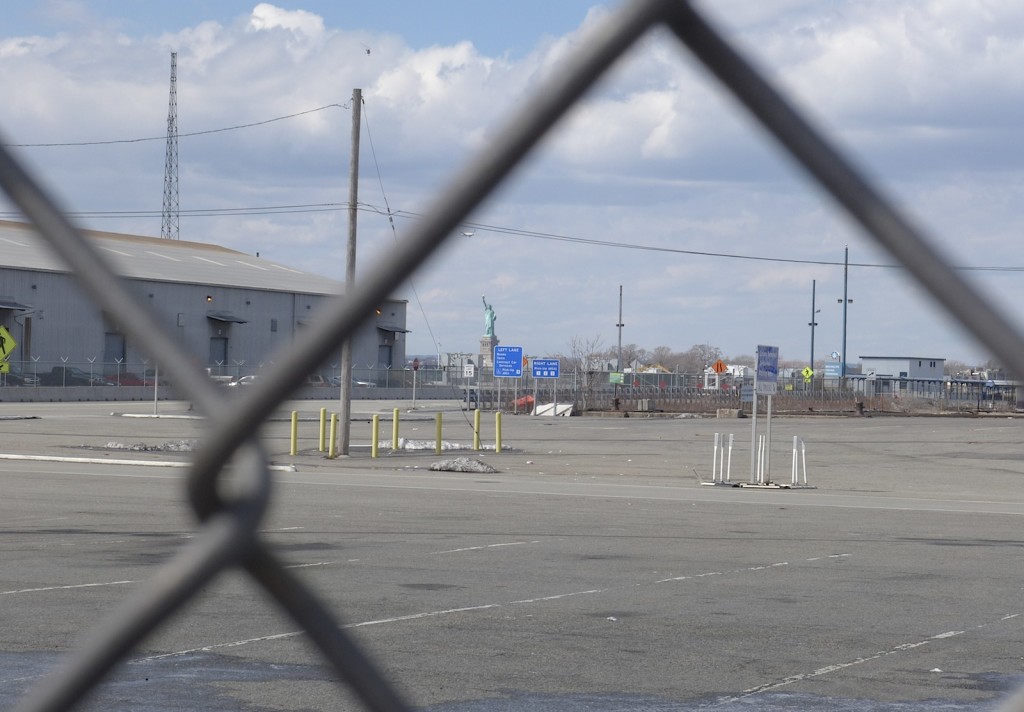 Brooklyn was the subject of enormous foodie (and other) media hype in recent years, and you could be forgiven for thinking that this is the Holy Land of world gastronomy (and many other things). The images linked to this aura are of streets of treelined brownstones, small stores and cafés with world-class restaurants occupying alternative spaces in places like the basements of supermarkets and displaying no sign at the entrance. From then beginning Red Hook was the Outer Limits of this myth, its distance from the nearest subway station adding to its cool edginess (even if it's home to IKEA). That Red Hook can also look like the pictures above (note the Statue of Liberty in the distance) is something few hipsters realize.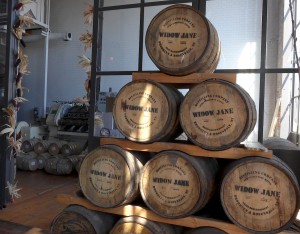 Warm sunshine and some time on my hands was a combination too good to miss, so yesterday I headed out on a long expedition to Red Hook. To some of you this might look like a failure, because I didn't get to Red Hook Winery at Pier 41, but that strikes me as being a story in itself. However, what drew me to Red Hook was not only the uniquely sprawling landscape and dynamic architectural diversity, but also that this is one of the homes of the distilling revival in New England during recent years. There are too many new gins, bourbons and rums being produced in the Northeast of the US to attempt a complete list. However, with its rich but delicate flavor and silkiness there's no question  in my mind that Widow Jane 7 year old is one of the best new bourbons.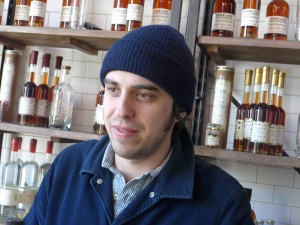 Oddly, it is made by a company called Cacao Prieto, that's also specialized in chocolate. It opened it's doors in a historic red brick building at 218 Canover Street in 2010 and has been distilling on this site since 2012. Distiller Dillon Mafit grew up in Sonoma County/CA and worked at wineries there, in New Zealand, South Africa and Spain before the distilling bug bit him. And I think it's fair to say that behind his work as a distiller lies a wine ethos. Sure that invites the cynical comment that spirits are the new wine (and, of course, wine was the new sex), but so what! He surprised me by saying that he was, "more of a rum guy than a whisky guy," then pouring me a sample of his rum. It was even more complex in flavor than the Widow Jane Bourbon, and suggests to me that this might become a future focus of the distillery.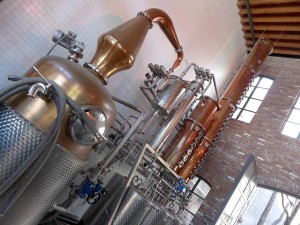 That would be a logical move, because during the 18th century the main export of the more northerly American colonies (where high quality tobacco couldn't be grown) was rum. The molasses for this its production imported from the Caribbean and this lead to the first serious dispute between the colonists and the government back in London. In 1733 the Molasses Act attempted to force the American colonists to buy molasses from the British Caribbean colonies rather than from the French islands (where it was much cheaper) by imposing a duty of sixpence per gallon on the importation of molasses from all non-British colonies to New England. This lead to much smuggling of molasses and the colonists were so successful in evading the Molasses Act that the number of distilleries in New England grew rapidly. For example, in Boston there were just 8 distilleries in 1738 and 63 in 1750! In spite of the failure of this clumsy attempt by London to impose its will on the New Englanders it was widely resented by them and the beginning of their disenchantment with the authorities back in Old England. The revolution started with rum and not with tea. The distilling of corn to make bourbon didn't develop until after the War of Independence. As you can see from the photo below not just any corn is used for Widow Jane, rather it is made exclusively from heirloom indian varieties.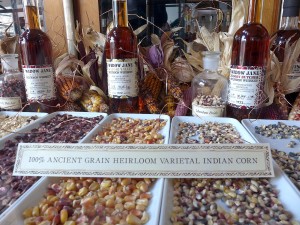 There is much else that I liked about Red Hook, and that in spite of some serious coolness and the correspondingly high hipster density in certain localities. The fact is that it still feels like it's on the edge. That has a lot to do with the number of bus depots, warehouses and workshops situated on what was marshland until well into the 19th century and the fact that Hurricane Sandy put almost of all of it briefly back under several feet of water. That scenario could easily be repeated, which has at least put the brakes on gentrification, leading to a mad mix of self-important New Architecture next to empty plots, (mostly) renovated older houses and ugly light industrial facilities. It's the tensions between these contradictory architectures that  makes the place so fascinating in its present phase of development. Another big storm would be a double-edged sword for Red Hook…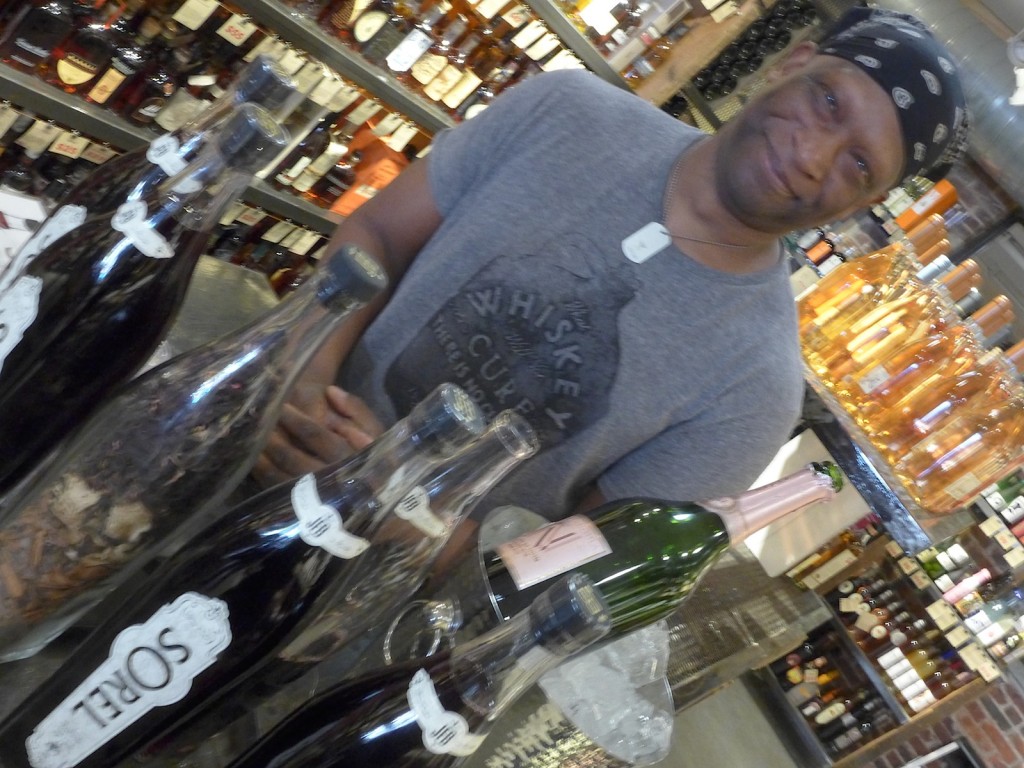 After a long walking back towards Downtown Brooklyn I was unexpectedly confronted by the Sorel liquor produced by Jackie Summers of Jack from Brooklyn; surely the most surprising new drink in the borough. It is based upon an old Caribbean recipe, which  requires steeping a pound of dried hibiscus flowers, ginger, nutmeg, cassia, clove per gallon of spirit. Instead of using the traditional rum – this product is related to what we are familiar with as "spiced rum" – Jackie uses organic grain spirit. That must have been a difficult decision when you consider his roots are in Barbados and Rum, originally called Rumbullion, was invented on Barbados back in the late 163os or early 1640s. What makes Jackie's Sorel so original is not so much this though, rather the fact that it has a moderate alcoholic content of just 15% (like a strong modern red wine) for a liqueur, and a  startlingly dry balance. The considerable acidity derives from the hibiscus flowers (which also give it the color) is responsible for the impression of dryness at the finish, although the first impression is predominantly of clove and slightly sweet. Sure, Sorel can be mixed with everything from Blanc de Blancs Champagne  (which I tasted with Jackie) to gin and vodka, but the longer I lingered over it in the straight form the more exciting nuances of flavor I found in it. And the packaging Jackie developed has a timeless beauty that makes many new products from the major drinks companies of the world look tacky or plain dumb!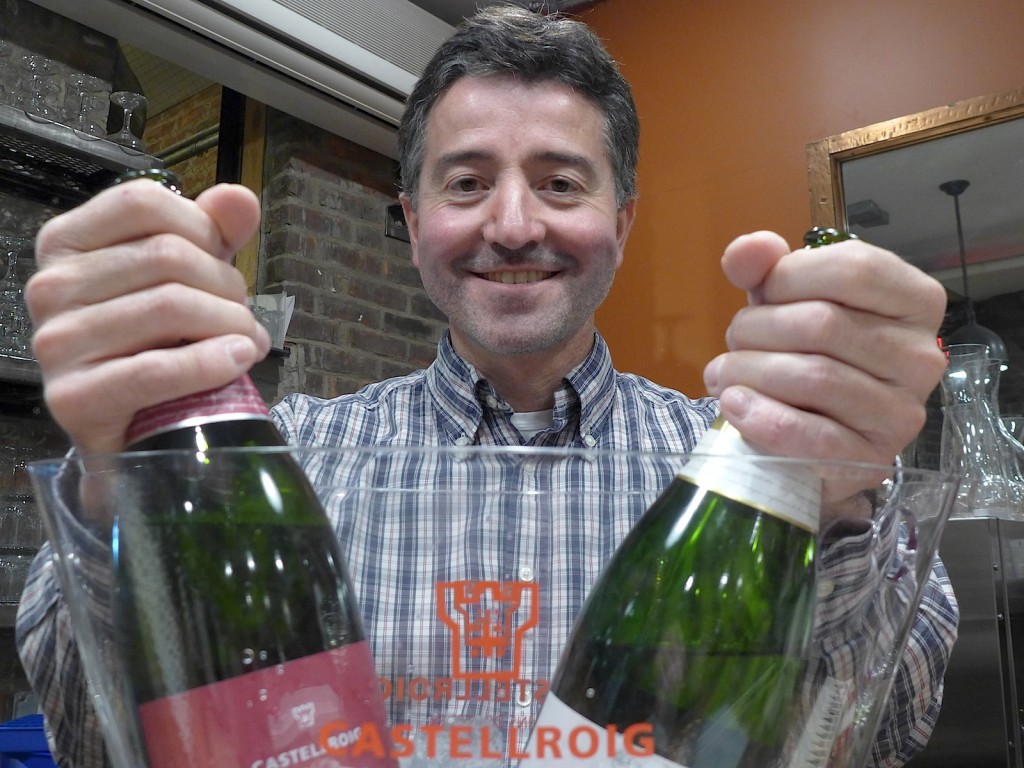 I not only bumped into Jackie at Brooklyn Wine Exchange on Court Street (one of the best stores in New York Wine City!), but also Cava producer Marcel Sabaté of Castellroig in the hills behind Barcelona, pictured above. The great thing about his sparkling wines is their totally distinctive aroma profile and very dry balance. I really enjoy the effusive fruit and straightness of the regular Brut, which is blend of the local varieties based on 60% of the Xarel Lo grape. Sure the Reserva Brut Natur with its fennel, beeswax and candied citrus peel bouquet, and a great balance between creaminess and crispness, then a long salty mineral finish is more exciting. However, to appreciate this fully you need to give it your full attention. (Mine was flagging after many hours of walking!) It is 75% Xarel Lo and Marcel also makes a great pure varietal still wine from this grape that is the most exciting new dry white I've tasted from Spain in a long time. All those herbal notes and that mountain freshness with just 12% alcohol is quite an achievement. I was revived enough to make the subway back to my sofa in Manhattan.