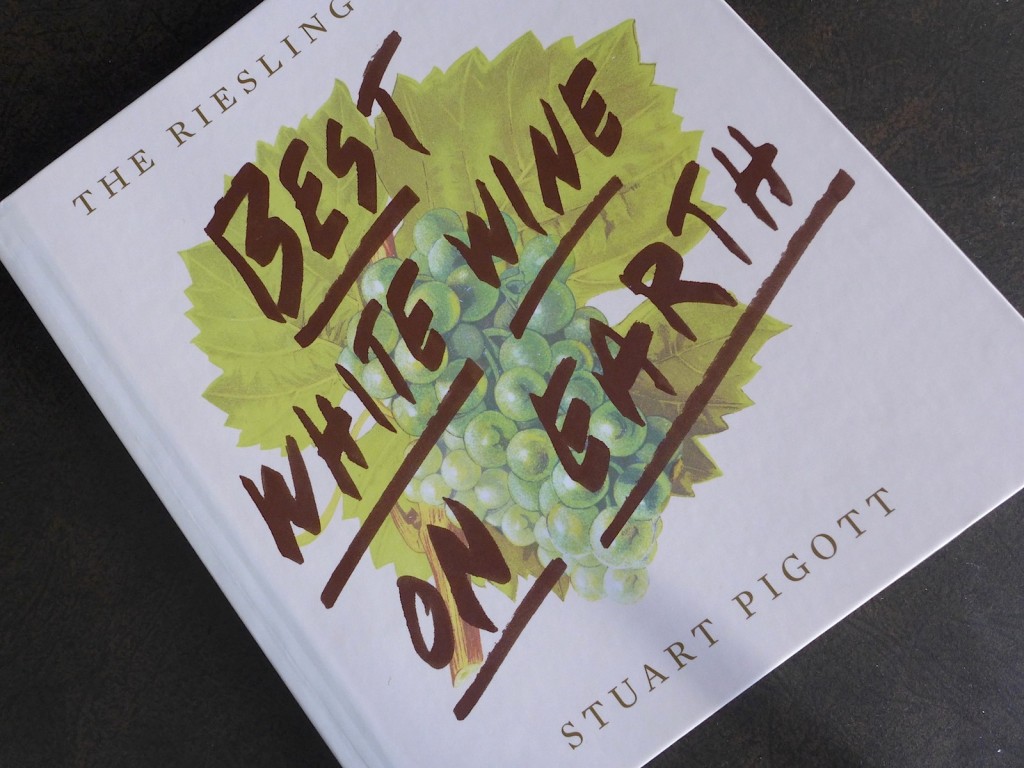 Yes, it's just one day until the publication of BEST WHITE WINE ON EARTH – The Riesling Story (aka #BWWOE) tomorrow by Stewart, Tabori & Chang in New York Wine City (NYWC) and I have to admit it feels strange announcing this from a Starbucks just off Regent Street in London's West End! However, tomorrow I climb on the back of a Big Silver Bird and let its wings take me across the Big Pond to NYWC in time for a celebratory dinner there. Riesling Global research for #BWWOE began on February 1st, 2012, and the entire process was seriously inspiring from that day thru to the on-going campaign to achieve world domination – I quip, of course, in the spirit of the book's title – with the team at Abrams Books, of which Stewart, Tabori & Chang is an imprint. During this time my life has changed more dramatically than even regular readers can imagine. That story will slowly make its way into these electronic pages, but the vital elements of the backstory can all be found within the 208 pages of #BWWOE. The book's basic principal is that you can't say everything about a subject this vast in that compact space, but all the things you really need to know about Riesling are in there.
So, dear citizens of Planet Riesling, I am asking you to actually read my new book. That may seem like an absurdly banal thing to say, but I'm sure a bunch of people in the NYWC scene and the comparable communities around the Planet Riesling are going to buy the book and put it on their bookshelf without reading it. That will be a terribly mistake, for they will thereby miss the very things which make #BWWOE not only different, but also revolutionary, outrageous, funny and – I hope – inspiring for you. My goal is nothing less than to promote an enormous expansion of the democratic and joyful Riesling Spirit.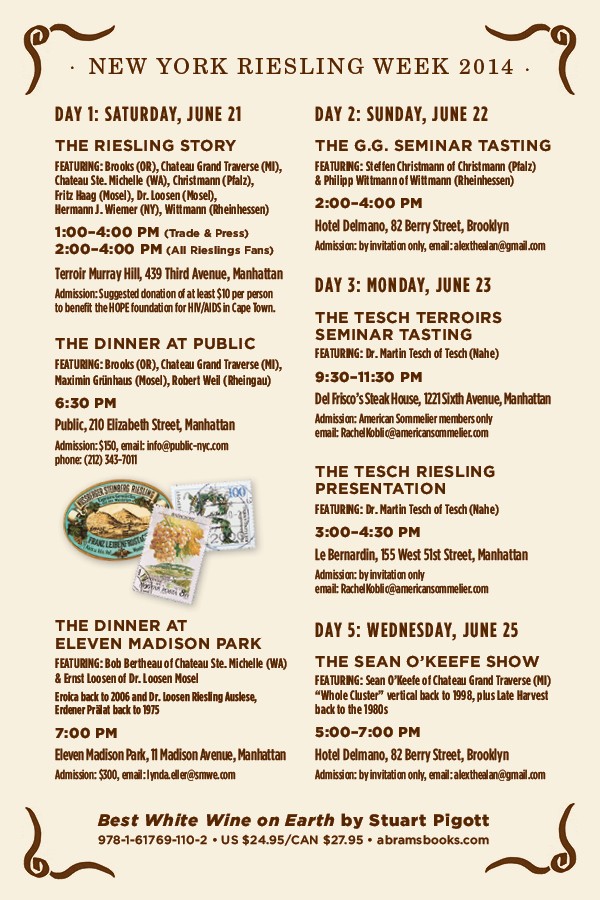 That will also be communicated in a more concrete form by the events during the New York Riesling Week which begins on the afternoon of Saturday, June 21st, the first Day of the Summer of Riesling 2014. JOIN US at Terroir Murray Hill from 2pm thru 4pm on that day for a spectacular afternoon celebrating Riesling and what it can do for body and soul. BY THE WAY several of the other events are marked down as "by invitation only". Please feel free to write to the email addresses given and ask to be invited. I can't promise that we can fit you in, but I'd say your chances were really good.