Don't get me wrong! Posting this startling image is not a sign that I'm abandoning my pacifist beliefs, much less that I've gone over to the Dark Side and now support the NRA (aka the guns and ammo industry). Pictured above is Janie Heuck Brooks of Brooks Wine in Oregon, a heroine of the recently formed United States of Riesling, on the day construction of the new Brooks winery began (April 1st this year). And yes, she actually fired off that AK47 which used to belong to the winery's founder, her brother Jimi Brooks who suddenly passed away back in 2004. Knowing nothing about either the wine industry or winemaking she immediately took over the running of the then 2,500 case per annum winery on Jimi's death in 2004 aged just 35. Since then she has expanded production, which is dominated by Pinot Noir and Riesling, to 12,000 cases with the help of winemaker Chris Williams. The remarkable things is that this wasn't achieved by softening or dumbing down the "against the grain" wine styles Jimi had doggedly pursued since the winery's foundation back in 1998.  You can meet Janie, along with three other leading American and four leading German Riesling producers at the launch of my book BEST WHITE WINE ON EARTH – The Riesling Story (aka #BWWOE) between 2pm and 4pm on Saturday, June 21st at Terroir Murray Hill (439 Third Avenue between 30th and 31st Streets). YOU ARE ALL INVITED! For more information scroll down on this page.
Janie and Chris's achievements were amply proven at the Brooks wine dinner yesterday evening at the Auden Bistro in Manhattan's Ritz Carlton Hotel, sort of the 'Phenomenal Femmes' series. Although I loved the Brooks Pinot Noirs (the 2011 'Janus' was at once dry and silky with a slightly sappy freshness, the 2008 'Red Letter' powerful and tannic, but also subtle), the elegant, just off-dry 2012 Oak Ridge Vineyard Gewürztraminer and the 2011 'Amycas' blended dry white (still really youthful for "regular stuff"), the twin high points for me were the two Rieslings. The dry 2010 'Ara' Riesling is a very striking and daring wine that will either excite you with its electric brilliance and understated power or sending you running for the cover of soft and "safe" Industrial Pinot Grigio (which is also produced in Oregon). Even at this age it is still just beginning to unfurl its apple and white peach aromas like a long banner fluttering in the wind. The 2012 'Sweet P' Riesling is a beauty that doesn't seem challenging, instead brimming with all manner of white fruit and floral aromas, but behind the transparent veil of grape sweetness is a core as firm and razor-sharp as a samurai sword. Together these dramatically contrasting great wines say everything about how in recent years Riesling has put down deep roots in Oregon and in America and quality has improved in leaps and bounds by winemakers taking learning from Riesling's homeland in Germany, Austria and Alsace/France.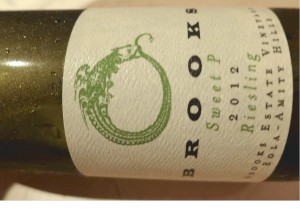 Janie and Chris are far from being the only examples of winemakers lacking family heritage in Germanic Europe who have no difficulty being inspired by it's wine culture. I know that might sound a bit strange, but that has to do with a profound cultural divide between America and Germany that opened up several times beginning almost exactly one hundred years ago. That divide has now been finally closed and we are fast approaching the point where it is normal for America winemakers to be inspired by German-speaking wine culture. This, and the comparable developments in other fields, are a great gain for America since they greatly enrich the range of cultural possibilities, just as they did a century and more ago (just think of eating hotdogs and drinking beer outdoors, which is of Germanic origin).Next to that one of the other important threads running through my book is the truly global nature of the contemporary Riesling phenomenon. As a colleague recently put it, "Cabernet producers tend to hate each other, only seeing each other as competitors and enemies and avoid communicating with they if can possibly avoid it. Riesling and Pinot Noir producers tend to regard each other as colleagues, and therefore want to exchange information and experiences with them." That is making Riesling strong and weakening Cabernet.