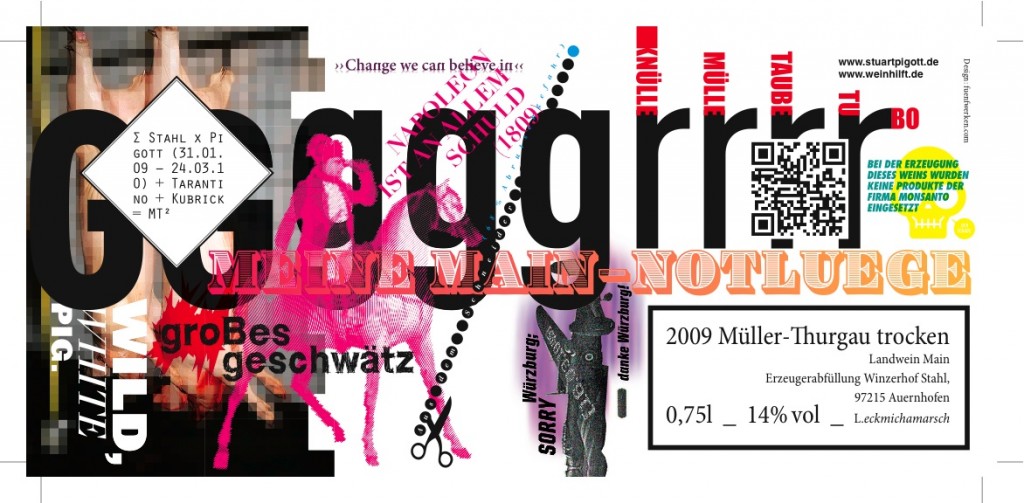 On the 3rd of October 2008 I began a major and distinctly crazy project which reaches its fruition in Berlin on the 5th September this year at the Museum for Film & Television in the Postdamer Straße 2 / 10785 Berlin. You can call this "The Pigott Wine" if you want to, but the final product was only ever one aspect of the whole for me. Principally it was about gaining experience.
Am 3. Oktober 2008 habe ich ein großes und gewagtes Projekt begonnen, das seine Vollendung am 5. September 2010 in Museum für Film & Fernsehen, Postdamer Straße 2 in 10???Berlin findet. Dieses Projekt kann man "Pigott-Wein" nennen, aber das Endprodukt war für mich immer nur ein Aspekt des Ganzen. Vorwiegend ging es mir um den Erwerb von Wissen und das Sammeln von Erfahrungen.
Two years ago on the Day of Germany Unity (3rd October) I moved into a two-person shared student flat in Rüdesheim/Rheingau in order to begin two semesters of study as a guest student at the famous Geisenheim Wine School just a few days later. Unfortunately, I didn't have the time for one of the three year BA course for which about a hundred people enroll each year. Fully half of them did not grow up in families who had anything to do with wine and I was amazed to find that at 49 years of age I wasn't the oldest student. From early October 2008 until late June 2009 I visited as many lectures as possible concentrating upon winegrowing and things directly and indirectly related to it, such as agricultural meteorology. As far as I could, given that I returned to Berlin each weekend to see my wife, I also took part in student life, that is lived a double life.
Vor zwei Jahren bin ich am Tag der deutschen Einheit nach Rüdesheim/Rheingau in eine Zweier-WG gezogen, um wenige Tage später ein zwei Semester langes Studium als Gasthörer bei der FH für Weinbau in Geisenheim/Rheingau anzutreten, der berühmtesten Weinbauschule Deutschlands. Leider hatte ich nicht die Zeit für ein drei-jähriges Bachelor-Studium. Rund hundert Menschen beginnen solch ein Studium jedes Jahr, von denen etwa die Hälfte nicht aus einem Weinbaumilieu stammen. Mit Staunen stellte ich fest, dass ich mit 49 Jahren nicht der älteste Weinbaustudent war. Von Anfang Oktober 2008 bis Ende Juni 2009 besuchte ich so viele Vorlesungen wie möglich. Mein Schwerpunkt war Weinbau, also die Arbeit im Weinberg und alles direkt oder indirekt Tangierte (z.B. Agrarmeteorologie). Auch am studentischen Leben nahm ich teil, was aber durch die allwöchentliche Reise nach Berlin um das Wochenende mit meiner Frau zu verbringen – Stichwort Doppelleben – begrenzt war.
On the 31st January 2009 I began the other part of my project by begining to prune the vines in a small vineyard situated in the Hasennest site of Tauberzell in Franken. In order to test my newly aquired knowledge I decided upon a practical exercise in winegrowing, for what students in Geisenheim call a "Weinbauprojekt". The goal of mine was to answer the question if it is possible to produce a wine of Großes Gewächs / Grand Cru quality from the humble Müller-Thurgau grape. To this end Christian Stahl of Winzerhof Stahl in Auernhofen/Franken lent me 0,1 hectare of 25 year old Müller-Thurgau vines in the Hasennest site and a small corner of his cellar. Thanks to the 68% inclination of the vineyard and the rocky limestone soil there tending the vines was physically very hard work. Just pruning the 400 vines took me 12 hours in sub-zero conditions. Rejecting the use of herbicides meant I had to control the weeds with a hoe, which was backbreaking. In total 200 man hours of work went into the cultivation of the 10 rows of vines up to and including harvest, of which 140 hours I did with my own hands.
Am 31. Januar 2009 begann die andere Seite meines Projekts mit dem ersten Tag Rebschnitt in der Weinbergslage Hasennest von Tauberzell/Franken. Als "Prüfung" meines neu erworbenen Wissens hatte ich mich für eine praktische Übung in Weinerzeugung, bzw. ein Weinbauprojekt entschieden. Ziel war die Beantwortung der Frage, ob es möglich ist, einen Wein von Großes Gewächs / Grand Cru-Qualität aus der Allerwelts-Traubensorte Müller-Thurgau zu erzeugen. Zu diesem Zweck lieh mir Christian Stahl von Winzerhof Stahl in Auernhofen/Franken 0,1 Hektar, bestockt mit 25-jährigen Müller-Thurgau-Reben im Hasennest, sowie eine Ecke in seinem Weinkeller. Dank der 68% Steigung des Hangs und dem steinigen Muschelkalkboden war diese Arbeit körperlich sehr anstrengend. Alleine der Schnitt der 400 Reben dauert 12 bei Unter Null Grad. Mein Verzicht auf Herbizide zwang mich zur Unkrautbekämpfung mit der Hacke. Insgesamt wurden 200 Arbeitstsunden bis zum Abschluss der Lese am 30. September 2009 in die 10 Rebzeilen investiert, davon 140 Stunden als mein eigener Einsatz.
The grape must had 100° Oechsle. It was fermented, then the wine matured, in stainless steel until bottling under screw-cap on the 24th March 2010. The 264 bottles translate into a yield of 19.8 hectoliters per hectare. On the 5th September the wine will be presented to the professional wine world. Any money made from will be donated to WEIN HILFT (see www.weinhilft.de)
BY INVITATION ONLY / NUR MIT EINLADUNG.
Der Most wog 100° Oechsle. Der ganz trockene Weißwein wurde von mir im Edelstahltank vinifiziert und am 24. März 2010 in 264 Flaschen mit Schraubverschluß gefüllt; ein Ertrag von 19,8 Hektoliter pro Hektar. Am 5. September 2010 wird er einem geladenen Fachpublikum präsentiert. Sämtliche Einnahmen gehen an WEIN HILFT (siehe www.weinhilft.de).