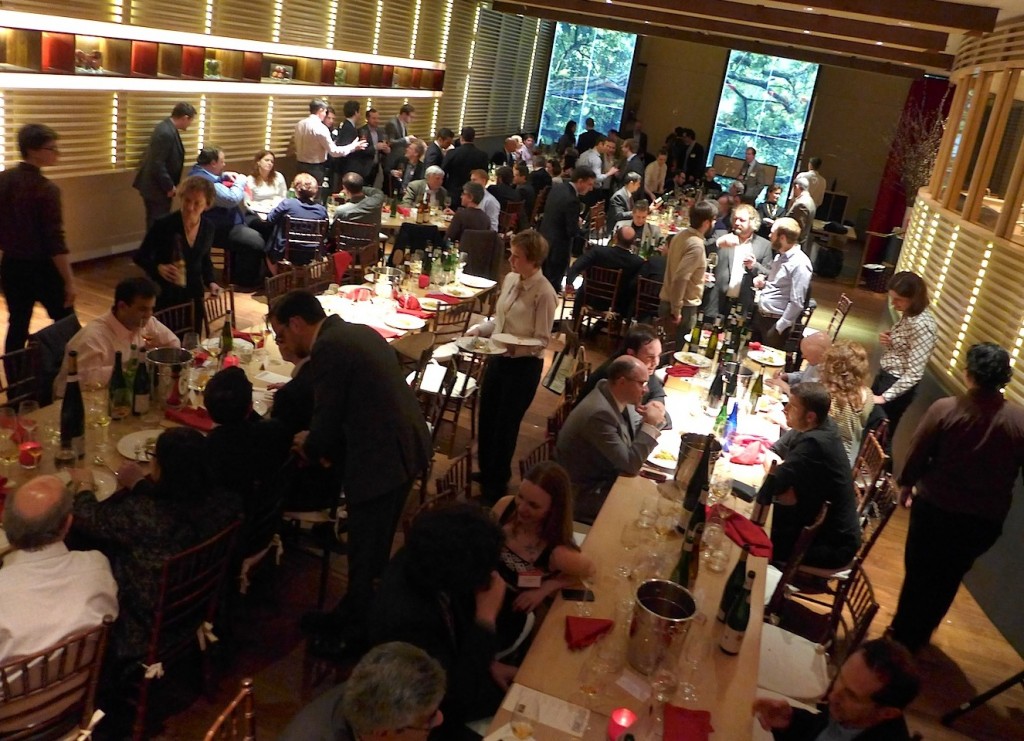 This is a photograph of the second Rieslingfeier, or Riesling Celebration (the direction translation of the German) that I attended on the evening of Friday, February 21st, 2014 in the private function room of the old Rouge Tomate Resaturant in NYWC (New York Wine City). On Saturday, February 20th 2016,  thanks to Stephen Bitterolf of the importing company VOM BODEN the event's founder and dedicated organizer, Rieslingfeier returns with two big events in one action-packed day. For more information and to book tickets go to: http://rieslingfeier.com
What makes Rieslingfeier so special? The same thing that makes a great story: the people and their interaction. It's not just that a great many of the most important people involved in the Riesling grape and its wines (for a list of the 18 participating winemakers scroll to the bottom of this story) come together, they do so in a way that's entirely free of the nagging self-doubt and neurotic self-searching that plagued Riesling during its years of crisis a decade and more ago. The Rieslingfeier euphoria also has to do with the presence of some very serious Riesling fans – I mean people not professionally involved with the wines – and the way they can connect with the producers, top somms etc. That doesn't happen in this way at many wine events of any kind anywhere, and I hope that the photographs below communicate some of that free-flowing, high-energy interaction. The first of them shows Paul Grieco, aka The Chairman (of Riesling) of the Terroir wine bar in TriBeCa, NYWC on the right with Gernot Kollmann of Immich-Batterieberg in Enkirch/Mosel. It would be hard to imagine a greater contrast of personalities than these two, but as you can see at Rieslingfeier they connected big time. The resulting inspiration is what it's all about!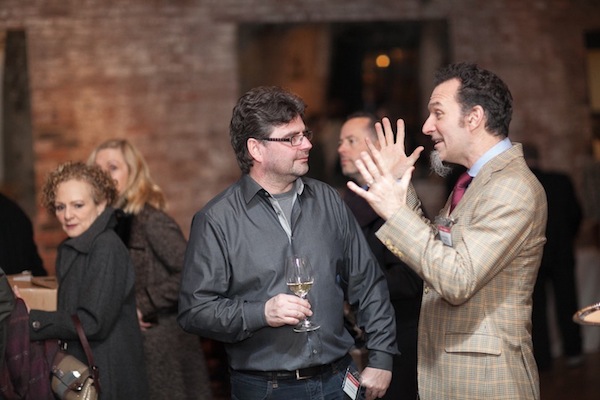 The problem for a writer to describe the atmosphere of such an event without rapidly falling into a series of clichés that give no more than a vague idea of how the Rieslingfeier dinner at 7pm at the Wythe Hotel at 80 Wythe Avenue in Williamsburg, Brooklyn will really be. $330 plus tax is quite a price, of course, but what you get is not only a great meal with remarkable wines from the participating winemakers and you'll get to sample a bunch of high-end Rieslings brought along by the guests. At the 2014 event I suddenly had three vintages of the Scharzhofberger Riesling TBA from Egon Müller-Schazhof in Wiltingen on the Saar (Egon Müller is attending again this year!) For those of you who cannot put up that kind of money there's The Gränd Tasting from 11am through 3pm at Back Label Wines on West 20th Street and 6th Avenue in Manhattan. The VIP ticket for this which gets you exclusive access to the 12 producers and their wines during the first hour costs just $50 plus tax. That is a steal and I'm making a "buy" recommendation!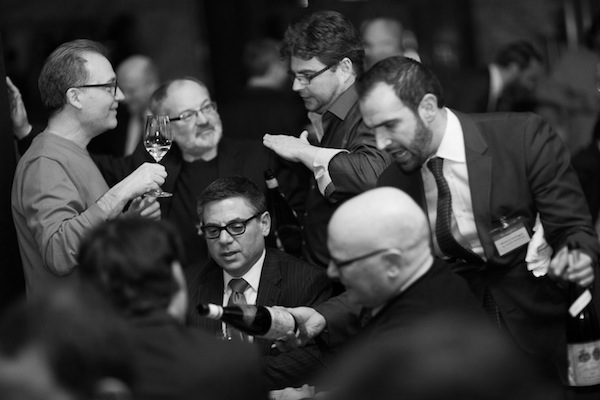 All of this has a personal aspect that it would be indiscrete of my to reveal in full, and I have to admit that this kind of situation cramps my style as a writer. However, I can tell you that I had a most remarkable conversation with a most remarkable person at the 2014 Rieslingfeier, and I hope very much to speak to them again at the 2016 event. That one conversation lead to many others, much reading and thinking, and as a result I am living very differently now to how I did back then. That means I striving to be a more positive, open, compassionate and loving person, rather than often narrow, sometimes closed and judgmental one I was before. How well I'm succeeding at that is another matter, but all meaningful change starts with the decision to change, the growth of the determination to change, and potting that into practice is almost never as easy as it sounds. I humbly suggest that if Rieslingfeier could not only stun me with many amazing Rieslings, but also introduce me to someone who changed my life, then it could do so for you too!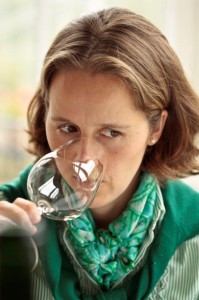 Top of my personal list of participating winemakers is Katharina Prüm of J. J. Prüm in Wehlen on the Mosel. We haven't been able to talk in quite some time, although I have no illusions about the fact that there will be several other people at Rieslingfeier with the same idea! Here is the list of winemakers who will be attending and pouring:
Jochen Beurer of the Beurer estate of Stetten in Württemberg, who makes some remarkable dry wines in this rising star among Germany's wine regions.
Caroline Diel of Schlossgut Diel in Burg Layen in the Nahe makes brilliant dry and sweet wines that have made her one of the region's top winemakers.
Gernot Kollmann took over the direction and winemaking at Immich Batterieberg in Enkirch on the Mosel in 2009, and within very few years he has turned it into one of the region's leading producers of dry Riesling.
Florian Lauer of the Peter Lauer estate in Ayl on the Saar, who since 2005 has taken this small estate from anonymity to international star status with complex wines ranging form bone dry to aromatically sweet.
Johannes Leitz of Josef Leitz in the Rheingau, who since the turn of the century firmly put Rüdesheim back on the map for top quality dry and west wines, and transformed this producer from being a name known only to insiders into a global Riesling brand.
Ernst Loosen of Dr. Loosen on the Mosel is an unlikely Riesling Hero. Completely unknown when he took over control of his family estate in 1987 he is now a German Riesling Superstar and one of the nation's most successful quality wine exporters.
Egon Müller IV of Egon Müller-Scharzhof in Wiltingen on the Saar continues the tradition of this producer for world-class sweet Rieslings that range from the delicate to the unctuous and honey-sweet.
Roman Niewodniczanski took the almost literally crumbling van Volxem estate, also in Wiltingen on the Saar, and turned it into one of the region's largest, best and most acclaimed producers in just 15 years.
Katharina Prüm of J. J. Prüm in Wehlen on the Mosel has already been introduced. This producer is synonymous with Mosel elegance and finesse!
Hansjörg Rebholz of Ökonomierat Rebholz in Siebeldingen in the Pfalz producers some of the best and most original dry wines on Planet Riesling; character and elegance rather than raw power are their hallmarks.
Dr. Carl Ferdinand von Schubert has directed Maximin Grünhaus in Mertesdorf in the Ruwer since the early 1980s and today this famous estate is once again right at the top of its game, making uniquely aromatic and strikingly racy wines.
Dominik Sona does things the traditional way at Koehler-Ruprecht in Kallstadt in the Pfalz, just as his predecessor Bernd Phillipi did, and that makes for deep and complex dry Rieslings.
Christian Witte has taken world-famous Schloss Johannisberg in the Rheingau out of a period of erratic performance back to the very top since he took over there in 2005; great dry and sweet Rieslings!
Stefan Steinmetz of Günther Steinmetz in Brauneberg on the Mosel is one of the rising stars of this region.
Johannes Weber of Hofgut Falkenstein on the Saar, has made a major commitment to traditional winemaking techniques is also one of the stars of his region.
Wilhelm Weil of Robert Weil of Kiedrich in the Rheingau has taken that estate from the  mid-field of that famous region to the top since he took control of it in 1987; world-famous desert wines!
Konstantin Weiser and Alexandra Künstler jumped into deep water in 2005 when they purchased their first steep vineyards with slate soils and launched Weiser-Künstler in Traben-Trarbach on the Mosel.
See you there!