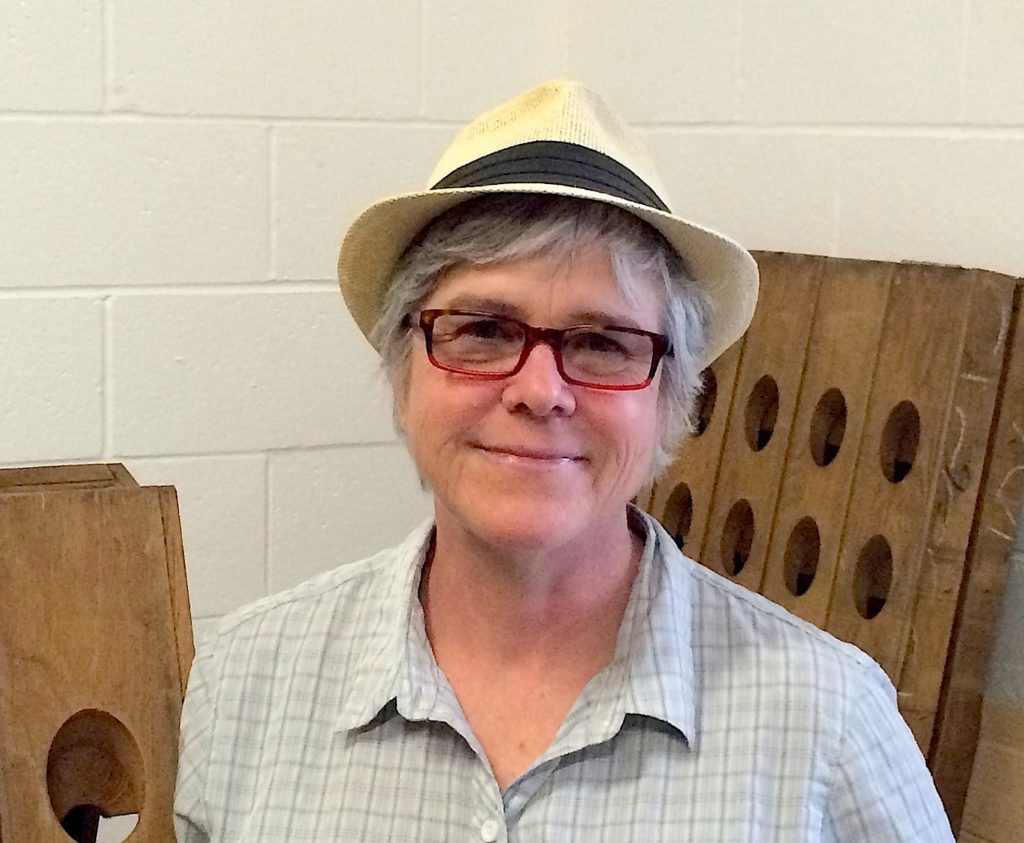 Since early March 2019, when I began work for the Gut Hermannsberg (GHB) wine estate in Niederhausen in the Nahe region of Germany, the focus of this blog has certainly shifted. Here's proof that it is by no means limited to stories about GHB.
Recently winemaker Dr. Nancy Irelan of Red Tail Ridge estate winery in Seneca Lake/FLX (Finger Lakes) in Upstate New York was recently on the list of semi-finalists for one of the James Beard Awards – the "Oscars" of food and wine in America – but she didn't make it to the finals, much less has she won the award itself. I'm sure that she doesn't see it this way, but I think you could say that once again she has been damned with faint praised. You see, again and again during the dozen years since the winery released its first wine people have said nice things about her, but nobody ever publicly celebrated her special form of genius. Maybe it's because she never did or said anything outrageous enough to abruptly drag the world wide web's attention to her. Maybe it's because she's a strong-willed, highly intelligent and extremely articulate woman. Maybe's it's because she doesn't neatly fit into any of the established roles for women winemakers. Strangely, I'm pretty sure that if she were a movie director then she'd have a better chance of wining an Oscar, than she has of wining a James Beard Award as a winemaker!
But let's begin this story in 2004 when Nancy and her husband Mike Schnelle, then an accountant and now a self-taught grape grower, purchased a 34 acre parcel of wooded land on the west side of Seneca Lake.  At this point, the year of my first visit to the region, the reputation of the FLX was a pale shadow of what it is today. The first planting was 3 acres of various clones of Pinot Noir that went into the ground in the spring of 2005. However, a huge storm of the kind locals call a "gully washer" hit just a couple of days after it went in and the rain washed all the young vine stocks out of the ground. Mike was alone at the estate, because at this point Nancy was still Vice President for Victiculture & Oenonolgy RD for Gallo in California. He called her in a panic and she told him how he would have to try and find the vine stocks – they were all at the bottom of the hill – and replant them all by hand.  He did that and in 2006 they picked their first crop, just half a ton of Pinot Noir grapes. Nancy turned them into a Blanc de Noirs sparkling wine (to this day sparkling remains of Nancy's strong suits), "it was yummy," she says, "sadly it's all gone now, but one bottle." Winemaking is a double-edged sword and winemakers have to lick that blade repeatedly.
Fast-forward to October 2014 and my first visit to Red Tail Ridge. I was up in the FLX from NYC with my then girlfriend and she insisted we had to visit Nancy. She was right to overrule my skepticism and our first meeting was one of those connections with a winemaker that changed how I think about wine, although in a very non-dramatic way. At this distance in time it's hard to say exactly what lead to that, beyond stating the simple fact that Nancy is a very thoughtful winemaker who bases her decisions on strong science, but who's goal can be expressed in one old-fashioned word that she makes liberal use of: delicious! I say old-fashioned, because in the natural wine scene "authentic", "naked" and "real" have taken over the role "harmonious", "elegant" and "delicious" play in the regular world of wine. And the natural wine scene's disdain for the regular world of wine has made those words look increasingly like expressions of out-dated reactionary concepts.
Nancy has strong beliefs, not least in the central importance of deliciousness to the wine industry, but she's never rigid in her thinking. Taking several leaves out of the natural wine scene's book she makes an excellent skin-fermented dry white wine called "Miscreant" and Pet Nats (short for Pétillant Naturel). However, she also makes elegant dry Rieslings with bright citrus and stone fruit aromas in a style no natural winemaker would accept. Their generosity has a lot to do with the warm site and the limestone soil (unusual for the FLX) there. In the 2016 vintage it also has to do with the warm year she seemed to effortlessly master. You could say much the same about her Chardonnay too, a rare star for this grape variety in the FLX. And those Pinot Noir vines have matured to the point where they give silky and subtle red wines that no Burgundy lover would consider radical or revolutionary. Nancy is a self-confidently liberal winemaker who rejects all forms of dogma and the idealization that so often accompanies it.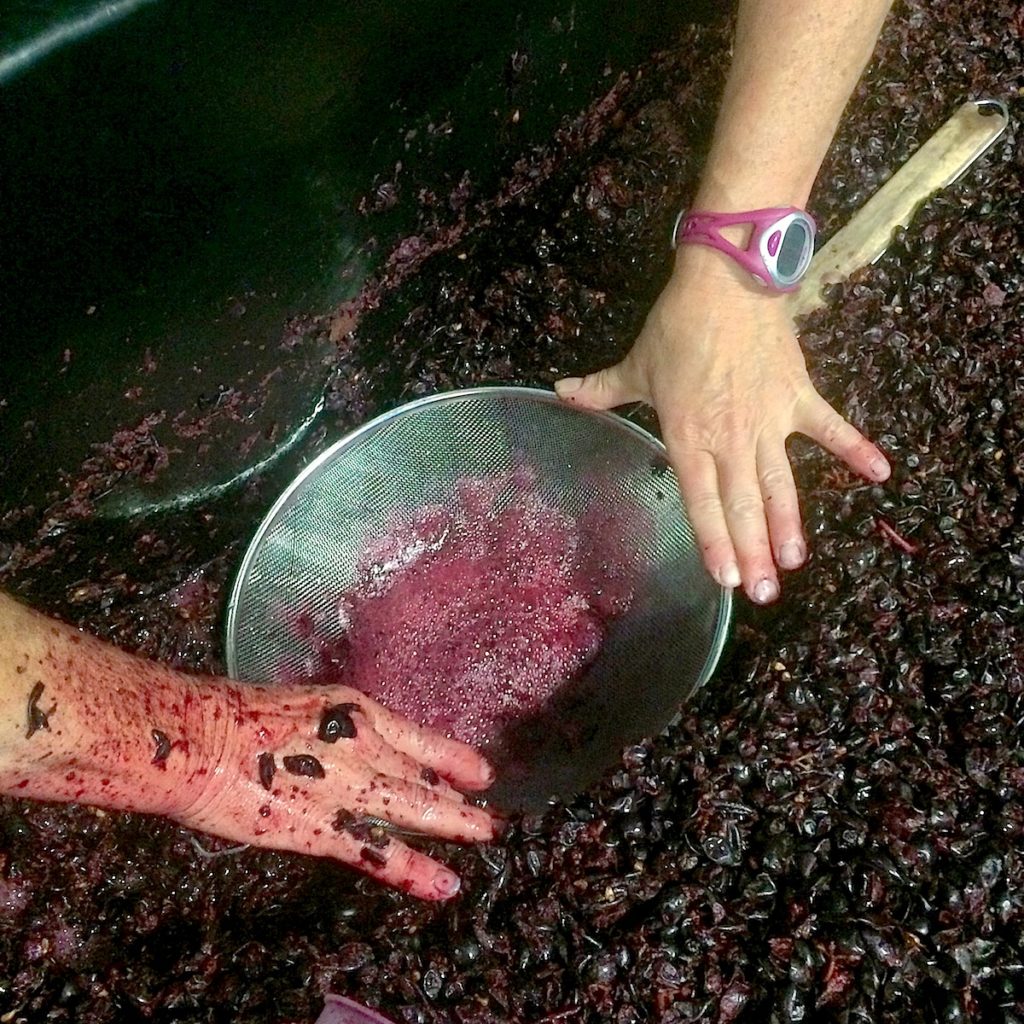 I used to repeat in mantra-like way the statement, "Red Tail Ridge wines are unspectacularly excellent", but then along came a red wine called Rebel with a Cause, a blend of Blaufränkisch (aka Lemberger and Kékfrankos in its native Hungary) with Lagrein and Teroldego. It is spectacular in many ways, beginning with that blend. The first of those grapes has a small tradition in the FLX, but the latter pair of Northeast Italian varieties have zero tradition anywhere in North America. The idea of pushing these three together is radical in the extreme and for this reason the name is a perfect fit. As luck would have it I was at Red Tail Ridge on the 3rd October 2016 during the fermentation of these grapes (pictured above with Nancy's hands) and could follow the development of this wine almost from Zero Hour onwards.
Of course, radical winemaking ideas is one thing and a delicious wine is quite another. Thankfully this bizarre marriage born in Nancy's fertile mind is a very happy one, though not without a stunning tension that make the 2016 Rebel with a Cause one of the most exciting new reds I've tasted anywhere on Planet Wine. And during the last three years I tasted about 25,000 wines from all the wine continents. Just how is it delicious? What grabs me most is the forest berries and wild herbs character and strong, but there's also the strident yet balanced tannins and vibrant acidity which together give it so much structure. This isn't a red for the faint-hearted who need a smooth as silk landing, nor is it for those who demand plenty of (reductive) funk in their wines as proof that they're "natural". Once again, some people will fail to take her seriously and that's the reason that the image on the label of Nancy preaching from a pulpit in the vineyard is spot on.