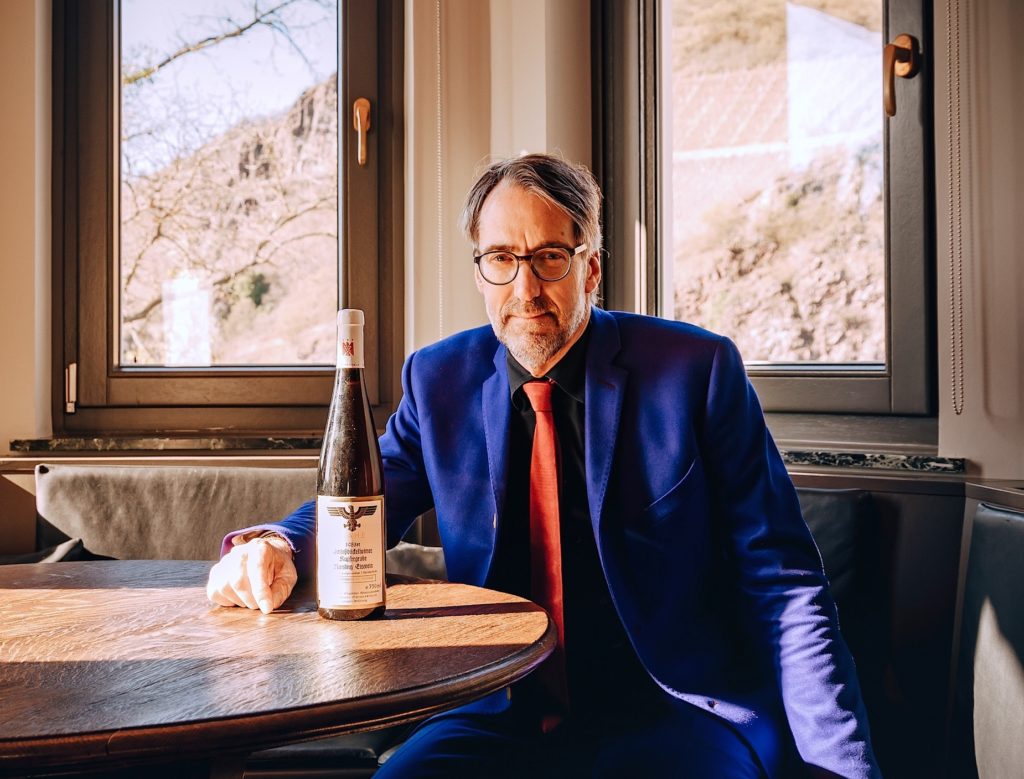 This is the first posting on my blog under my new masthead and this is Part 1 of the most important story I have to tell. / Es tut mir leid aber Sie müssen eine Weile auf die deutsche Übersetzung von Teil 1 der ersten Story auf meinem Blog unter dem neuen Logo warten. Ich arbeite dran!
As I walked into the Hindenburg Raum of the Staatliche Weinbaudomäne Niederhausen-Schlossböckelheim/Nahe State Domaine, today Gut Hermannsberg (GHB), on the sunny morning of Wednesday, 26th April 1984 I was a 23 years old art student and had no idea that it would change my life several times over. Today is the 35th anniversary of that day and it seems like a good opportunity to start telling that story properly.
It was the fifth wine tasting during a weeklong tour of top Riesling producers in Germany by English gentleman and wine merchant Philip Eyres (1926 – 2012) of Henry Townsend Wines based just outside my home town of London. I was both surprised and extremely grateful when, a couple of months earlier, he'd asked me to join him, his wife Jennifer and their son for the whole of this buying trip. It was my first professional wine tasting trip and, in spite of all I've learned and experienced since then, when I visit producers somewhere on Planet Wine I am basically continuing to do what I started doing that week. My first article about wine had just been published in Decanter magazine in England, and I also owed that connection to Philip Eyres! At the time those developments were so exciting that I barely gave this situation a second thought and never asked myself why he did all those things for me.
Although the atmosphere on that trip was extremely friendly, during the wine tastings it was also serious as we focused on the wines in near-silence. However, for Philip Eyres the entire undertaking was deadly serious, and without me realizing it at the time that made it serious for me too. It was many years before that all this started becoming clear to me and I may still not have reached the end of that process of discovery.
I remember the scene that greeted us in the tasting room very well. On a table in the Hindenburg Room stood a long row of tall brown wine bottles. Estate Director Dr. Werner Hofäcker had prepared every single Riesling they'd produced in the 1983 vintage for us to taste. None of the other producer we visited did that for us! It showed both Dr. Hofäcker's thoroughness and that Philip Eyres must have made a very good impression upon him during his previous visits. The fact that it was my very first encounter with the wines from this producer resulted in an element of surprise that turned out to be of crucial importance.
Right from the moment when I tasted first wine in the row it was clear to me these wines were very different to those we'd tasted during the previous two days in the Mosel Valley, but that didn't prepare me for the shock of the third of fourth wine in the tasting. It was a 1983 vintage dry Riesling from the Kupfergrube vineyard site and it stopped me dead in my tracks. "What the hell is that?" I remember silently saying to myself as I stood there and struggled to make sense of the smell and taste I'd just experienced. It was unlike anything else I'd ever experienced in the world of wine, or anywhere else for that matter. It instantly redefined what wine could be. In retrospect, I would say it was my first compelling experience of "terroir". Although I understood this was the French word for the taste of the place, I thought it only applied to French wine and cheese.
Unfortunately, I lost the notes I made that day soon after, but the notes from my second experience of these wines in London on the 22nd November 1984 show that already I'd started describing the aroma of the Kupfergrube wines as "pungent". This adjective usually has negative connotations in English, because it suggests a stink of some kind. I meant it positively though and stuck with it, because nothing else seemed adequate to conveying how intense and radical those wines tasted to me. I'm still struggling to find better words for the Kupfergrube wines. How do you combine "warm and spicy" with "firm and linear" then add "driving and primeval" plus "grapefruit zest and smoke" – my contemporary descriptors for them – and compress all that into just a couple words?
Although I had almost no disposable income when we I returned home I invested what for me was a gigantic sum of money in purchasing almost two dozen bottles of the best 1983 German Rieslings I tasted on that trip. The largest part of my expenditure was for 10 bottles from the Nahe State Domaine and a couple more bottles of their 1983 wines were added to that over the following years. I still have one of those bottles in my cellar!
I must make clear that back then none of this was due to any "Pro-German" feelings on my part. It was all about my very particular experience of discovery and revelation, and such moments were not limited to German wines, as my first taste of the red 1981 Château Cheval Blanc from St. Emilion in Bordeaux almost exactly three years before proves. However, during the next years the wine tastings of that week came to look like a turning point. Slowly, I realized I could better trust the leading winemakers of Germany to tell me the truth than I could their French colleagues. And I found I could sell stories about German wines more easily than those about France, because almost nobody else was writing about the subject in English. Thanks to Philip Eyres and my moment of revelation in the Hindenburg Room I'd found the path I follow to this day.
#GHBismyDRC
To be continued…