MARTIN TESCH, Riesling's Man in Black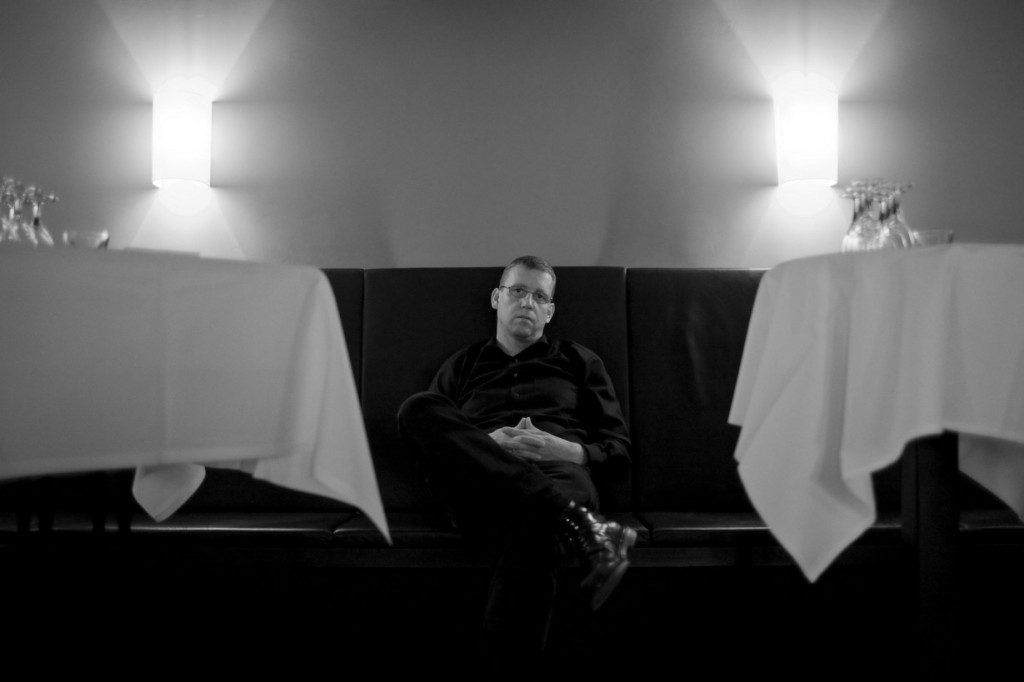 "Truth in wine is a scarce commodity. If a wine is more than 50% true then that's already quite something."
"Sometimes you have to go through the door; other times you have to go through the wall."
Those are just two of my favorite sayings by Dr. Martin Tesch, Riesling's Man in Black, which I scribbled down on odd scraps of paper and tucked away in what is now a bulging file. Needless to say the wines made by someone who spits out that kind of stuff all the time are controversial. "Haveyoutastedthewines?" people in the wine scene often ask me excitedly, and they're either knocked out by the sheer vitality of the Tesch wines, or they're shocked and incredulous that anyone could possibly think these Bladerunnerdry Rieslings were good to drink. Nobody who knows them sits on the fence or lacks an opinion.
Tesch is a German winegrower who from the first time I met him didn't fit into any of the existing categories. Though he was born in the sleepy small town of Langenlonsheim in the Nahe winegrowing region and still feels very much at home in the vineyards and forest where he grew up, he's equally happy standing in the spotlight on stage with rock musicians in Berlin telling the crowd his story, "the time is right for dry Riesling." In fact, he loves the world of rock music whether he's on stage in a Hamburg night club, back stage at the Rock am Ring open-air festival, in the audience at a U2 concert in a Frankfurt football stadium or driving in his jeep with the Tote Hosen, his favorite punk band, pumped up so loud the windows rattle. More about them later.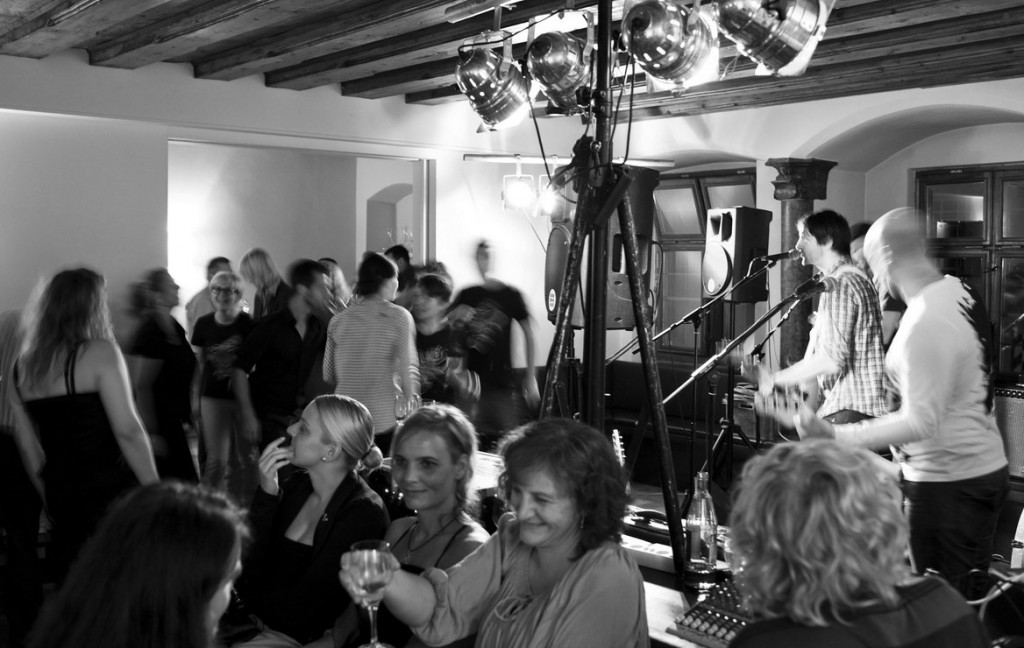 Wherever I meet him he's almost always dressed in black. In a black suit and black shirt he cuts an imposing figure in the fermentation cellar he calls "yellow submarine". To be honest, even though the mini-U-boot size steel fermentation tanks Martin Tesch inherited from his father Hartmut are painted yellow the place reminds me more of the submarine in the Matrix movies than the Beatles cute psychedelic cartoon, but that fits Tesch too. If he didn't already exist, then a cartoon artist would have to invent him and like Batman he would be surrounded by deep shadows. The gleaming Brave New Wine World of modern cellar technology and the cosy Grand Château nostalgia of serried oak barrique casks don't suit him or his dry Rieslings. That's why he turned his back on those possibilities long ago.

"Doc Martin" as one Berlin wine groupie calls him was a University research scientist until he got bored with bio-chemistry and returned to Weingut Tesch in Langenlonsheim back in 1996. The scientist is definitely still one side of him, though that might seem hard to square with the rock 'n' roll. Some people say he's the Mad Scientist of German Wine, but he's the person I ring up if I can't understand some new winemaking technique or if I'm lost in the labyrinth of wine chemistry. I always get a clear, concise answer and I always learn something from him.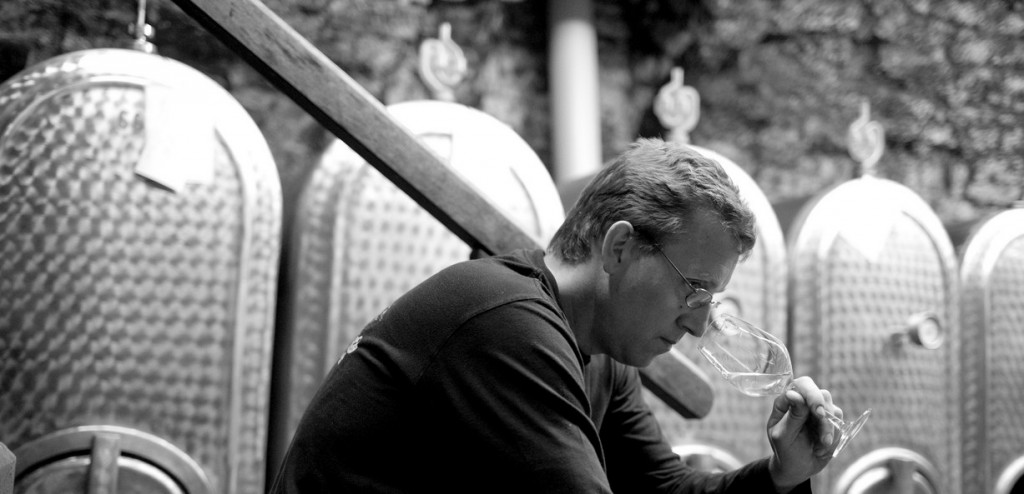 Through those conversations I got many glimpses of the rigorous way he thinks through the internal logic of his wines and the minimalist methods he uses to produce them. Then there are the times he calls me with very different questions relating to the world of wine marketing and media, though I don't know if I was able to help him much with those things. If Tesch's creativity in the cellar has mostly been about reinterpreting old winemaking ideas to give them a thoroughly contemporary form, then his creativity in the field of marketing has had exactly the same goal, even if it often looked way more radical than that sounds.
This first became strikingly obvious back in the spring of 2002 when he launched a wine called Riesling'Unplugged'. The name referred to the MTV series of concerts at which famous rock musicians play acoustic instruments without amplification or electronic effects. In terms of winemaking at Weingut Tesch it means not adding sugar to the fermenting wine to increase its alcoholic strength, nor using any chemistry to reduce its acidity content (both of which would tend to make the wines taste rounder), much less manipulating the wine in any of the numerous other ways modern cellar technology make possible. Apart from adding a small amount of sulfur* to stabilize the wine 'Unplugged' is a totally straight, bone-dry Riesling.
In spite of that, many of Tesch's older customers were incensed by the new wine with its austere black label and they abandoned him in droves, some even writing vicious letters denouncing him as a German Wine Heretic. A year later he reduced the rest of his range of dry Rieslings to just five vineyard-designated wines each with a package in an in-your-face color. (See below). Then with the 2003 vintage he released 'Deep Blue', a dry white made from the red Pinot Noir grape with a gracefully-swaying aqueous beauty that was the exact opposite of the strict linearity of his dry Rieslings.
All this action provoked a bunch of wine critics to ambush Tesh according to the simple Germanic motto, Verboten – forbidden, you can't do that! But that failed to faze Doc Martin according to the equally Germanic motto, "thatwhichdoesnotkillmemakesmestronger" (thank you Friedrich Nietzsche) and with each year since he has become more and more successful.
Completely unexpected for me was the publication two years ago of Tesch's book 'Riesling People Vol. 1', even though I posed for one of the black and white photographs which almost completely fill its 176 pages. There are only three words in the entire book, if you except the brief introduction to the Tesch wines at the back and they are a pun: COOL CLIMATE WINES. That's a perfect description of Martin Tesch and of what he's achieved with them.
He's not the kind of guy who could ever be completely satisfied with what he's done though, so last year 'Riesling People Vol. 2', a German language audio book appeared (on which my voice can also be heard), and the Tesch & Tote Hosen joint venture wine 'WeissesRauschen', or white noise, was released. It was, of course, a totally straight, bone-dry Riesling.
"Still confused, but on a higher level."
Martin Teach
Weingut Tesch – Naheweinstrasse 99 – D 55450 Langenlonsheim
Tel: (49) /0  6704 93040  – Email: info@weingut-tesch.de – Web: www.weingut-tesch.de
UPDATE, May 15th 2012 -CONGRATULATIONS to Tesch fans Die Toten Hosen for their simultaneous number 1 in the German, Austrian and Swiss album charts with Ballast der Republik !

With their new album Ballast der Republik the German Punk band Die Toten Hosen, or the dead trousers, have achieved the rare feat of simultaneously making number 1 in the German, Austrian and Swiss charts. Not bad for punks who've been rocking for 30 years! As you can see from the album credits (see end of first para), it was Martin Tesch who turned them on to the taste of "ehrlichem", or honest, Riesling. Scroll up to the top of this story and you'll see that the question of truth in wine is central for Tesch. Without honesty there can be no truth and that is no joke in a world dominated by a culture of lies with names like "one size fits all", "mission accomplished" and "AAA-rated derivatives". In this situation the truth in wine takes on a whole new importance.
By the way, Ballast der Republik, or ballast of the republic, is a play on words. It rhymes with Pallast der Republik, the name of the old parliament building of the very undemocratic Ex-East Germany, or German Democratic Republic. It used to stand less than a mile from where I'm writing these words and was recently demolished to make way for a replica of the old Prussian Royal Palace whcih the communists dynamited in 1950. Is this planned reconstruction a good thing? I think so for the same reason as East-German journalist Alexander Osang gave, "young people need something like a palace to kick against." Without that how can something like Punk Rock grow and develope?   
The Story according to Johannes Tesch (10)
"Dad, when we're both dead and lying in our graves, then we'll look back and say that we really had a great life!"
UNITED COLOURS OF TESCH RIESLING
Blackisblack, I want my Baby back…and she's Riesling 'Unplugged'. This is the one if you want to stick to the straight and narrow of dry Riesling, and if you're strong enough to lick the blade.
Sap green is for the dry Riesling from the Löhrer Berg, or empty hill, vineyard site. It is full of discretely juicy green apple and lime flavors, the acidity is moderate for a Tesch's Greensleeves Riesling.
Lemon yellow is for the Riesling from the Krone, or crown, vineyard site. If a princess ever kissed me then I hope to turn into the king frog on this label. I always think of sun-ripened lemons. Summertime and the living is easy.
Turquoise blue ain't normally a wine color, but it certainly fits this playful joust of dry Riesling from the Königschild, or king's shield, vineyard site. Girls just want to have fun…just like some of the boys.
Brick red is the color of the stony soil in the Rothenberg, or red hill, vineyard site. There's iron in that soil and in the soul of this dry Riesling. Those who are patient will be rewarded with herbs and minerals that tingle your senses.
Deep orange is the color of the magma beneath the volcanic outcrop which is the St. Remigiusberg, or St. Remi's hill, vineyard site. So expressive, so compelling and 100% Tesch. Goodness gracious, great balls of fire!
STUART PIGOTT RIESLING GLOBAL is not a game reserve for footnotes, but if you see a * then there is going to be a footnote for those people who have to know all the ins and outs of the Great Riesling Story. This time sulfur in wine is the theme:
If you think the addition of sulfur is modern winemaking then think again, because in Germany it was legalized by the Reichstag in Freiburg/Baden in 1497. And if you're anxious to avoid consuming sulfur to protect your health, then I'm afraid you'll have to cut out a bunch of foods beginning with cauliflower and broccoli, which are packed with the stuff. Incidentally, some of the sulfur-containing molecules in those vegetables probably help prevent certain types of cancer. By far the most poisonous thing in any good modern wine is the alcohol, but since Riesling 'Unplugged' clocks in at a modest 12% alcohol it's low on that too. Of course, it also does all kinds of really positive things for you if you consume enough of it, but not too much. Don't forget: alcohol is a drug and Riesling contains alcohol !