The United States of Riesling: Sean O'Keefe for President!
STOP PRESS – I just received the following comment to the below from Sean O'Keefe:
"Thank you for your presidential nomination! I was working on a 5-year plan/Great Leap Forward speech but became sidetracked by bottling the 2011 Vintage…I took my hands completely off the handlebars on te 2011 Lot 49 Riesling, and the wine steered itself in an interesting direction. I might have cruised over the edge on this one (though I remember thinking that about the 2010 Lot 49 as well when it was a newborn!)"
I think we can take that as acceptance of the nomination I poposed below. Watch out Mitt Romney!
It's a little-known fact that there's not only a United States of America, but also a United States of Riesling occupying exactly the same territory. Nobody knows just how many citizens this other United States has, but figures for the total sales of domestically produced and imported wines made from the Riesling grape indicate that it must be many millions, and that this number has grown substantially during recent years. The fact that coast to coast more than 500 restaurants and 100 retailers will participate in this year's Summer of Riesling festival compared with 222 last year (back in 2008 it was just Paul Grieco's wine bar Terroir in New York!) suggests that further significant growth may be just around the corner.
The United States of Riesling is a grass roots democracy based on the fundamental principals that all Riesling men and women are created equal, and of government of the Riesling People, by the Riesling People, for the Riesling People. Strangely the position of President is currently vacant, and should an election take place this fall parallel to that for the President of the United States of America, then I propose Sean O'Keefe as candidate for the next President of the United States of Riesling.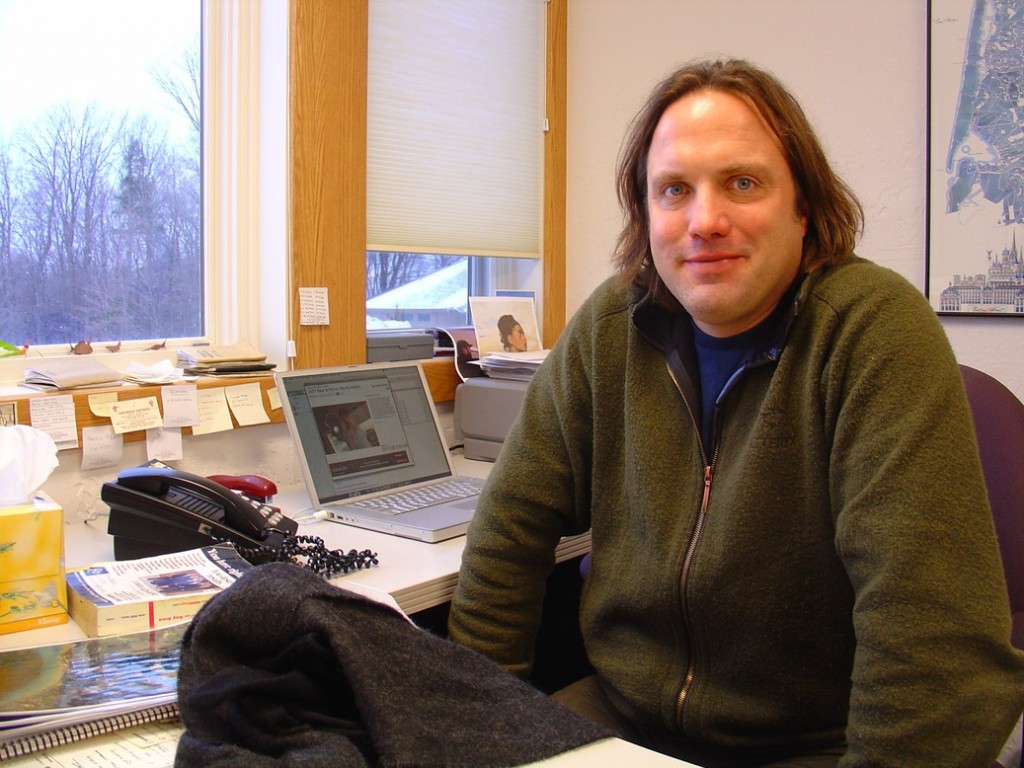 O'Keefe is winemaker at Chateau Grand Traverse on the Old Mission Peninsula in North Michigan, the biggest Riesling producer East of the Mississippi. Like Barack Obama he's not a silver-haired member of the East Coast WASP establishment, but has already gathered enough experience to be fully up to speed on developments within the United States of Riesling. In addition, he has considerable foreign affairs experience in the grape's European homelands and right around Planet Wine. I'd say that these qualities alone make him well-suited for the top Riesling job in the other US.
Of course, one crucial test has to be how his wines stand up under the most demanding of conditions. The blind tasting of the world's finest dry Rieslings at the Frankland Estate International Riesling Tasting in Sydney/Australia this February was just such a stress test. When it was announced that wine number 5 was the 2010 'Lott 49' from Chateau Grand Traverse the crowd of professional tasters burst into spontaneous applause, so stunned were they that it was a Riesling from America! It was the only such reaction at this tasting. On the strength of this Jancis Robinson, also present in Sydney, made O'Keefe's Michigan Riesling masterpiece wine of the week on her website! (see www.jancisrobinson.com)
However, for me the tasting which O'Keefe gave me one evening at Trattoria Stella in Traverse City/Michigan when I visited the Old Mission Peninsula in late July 2010 was just as impressive. Instead of showcasing his own wines, or even those of his home state, he poured a coast to coast range of his favorite American Rieslings. Would Mitt Romney have done that? I think he'd have been too terrified of damaging his conservative credentials to even think about it. Which would, of course, mean that Romney would have ignored the significant role the hospitality industry (ever more members of which serve American Rieslings with pride) plays in the US economy. But what's that to the man who'd have let General Motors go belly up?
Though he has an eccentric sense of humor that makes some people jump out of their skins O'Keefe is a hard-working family man with a strong sense of morality. His barbed jokes are invariably directed against that section of American society (0,1% rather than 1%, I think si the correct figure) whose goal is to enrich itself regardless of the cost to other Americans or the world. On the other hand, one of his most deeply held beliefs is that Riesling is a force for good in the United States and beyond, thoug I'm sure he'd agree with me that nobody should ever forget, alcohol is a drug and Riesling contains alcohol.
Let me be straight with you. Read my lips. I've known O'Keefe for 12 years and during that time I've learned to appreciate his intelligence and his inspiration, his humanity and his humility. Now I admire his feeling for Riesling culture every bit as much as his down-to-earth approach to wine. Nobody in the wine industry today more vehemently rejects the smoke and mirrors so frequently employed in wine marketing than he does. His combination of soaring idealism and old-fashioned common sense is remarkable in an age both marked and marred by short-term opportunism and blindness to its long-term effects. These things are all good for America no less than for the United States of Riesling.
So I recommend that you vote for Sean O'Keefe as President of the United States of Riesling, that is if an election for the position take place this fall.