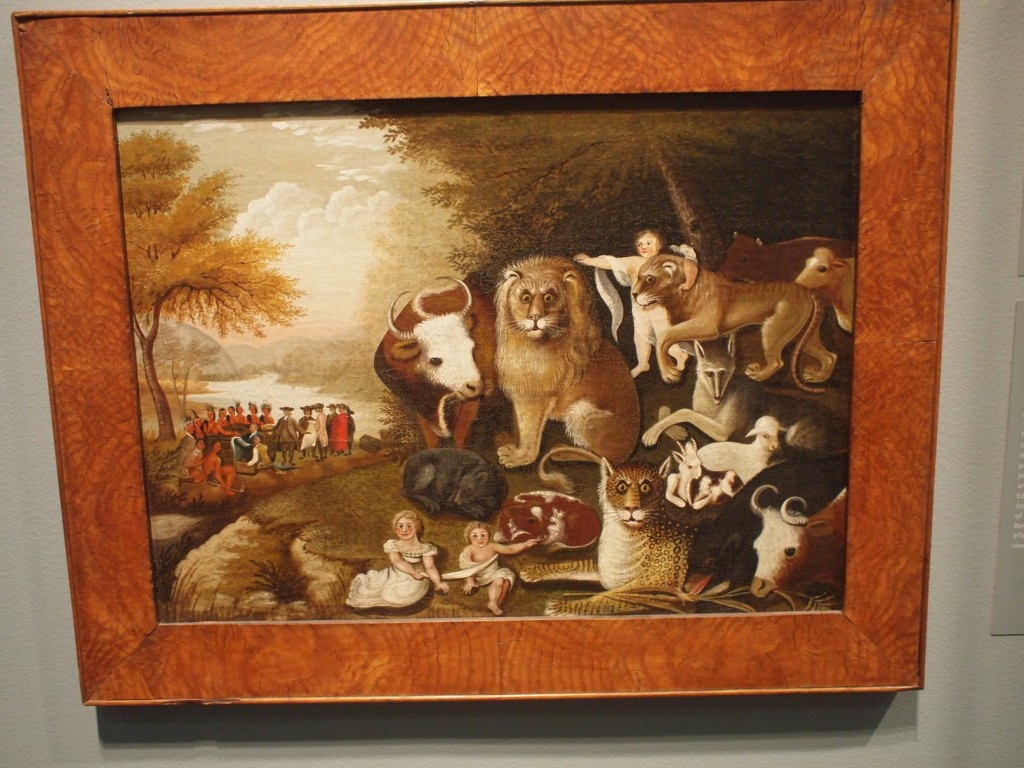 Happy 50th Riesling Birthday New York!
Riesling is a surprisingly new immigrant to the Eastern United States, not least because the successful cultivation of the wine grape Vitis vinifera there was a dismal failure for several centuries following the establishment of the first European colonies on the East Coast of North America during the first half of the 17th century. Wine was far from being the only crop which failed the early European Americans, but they overcame some of those problems rather quickly. For example, tobacco was growing successfully in Jamestown/Virginia within a decade of the colony's foundation in 1607 and was already big business another decade later. Irrelevant to our world? When I was a child in 1960s Britain my paternal grandfather smoked a brand of Tobacco called 'Golden Virgina'.
The fact that wine kept on failing in the East meant that during 18th century and early 19th century in New York, Boston or Washington DC wine always meant a product which had crossed the Atlantic Ocean. This etched itself deeply into the East Coast Mind and is, I suggest, the origin of the still widespread prejudice there that when it comes to wine imported is a priori better than domestic. Physicians classify its most fawningly francophile form as terminal Musigny Über Alles Syndrome (MÜAS) for which there is sadly no known cure. You can spot MÜAS sufferers in fancy Manhattan restaurants by the way they talk way too loud about the fancy Burgundy wines they just ordered and by the way their faces suddenly turn very pale when they get the check. [Note: Musigny is a Grand Cru Burgundy with high three to four figure prices in fancy Manhattan restaurants.]
Even in New York State where Riesling seems rather well established to me the first Riesling was harvested only in 1962 at Dr. Konstantin Frank's winery on Keuka Lake. First we have to start by saying a Happy 50th Riesling Birthday to the Finger Lakes and New York State. I also have to congratulate Frederick Frank (pictured below standing on a pile of the slate removed from the soil in one of his best Riesling vineyards to ease tractor  cultivation) for not only remaining true to his family roots, but continuing to explore the possibilities of Riesling in his region.
Then we have to think how 50 years doesn't look like a very long time to many people when it comes to wine. For example, the first halfway modern-type reds in Bordeaux were produced around 1650 at Château Haut Brion and the first varietal planting of Riesling in Germany (and the world) was probably at Schloss Johannisberg/Rheingau in 1720-21. Given the traditional East Coast wine prejudice and the attendant perception of wine as a traditional product needing that history to give it the aura of cultivation, then the comparatively new Rieslings from the Finger Lakes and elsewhere in the East could easily look faddish. In this context, 50 years could be the bare minimum necessary to  be taken halfway seriously by some people.
I fear that this way of thinking impacts more or less negatively on the image and marketing of all the Rieslings which I tasted together with winemaker Sean O'Keefe of Chateau Grand Traverse on the Old Mission Peninsula/Michigan and Rosemary Gray, one of the best professional tasters I know in New York City, on the second day of our overview tasting of drier style American Rieslings at Restaurant Hearth, July 26th.
The fact that most of the leading American wine critics still give these wines scant attention and most of the European critics are barely aware of their existence makes theirs a steep uphill struggle for recognition. That made it all the more interesting for me to taste a wide range of them in a single session, then to compare them with the best from the previous day's tasting of wines from the Western half of the Untied States of Riesling.
Right at the beginning the 2011 'Stone Cellar' Riesling from Galen Glen in Pennsylvania made us all sit up and pay attention. It's peach-apricot and floral aromas were attractive and rather subtle, the flavor full and juicy, but with a lovely fresh acidity at the finish. As Rosemary said, "pretty serious" and as Sean added ironically, "no hybrids, no dogs on the label, and no blue bottle". In fact, wines with wine from hybrid varietals blended in was never a problem, but we found a whiff of Muscat several times and felt that it dumbed the wine down every time. Galen Glen also grow the Austrian varieties Grüner Veltliner and Zweigelt and that fact made me want to visit an operation which is clearly pushing the envelope in this state.
Having visited three times since the fall of 2005 and followed the development of the Riesling wines of Michigan it was no surprise to me that once again this state made a strong positive impression. 2011 was a normal vintage there, but the 2011 'Arcturos' Riesling from Black Star Farms was probably the best dry white this winery has ever produced. Sleek, racy and elegant it had cool apple and floral aromas and a racy finish in which the hint of natural sweetness did not stick out at all; a wine that will surely improve with aging. The 2011 '2L Vineyard' Riesling from 2 Lads was slightly sweeter, but as Sean said, it was a "sappy-juicy wine," "but with enough structure," as Rosemary observed.
Bowers Harbor Vineyard has been one of the top Riesling producers in Michigan for some years even though they have no cellar and several local winemakers make their wines. The 2010 'Block II' Riesling may have one of the most unromantic vineyard designations on Planet Wine, but it had a complex floral bouquet which was still very youthful for its age (with some yeasty aromas). Sean also noted an "apple and pear skin" notes. Full and succulent with a very attractive balance of very ripe acidity and just a hint of sweetness; serious stuff with real aging potential.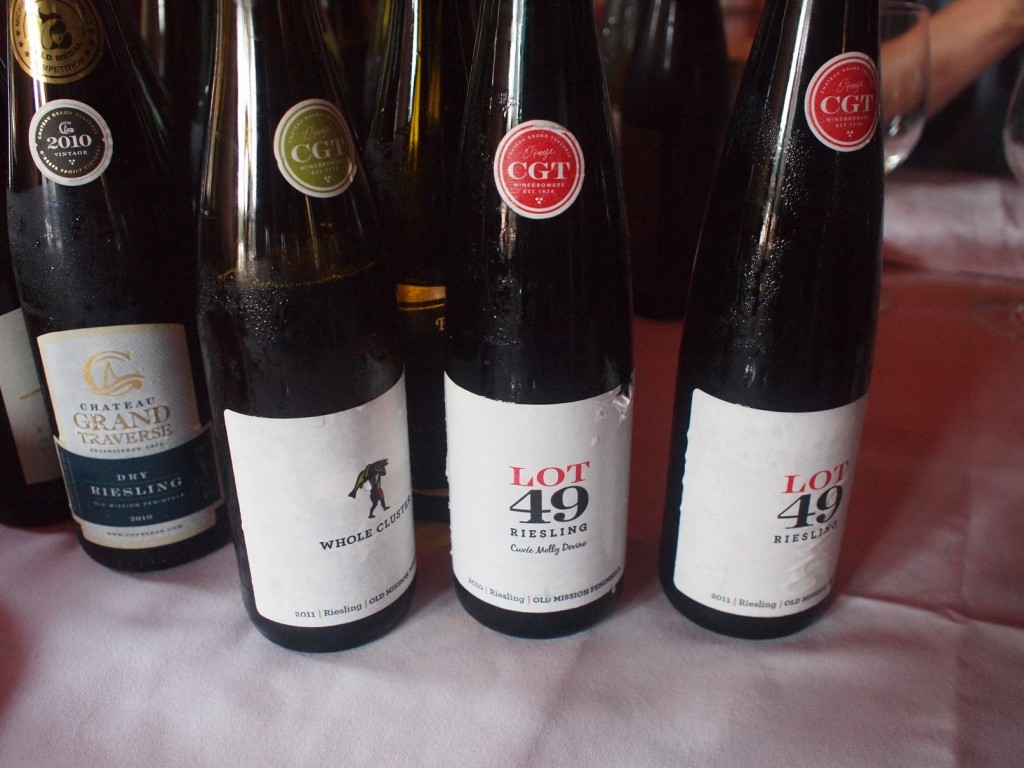 Chateau Grand Traverse is the largest Riesling producer East of the Mississippi, but Sean's Rieslings are all made without enzymes or bentonite fining, fermenting a portion with ambient yeast. Though made from fruit off young vines his 2011 'Whole Cluster' was a very complex wine with apple, floral and clove aromas. It had terrific vitality and tension on the palate and was drier than previous vintages. Rosemary immediately spotted "winter spices" on the nose of Sean's 2011 'Lot 49' which was significantly fuller-bodied and slightly riper than the 'Whole Cluster'. The long elegant finish was full of spice. The lusher 2010 vintage of the same wine which made such a huge impression at the blind tasting of global dry Rieslings during the Frankland Estate event in Sydney back in February impressed again with a ripeness that was closer to a top Wachau wine than anything else I've tasted from North America.
Totally different was the 2010 'Terminal Moraine Vineyard' dry Riesling from Left Foot Charley, aka winemaker Bryan Ulbrich (who also made the 'Block II' from Bowers Harbor Vineyard), whose winery is in the converted laundry of a ex-lunatic asylum in Traverse City. The yeasty nose reminded me of Champagne, but on the palate it reminded me more of a dryish Mosel wine with quite a steely acidity. His innovation of referring to the Old Mission Peninsula on the label as the OMP also struck me as a smart marketing move. Hell, Riesling needs buzzwords.
Then the label of the 2011 'Thumper' dry Riesling from Motovino featuring a motorcycle engine made us all sit up and wonder what the hell was going on. But why shouldn't a motorcycle store make its own Riesling from the Leelanau Peninsula/Michigan? If anyone thinks Michigan is a boring place because it's home to the automobile industry, then they obviously need to think again. The wine was fairly dry with attractive apple and citrus flavors. Also from the Leelanau came the 2011 Riesling from Shady Lane Cellars with its ripe apple and honeysuckle notes and juicy interplay of fruit, fresh acidity and a hint of residual sweetness was reminiscent of an off-dry German Spätlese of some sophistication.  Winemaker Adam Satchwell has finally cracked this style!
The first vintage of the 'Golden Bunches' Riesling from Ferrante Winery in the Grand River Valley of Ohio I tasted was the 2005 and that was already good, but the 2011 vintage is in another league. This is another youthful wine that needs some time to open up, but then a very pure white peach aroma to developed, and on the palate it was rich with quite some textural complexity and a long elegant dry finish. If the only reason people didn't want to take any notice of you was because you came from Ohio how would you feel? That's how Nicholas and Anna Ferrante must sometimes feel, although they are making one of America's top white Rieslings.
New York State was represented almost exclusively with wines of the 2011 vintage and as Rosemary noted that summer, "even when it didn't rain we had the hurricane". The influence of all the rain showed somewhat in all the wines, but most strongly in those from Long Island. On the positive side, the 2011 Dry Riesling from Dr. Konstantin Frank was another classic from this producer with vibrant red apple and blackcurrant aromas, sleek, racy and filigree. The 2011 Dry Riesling from Sheldrake Point was rather closed-up, but quite a bit firmer and more powerful than the Dr. Frank wine; serious stuff for a difficult vintage. As Rosemary said, "I'd really like to try this in a few years from now." The 2010 'Art Series' Dry Riesling from Anthony Road showed how complex Finger Lakes wines can be, Rosemary noting an attractive "floral quality" and Sean, "a lot of flavors and textures". With just a whisker more unfermented sweetness this wine, and some others in the tasting, would have shown even better. Balance in Riesling is more important than anything else as the best wines of this fascinating tasting showed. They proved that American Riesling has come of age.
It is interesting to look at the ancestry of some of the winemakers involved. For example, Sean O'Keefe hasn't a drop of German blood in him. Instead, he's Irish-Norwegian and got interested in things German, because his father Ed O'Keefe used German consultants when he founded Chateau Grand Traverse back in the early 1970s. One of the 2 Lads of Michigan, Cornel Olivier, is South African. Konstantin Frank, the founder of Dr. Frank in the Finger Lakes was Urkanian. Of course, Ferrante and Satchwell aren't German names either. The point I'm making is that the melting pot of America is also a wine cask where people and things originating in many diverse cultures ferment together to give something new and exciting. Riesling is part of German-American culture that is as available to winemakers and drinkers of non-German ancestry as pizza or Irish bars are to Americans of all ancestries. The only problem is that awareness of this has been very low and sometimes stating this fact seemed politically incorrect for no good reason at all. Tthankfully this is now all changing very fast.
Anyone still doubting how important a part of American identity devrives from the nation's German immigrants is recommended to have a look at the following graphic based on US Census data:
http://visualizingeconomics.com/2008/09/14/us-ancestry-2000/#.UCIZ8Rw9pnQ