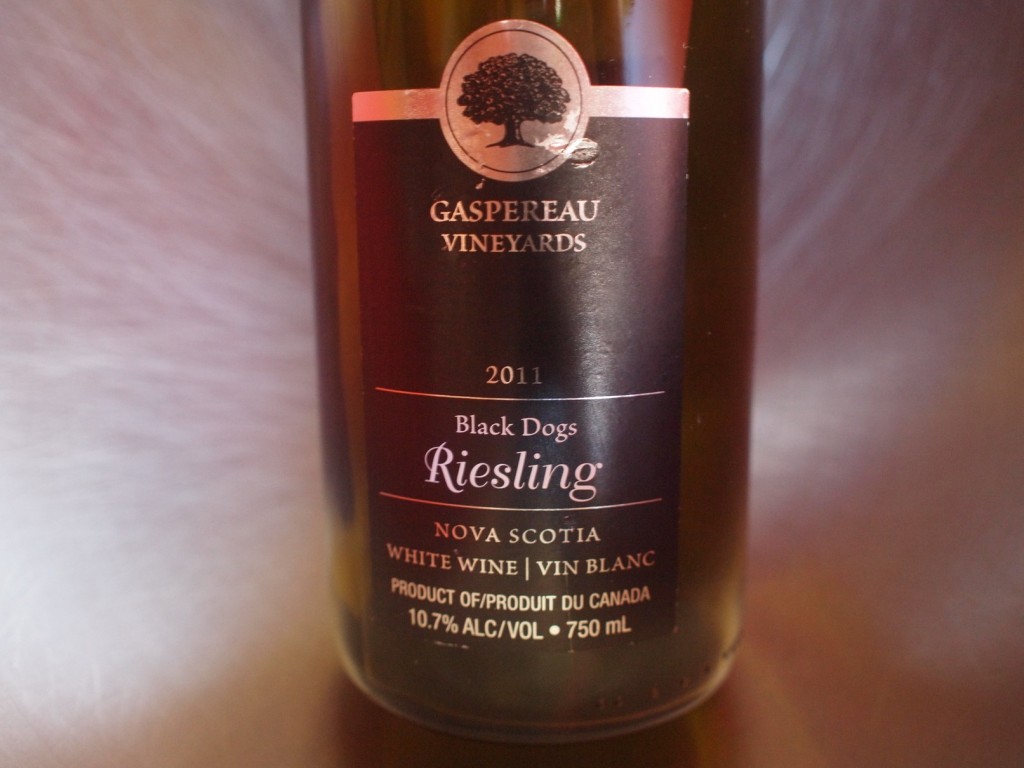 Nothing excites me like new wines do and I have to tell you about one of the most exciting new Rieslings I've tasted in a long time. In Riesling Think Piece Nr.4: Crazy Riesling Stats (Part 2) I described how Gina Haverstock, the winemaker of Gaspereau Vineyards close to Wolfvile/Nova Scotia (www.gaspereauwine.com), had run down the fact that there are now 10 acres (4 hectares)  of Riesling in her province of Canada. Maybe that doesn't sound like much, but it struck me as pretty astounding, because it was 10 acres more than I was expecting! Then a bottle of the Gaspereau Vineyards 2011 Black Dogs Riesling arrived at my Berlin home by a circuitous route. Tasting it took me quite some time, because I wanted to try it with some other North American Rieslings and I had to wait for them to arrive. Then I wanted to see how it would develop if I left the open bottle (screwed shut) in the refrigerator for some days.
Freshly opened it was intensely citrusy – lemon pie, lemon curd, lime zest – but the bouquet was still really subtle and delicate. I know that sounds like a non-sequitor, no less than saying that it tasted really juicy, yet was also pristine. The hint of sweetness seemed to make it more lively than it would have tasted if it had been bone dry. That all adds up to the fact that I've never tasted anything quite like this wine before, and I've been tasting Riesling intensively for 30 years.  A couple of days later it seemed a bit closed-up, the acidity pretty challenging even for this acid-hound, so I left it alone for another full week in the refrigerator; enough to kill off all tpretenders on Planet Wine. Then came the real shocker: after it had been open for a total of 9 days it was almost as fresh as the moment I first opened the bottle, but had mellowed beautifully. Wow!
As I drank the rest of it I realized that this wine puts another piece in the puzzle of North America's Rieslings I've been piecing together during the last weeks in the series of articles below,  see the various parts of Crazy Riesling Stats and State of the Union. But first have a look at the map or Google Earth to see where this wine grows. It is way further north (45°) than I ever imagined Riesling could work on the Eastern Seaboard of America. If it grows and ripens well at Gaspereau Vineyards, then there must be a bunch of other places in Nova Scotia and in the neighboring Canadian provinces and American states where it will also grow and ripen. My guess is that within a few years the world map of Riesling will have to be redrawn. Thank you Gina for a great Riesling, a great Canadian wine and for the inspiration!