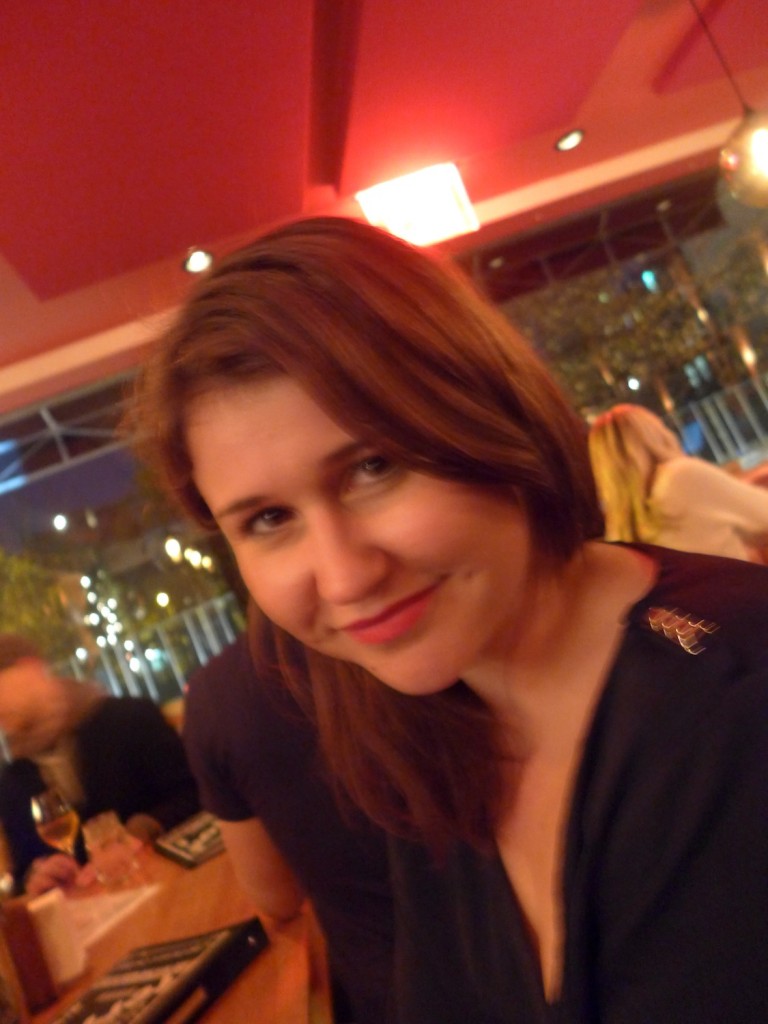 Once again I have to put back the story of Riesling and the mystery of aroma for another day, because as they say in America "stuff happens". At short notice I reorganized my schedule for yesterday evening so that I could meet up with rising star winemaker Katharina Wechsler of the eponymous estate in Westhofen/Rheinhessen. I make no apologies for dragging you back to the subject of Germany's largest wine growing region and the Dream Factory of dry white wines that it has recently become. I first tasted Katharina's wines only a couple of months ago and we met for the first time at the Wine Vibes party in Berlin on Friday, September 14th. So it was a great surprise when my friends Volker Donabaum and Amy Troiano told me that Katharina would be in town and that I could join them for a late night tasting at Terroir E.Vil. (as locals call the East Village).
Before I'd even finished saying hi Katharina and asking how she was doing Volker had unpacked samples of her whites of the 2011 vintage and the first wine was being poured. I made quite detailed notes, which might seem a bit obsessive late at night in a place like Terroir, but that's the sort of person I am and the wines deserved being taken that seriously. The dry Wechsler Rieslings managed to combine the power that's typical of contemporary dry Rieslings from the New Rheinhessen with a rare vitality for ambitious dry wines from this region. They're joyful rather than imposing wines, though there's so much in the best of them (most importantly the Westhofen Riesling and the Benn Riesling with their high-tensile strength and subtle spice) that you can't take it all in immediately. That's what makes me really like them.
However, that's not all that the talented young lady who gave up a career in TV journalism for wine and claims she's "still a rookie" winemaker has up her sleeve. Katharina's 2011 Silvaner 'Alter Reben', old vines, taste of quince, butter and smoke, is richly texture, but not the least heavy (sometimes a problem with high-end wines of this grape). No Wechsler wine is more joyful than the dry Scheurebe, or as the staff at Terroir E-Vil. called it last night "Sure-rebe"; one of those dangerously refreshing wines that taste of blackcurrants and fresh herbs, and are so often my undoing.
All great news? Yes, yes, yes and just a little bit of no. Sadly the 2011 Wechsler wines didn't make it to America so like the res of the country President Obama will have to wait for the 2012s to be bottled and shipped (they should make it for the 2013 Summer of Riesling). Also Katharina's regular dry Riesling doesn't quite measure up to the competition down the street in Westhofen (Wittmann, Groebe and Florian Fauth), but hell it was only her second vintage!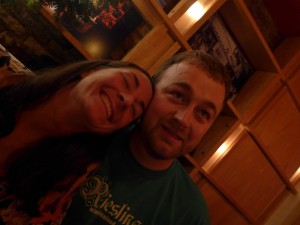 Thank you Volker and Amy again! I hope you enjoyed the dry Riesling wines (Dr. Loosen from the Mosel/Germany, Frankland Estate from Western Australia and Keunhof – Peter Pliger from Alto Adige/Italy) which followed Katharina's. By the end of the evening I felt that my spirit had become one with that of Riesling and it was moving in me. Not bad for a Wednesday night.
And don't worry I haven't forgotten those Riesling aromas. They are already wafting their way through cyberspace in your direction…