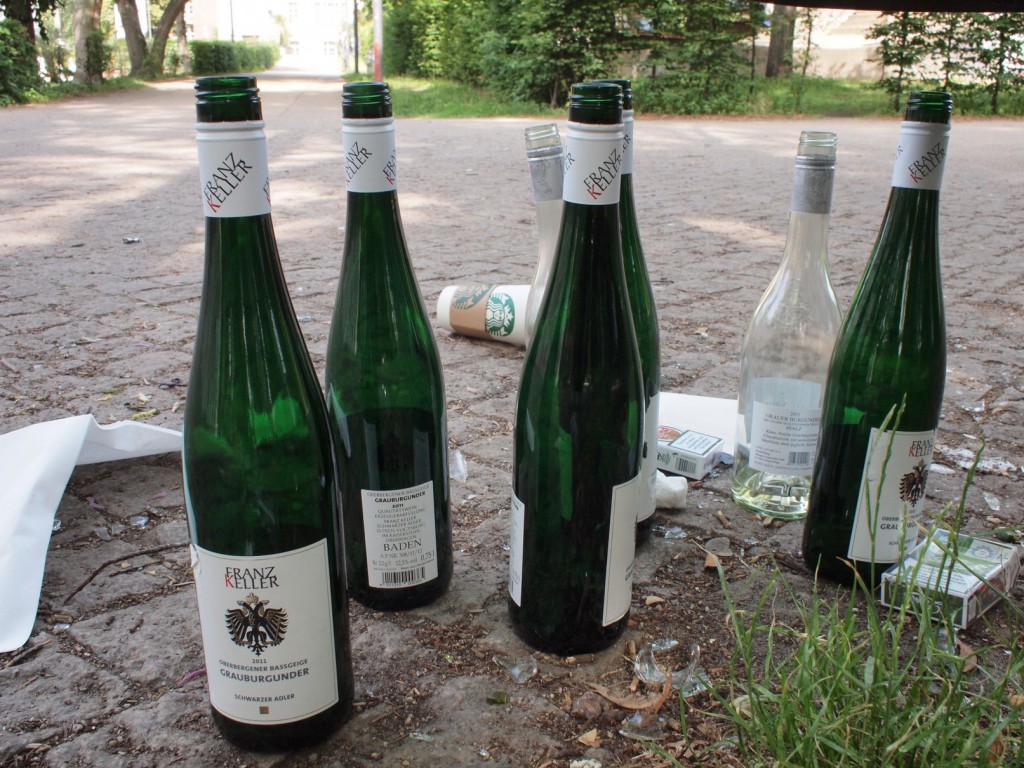 I would have written this a lot sooner if certain realities like tax returns, paying bills and writing newspaper columns hadn't demanded my attention so urgently after returning to Berlin. However, that didn't delay the realization that everything in Berlin – from the way people dress to the way they ride bicycles – and everything in Wine Metropolis Berlin – from what people drink to how the remains of the drinking day look – is very different to in New York Wine City (NYWC). I call the kind of shock resulting from moving from one place to another cultural disruption, which may not be such a suitable name ( I couldn't think of any other), because I actually enjoy this state of almost continuous astonishment.
It made me think that a series of posts debunking the Riesling myths and illusions are in order and that maybe being in Wine Metropolis Berlin right after two months in NYWC is the right moment to write them. I think we have to start with the obvious point that with only around 1% of the global vineyard area and a distinctive taste profile (aromatic, but not loud, and freshly acidic) Riesling  strikes many people as being a specialized wine for specialists. By that they mean journalists like me, sommeliers, other wine professionals and hard-core insiders. Now a lot of those kind of people in NYWC are excited by Riesling and it could be that there you only see loads of Riesling on the table in some particularly cool places like the Terroir wine bars. However, here in Wine Metropolis Berlin its absolutely normal to see all kinds of people drinking Riesling in all manner of bars, restaurants and clubs. In fact, in some places like the Chinese restaurant Hot Spot just of the Ku'damm or the wine bar Weinstein in Prenzlauer Berg it's almost de rigeur. Of course, you could go strictly by the stats, in which case Airen – the world's most widely planted wine grape with more than 280,000 hectares or 700,000 acres (all in Spain) – is a far more important grape variety than Riesling. However, how many of you can remember your last glass of dry white Airen? I know I can't. The truth is that in many ways Riesling is a special wine, and that's the reason it's the object of a global cult in a comparable way to the equally special wines from the red Pinot Noir grape.
I have to admit that up here around 52° 30′ North, compared with around 40° 45′ North in NYWC, it is relatively cool. However, it is less cool than most people think for most of the year. Many tourists arrive in Wine Metropolis Berlin in the summer and are astonished to find temperatures in the upper nineties fahrenheit, then to learn that they've been there for a couple of weeks and are still rising! Thankfully this is usually a pleasant dry heat that I can thoroughly recommend, unlike the steaminess of NYWC when it gets really hot there. And if it gets too much for you, then Wine Metropolis Berlin has lots of forests and lakes within a subway ride of Downtown where you and some bottles of Riesling can cool off in idyllic surroundings. The German wine growing regions are also warmer for most of the year than most people think, and that will be the starting point for my debunking of the great myth that Riesling demands a cool climate in order to give interesting wines.  Watch this space!