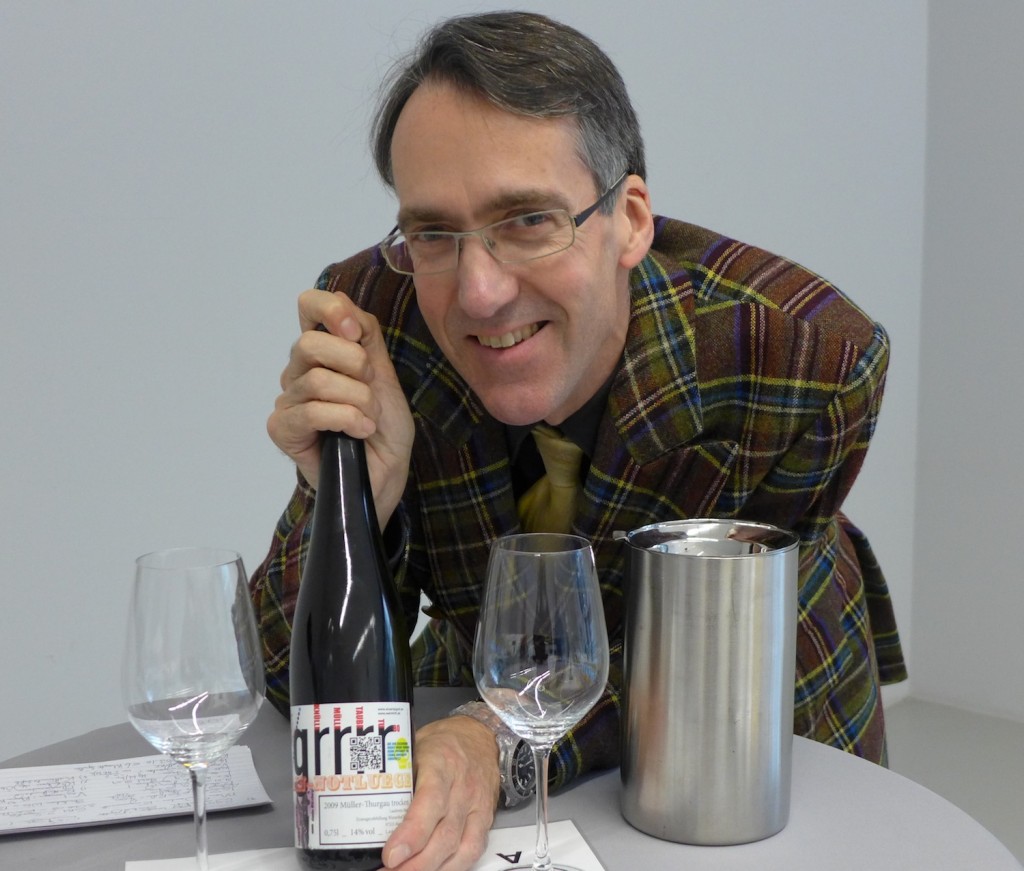 The idea of winegrowing in Hamburg probably seems pretty crazy. Isn't Germany a cool place and surely Northern Germany is even cooler, maybe even actually cold in comparison to the winegrowing regions further south in the country? In the seminar I gave this afternoon at the WineStyle wine fair in Hamburg I tried to systematically demolish this argument, making it plain from the beginning that I regard it as entirely feasible to produce wine, good tasting wine in the Hamburg area. It should even work Downtown as long as you avoid locations in the shadows of office towers and other large buildings. That's just north of 53° 30′ North!
In fact, this was already clear from the old climatic data which gave a picture of the situation before we really started feeling global warming in Northwestern Europe around 1990 (which was possibly accentuated by the collapse of much heavy industry in Eastern Europe following the fall of the Berlin Wall leading to clearer skies). The most fundamental piece of climatic date for winegrowing is the heat summation, which expresses the total amount of warmth there was during the growing season. Each grape variety requires a different minimum total amount of warmth to ripen, and without ripe grapes there's no good wine. For winegrowing only temperatures above 50° Fahrenheit (10° Celsius) are significant, because below that figure the vine is inactive, so the heat summations for wine growers only take into account temperatures above this threshold. The heat summation for Hamburg for the period prior to 1990 was already adequate for the early ripening Müller-Thurgau and Frühburgunder (a mutation of Pinot Noir native to Germany) grapes. Maritime Hamburg never was really that cold in modern times.
Of course, climate change has created a much more favorable situation for winegrowing in genuinely cool places like Nova Scotia/Canada, Central Otago/New Zealand, or Hamburg. When you're close to the limit a small amount of warming makes a big difference, because it makes ripening new grape varieties possible. For example, today it's not difficult to ripen Syrah in low-altitude locations in Germany's southerly Pfalz and Baden regions with good exposure. My guess is that early-ripening clones of Pinot Noir might do well in sheltered locations in the Hamburg area, although the relatively damp climate would make the battle against destructive fungal infections like powdery mildew and downy mildew challenging in wetter years. This moisture would probably also limit the amount of tannin which the grapes would contain, since the vine produces tannins as a reaction against stress (i.e. heat and drought). So, I think the wines would tend to be light, but might well have some very pretty aromas.
The possibilities don't end there though. Recently some very interesting new grape varieties have been bred for really cool regions, particularly by the French-Swiss vine breeder Valentin Blattner. I'm thinking particularly of the red Pinotin variety, which in spite of the name gives a more tannic, robust wine than Pinot Noir. Even in the horribly wet fall of 2010 it ripened in the Berlin area – roughly 52° 30′ North – with only 1-2% grey rot, whereas most other red grapes had 50-100% grey rot and were often unripe (high acidity and green flavors) on top of that. In the warm, dry summer and fall of 2009 Pinotin ripened beautifully in the Berlin area even without yield reduction. Berlin's summer is rather warmer and drier than Hamburg's, but my guess is that Pinotin could also do well there.
Pinotin is a so-called "PiWi" which means it is rather resistant to a range of fungi which afflict the vine, particularly powdery mildew and botrytis, but also to a certain extent downy mildew, all of which are capable of destroying the entire crop if not checked by spraying. And we all want wines from vineyards that have been sprayed as little as possible. That's another reason we will all be hearing more about Pinotin, also from places like Hamburg. And if you think that all of this is irrelevant to the Riesling Universe, the white Solaris grape (another PiWi) gives wines with very attractive citrus and pineapple aromas and a lively acidity that sometimes taste rather Riesling-like. Back in June 2007 I tasted an exciting dry Solaris from Domaine Aalsgaard just north of Copenhagen. That's just north of 56° North!
PS the bottle in my hands in the photograph is the monster dry Müller-Thurgau I produced on an experimental quantity back in 2009. It also grew in a very cool high-altitiude location, the Hasennest vineyard site of Tauberzell in the remote Tauber Valley of Germany. And whoever knows where that is without looking at a map or Google Earth is a wine geography genius! And many thanks to Patrick Becher for the photograph!