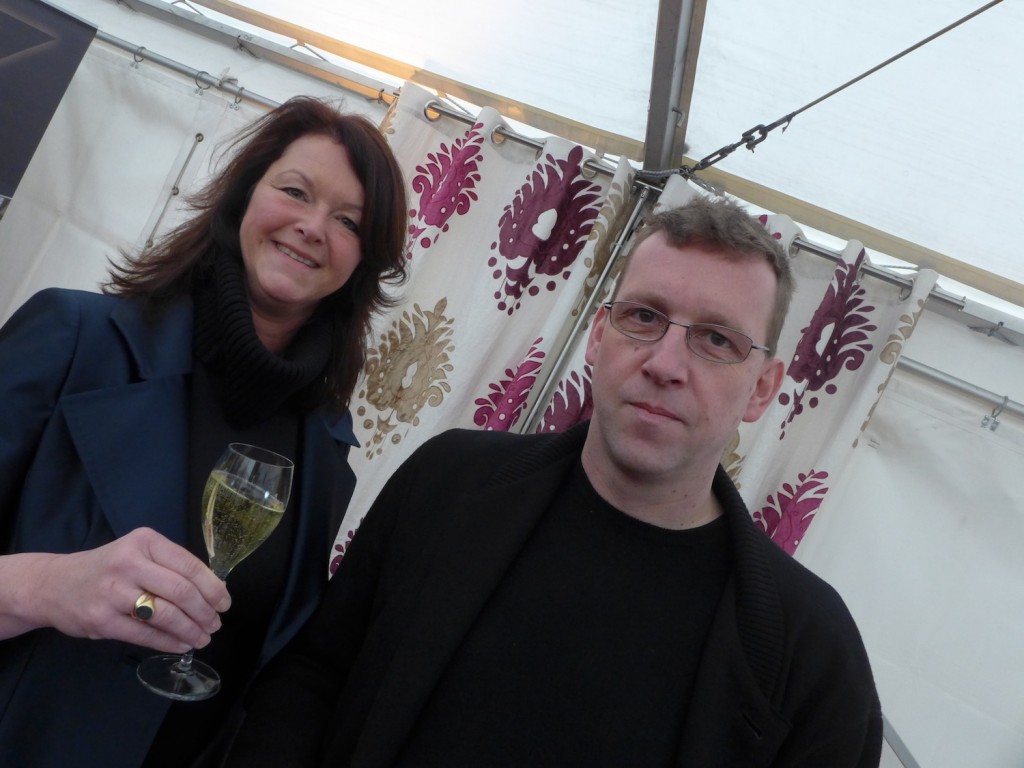 At noon today I bumped into Kerstin and Martin Tesch of the (in)famous Tesch estate in Langenlonsheim/Nahe at Hotel Kronenschlösschen in Hattenheim/Rheingau.  OK, strictly speaking "Berlin Riesling Diary" is not truthful, because today I've been in the Rheingau and the event I was part of today had absolutely nothing to do with Berlin. Every December together with food philosopher and restaurant critic Jürgen Dolasse I publish an article in the Frankurter Allgemeine Zeitung (Germany's equivalent of the New York Times) called "Unsere Lieblinge", our favorites. Dolasse covers the restaurant scene and I do the wine side. Each year my fave raves are presented during the Rheingau Gourmet Festival at a lunch cooked by Jean Claude Bougueil of Restaurant Schiffchen in Düsseldorf. Yes, a great French chef working in Germany!
This year's lunch was the best he's cooked for this event so far. What was more amazing, his radical reinterpretation of Escoffier's mille feuille of goose liver paté or his very straight down the line venison with salsify and cassis? I really can't say. On the wine side for me the most startling experience was the dry 2007 Krone Riesling from Martin Tesch. Finally, after all the effusive, but rather embryonic young wines which picked up the prizes I had to give for specific wine categories (the winners always have to still be on the shelf, which inevitably pushes me in the direction of young wines) here was a wine which had lost its puppy fat and showing its cheek bones in a way I find at once adult and very sexy. I think it amply backed up my case for awarding Tesch the winegrower of the year prize, although that was not only for his wines, but also for the way he's redefined the role of the winemaker in a direction which makes the second oldest profession compatible with the 21st century.
The other wine which was mature in that kind of very sexy way was the 2004 Vintage Brut champagne from Billecart-Salmon – finally a minerally champagne!!! – which was presented by Billecart's German representative Eric Calzolari. I think the picture of him below gives a good idea of how much we all enjoyed this great champagne and the whole event. Now I have to get to bed in order to catch my early morning flight to New York Wine City (NYWC), from where I will report tomorrow! However, to be perfectly frank I don't imagine that straight away I will be able to report about wines as unique as these!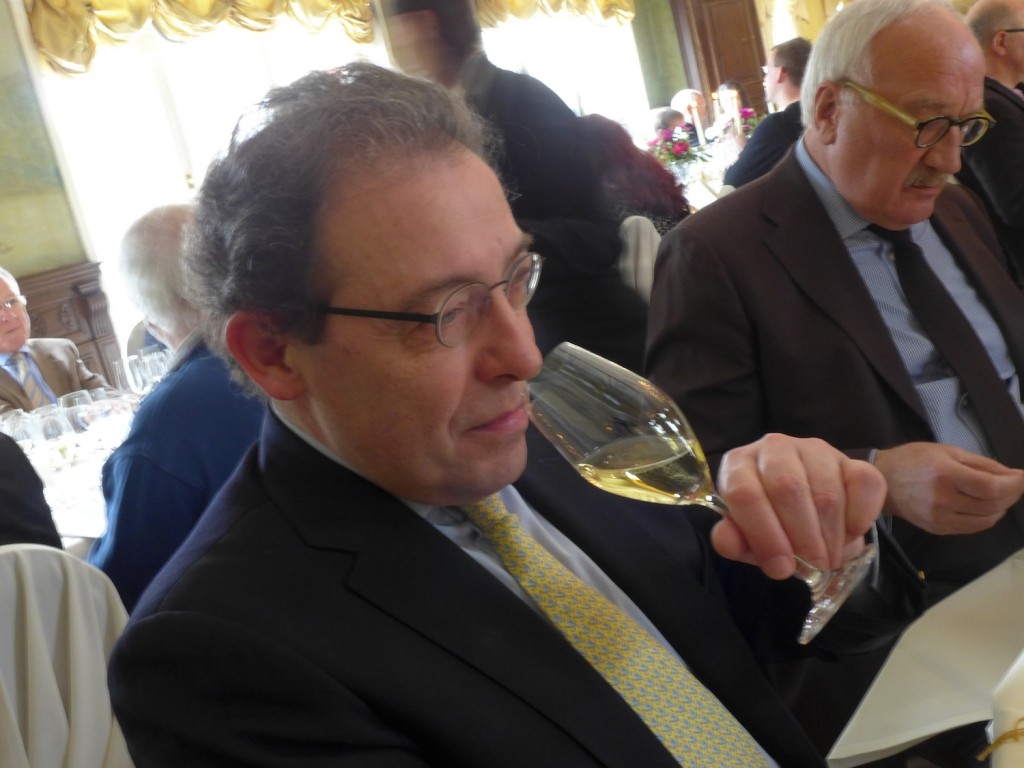 PS which is the "best" wine in the world? That's a question I often ask myself. Whatever comes into my mind when I'm mulling this over I always end with the same thought; everything depends upon your personal taste, that is on how you define "best". But, one thing is clear for me, whichever wine I choose as my favorite in any situation it has to be unique. That is, it has to clearly stand out from the crowd of good wines (i.e. well made wines which are more or less interchangeable) no less than the crowd of bad wines (i.e. the wines which are technically correct, but utterly soulless).