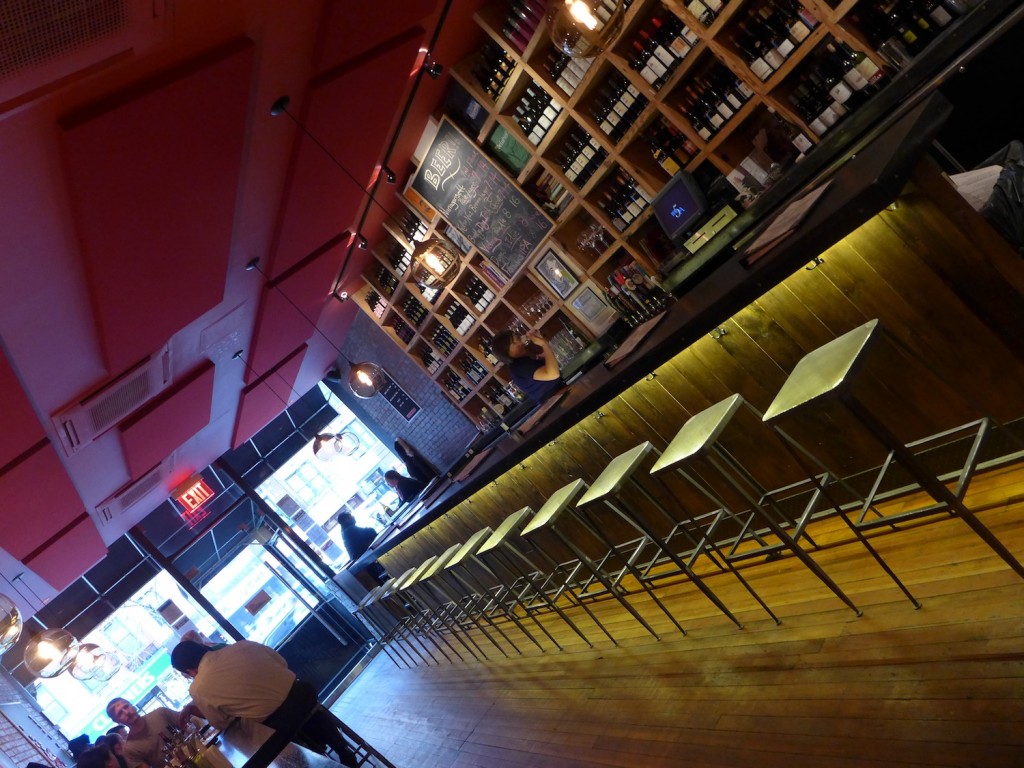 I've written plenty about Paul Grieco, about Restaurant Hearth which he opened at 403 East 12th Street (at First Avenue) in New York's East Village with Marco Canora back in 2003, and about his Terroir wine bar at 413 East 12th Street few yards down the street which opened in 2008. "My sandbox, my rules, imposed not only upon that 24 seat wine bar, but also on the people in it," is his description of what it. That freedom enabled him to begin the Summer of Riesling that first year and begin transforming New York Wine City (NYWC), a process that's now extending right around Planet Wine. It's Big Stuff befitting a Big Wine Guy, though some of that stuff actually just happened. Terroir is now a group of 5 wine bars in NYWC, some people say it's already a small chain, others wonder if it's the beginning of a much bigger chain and a nationwide brand. Don't forget how small and anti-establishment the Rolling Stones stared and how big and establishment they became just a few years later.
There are far more people to Terroir than just Grieco though, as I wrote in my profile of graphic designer and ideas man Steven Solomon (see my first New York Riesling Diary: Day 21) already made clear. So early yesterday evening my camera and I hit the Terroir wine bar in Murray Hill/Manhattan to meet the smart young woman who has manager since its opening in late September 2010, Rienne Martinez. I first met Rienne back in October last year, when we spent an evening in Berlin's Weinstein wine bar (that city's equivalent of Terroir) at the beginning of three months she spent in the Riesling Fatherland.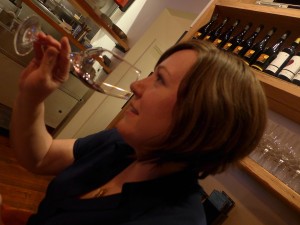 My gonzo approach to wine journalism means getting as close as I can to my subjects, and of course if I like my subjects then retaining a critical distance in my mind  is quite a challenge. But on the other hand, if I don't get close to them then I'm looking at them through a telephoto lens, or maybe its a telescope the wrong way around. My camera – literally and metaphorically – zooms in and out from wide-angle to macro and everything in between. At least that's the theory.
"You probably want to taste things you don't know," she said as she put a kaleidoscopic row of wine bottles on the table in front of me and I expressed enthusiasm for the 2010 'Gneis' Muscadet from Domaine de L'Ecu in the Loire/France, then she instantly removed it. The final row ranged from the 2010 Aligoté from Domaine Pierre Morey in Meursault/France to the 2010 Niepoort-Arazos dry white from Jerez/Spain (a dry white made from the Palamino grape, not a sherry) and the red 2001 Bourgeuil from Domaine Stephane Guion in the Loire. It was a Riesling free zone, perhaps because I put her through a dry Riesling Boot Camp when we met in Berlin.
Then we got talking about farming, because when Rienne grew up in Seattle her mother was growing organic tomatoes and selling them at an organic Farmers market. "There's no other product in the world in which you find everything which happened during the whole year put in a time capsule, and that's very cool. In the end it's farming fruit. It comes from the dirt" she said of wine. "Said"? It flowed out of her like a wave and I was the beach on which it broke. What does that mean? Although I don't have a background in agriculture like Rienne, frequent childhood visits to my maternal grandparents in rural Devon/England encouraged an appreciation for farming and gardening, animal husbandry and tending the soil. So those words about vines, grapes and dirt resonated with me.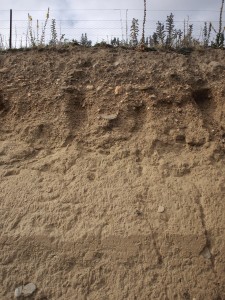 I liked the Aligoté for its textural qualities, though it has little fruit and is not the kind of wine I'd ever order. (I admit that I also have a problem with Burgundy after so many disappointing expensive bottles). I was really excited by Niepoort-Arazos, which was intensely herbal and very dry, but I hated the 2011 Bourgeuil. "Pyrazines, I mean the green bell pepper aroma you also get in Sauvignon Blanc," I mumbled. Rienne wanted to know more about those aroma molecules, but that didn't dent her enthusiasm for this rather dry, tart red a jot. Moments later very different reds were on the table for me to try, of which the 2009 Izbrani Teran from Stoka in Slovenia lit my fire. Those fresh berries, herbs, cocoa powder (one of my favourite red wine aromas) and "powdery" dry tannins all at just 12.3% alcohol. It's an inspiring wine that doesn't fit neatly into any established category and very Rienne!
"What about Heavy Metal Monday?" I threw out wanting to know how the hell this young woman who is smart (she could have had a more high-brow career), passionate (about wine and food) and sensitive (for people and history) could throw together wine and heavy metal music and make it work. She explained it had been the idea of a co-worker nicknamed Chaos Kate just over a year ago. Grieco asks every new employee what their favorite movie and their favorite band is in order to get a feeling for their personality, and Kate's answer to the second question sowed the seed that was to become a bizarre new NYWC cult.
"The anniversary party on the 25th February was the funniest slash most fun evening with people drinking draft Garnacha and Riesling from flasks," Rienne enthused,  "there were lots of leather jackets, tattoos, and coloring books with heavy metal figures. We only have them on Mondays." Obviously I really missed something, but by this point conversation was becoming a more difficult place, because the place was filling up, the Friday after work buzz was cranking up, and Rienne had to get busy.
As I was getting ready to split she gave me an important idea: in spite of the power of the major corporations America is moving away from industrial agriculture and highly-processed food to a more cautious and less crudely manipulative stewardship of the dirt, the crops growing in it, and the food which they provide. It's a them I will return to with the inevitable Riesling twist.
Terroir Murray Hill is open Mon. thru Sat. 5pm – 2am, Sun. 5pm thru Midnight
439 3rd Avenue (between 30th and 31st Streets)
Tel.: 212 481 1920