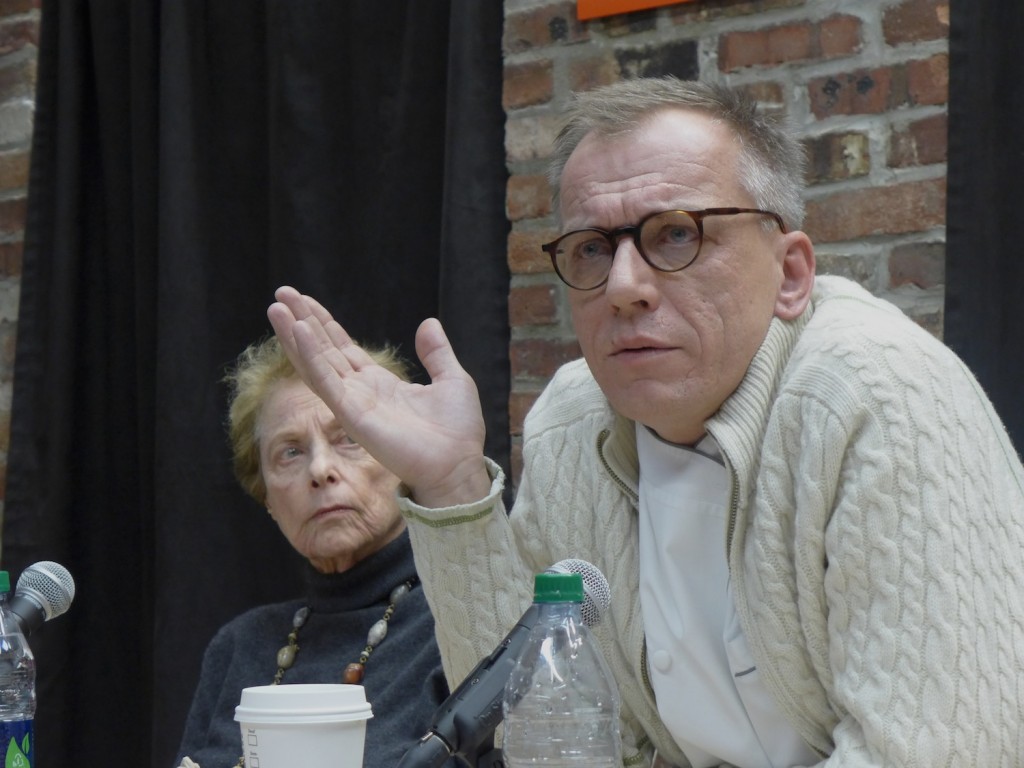 "These things are like snowflakes", Austrian-American Kurt Gutenbrunner of the KG-NY Restaurant Group said of the dishes, beers and wines which are essential to the culinary cultures of Austria and Germany. It sounded so right, not just because each snowflake is at once intricate and unique in form (though every one of them has a basic hexagonal form), but also because snowflakes are so fragile, so easily destroyed by a small rise in temperature or by pressure, such as feet compacting them to ice. In all these respects, but also because snow is such a regular feature of winter conditions in both Germany and Austria, the snowflake is an ideal metaphor for German-American and Austrian-American culinary culture. They both suffered so much and for so long from lack of interest and lack of respect, but are now enjoying a dramatic resurgence. As Gutenbrunner said of the Biergarten at the Standard Hotel in New York for which he consults, "I never saw so many young ladies drinking beer…it's cool to drink German wine and it wasn't for a long time. There's a real change in culture!"
It was just one of many remarkable moments during 'The New Little Germany: New York revisits the German Table' last night at the Tenement Museum on Orchard Street in the city's Lower East Side. It was one of their 'Culinary Conversations' events curated by food historian Jane Ziegelman, who explained at the beginning that for much of the 19th century this district of town was Kleindeutschland and home to 200,000 people of German origin; a quarter of the city's population. The triad of German music, beer and food was the bedrock of this community, also when much of it decamped to Yorkville during the late 19th century and other immigrant groups came to dominate the Lower East Side. The Tenement Museum is an important vehicle through which the memory of this culture is communicated and I strongly recommend their fascinating 'Shop Life' tour.
Much less well known, even to me was the history of the Germanic culinary traditions in New York during the last decades of the 20th century about which food critic and journalist Mimi Sheraton (left in the above photo) had so much to report. How many New York foodies know that during the 1980s 'Vienna 79' received four (of five possible) stars from the New York Times? Or that Peter Luger's famous restaurant in Williamsburg is actually a German steak house? As she said, "A lot of what Americans eat is German in origin, and not just the obvious things like hot dogs and hamburgers. Often the seasonings in other dishes are German," but in recent decades awareness of this in much of America has been low to nonexistent.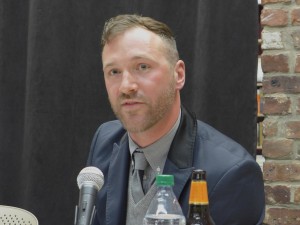 A tasting menu which began with an 'Aufschnittplatte', or plate of charcuterie, from Schaller & Weber at 1654 2nd Avenue at East 86th Street in Yorkville illustrated the discussion. Jeremy Schaller is clearly a man of our times rather than a clone of his grandfather who co-founded the family business 76 years ago, yet like Gutenbrunner he stressed the importance of traditional recipes and preparations as the essential foundations of distinctive Germanic cuisines. This rang many bells with me, for it is exactly the approach of the new generation of Riesling producers in Germany and Austria. For them the right genetic material (variety and clone/selection) for the vineyard location, along with the use of winemaking methods refined over many generations are no less essential to the wines they make.
What does that have to do with contemporary America? Well these same winemaking traditions have been exported to the US and Canada, where winemakers have adapted them to the special conditions in their regions. For example, Riesling has been grown in California for about 170 years and in New York State for 50 years. Many of those winemakers are not of German extraction, but just as many American chefs who are not of Italian extraction are fascinated by Italian cuisine, so they are attracted to the Germanic wine traditions. Now that German and Austrian food in America are so clearly in the ascendent again I have no doubt that these food and wine traditions have already become mutually reinforcing and this will enable them to decisively overcome the remaining prejudices against them in America (fatty food / sweet wine – note the parallel there!) Jane Ziegelman concluded with a quote from German food writer Ursula Heinzelmann in which she describes how the new movers and shakers of Germanic cooking trust their own cultural identity as the previous generation rarely did, and this makes it possible for them to join the culinary chorus of New York City.
Anyone who doubts that the German-American tradition is important to the entire country's melting pot (the melting pot was of course also a cooking pot!) origins should click on the link below to see a graphic showing the dominant cultural make up of American county by county as determined by the 2000 national census. It says everything.
http://visualizingeconomics.com/2008/09/14/us-ancestry-2000/#.UCIZ8Rw9pnQ