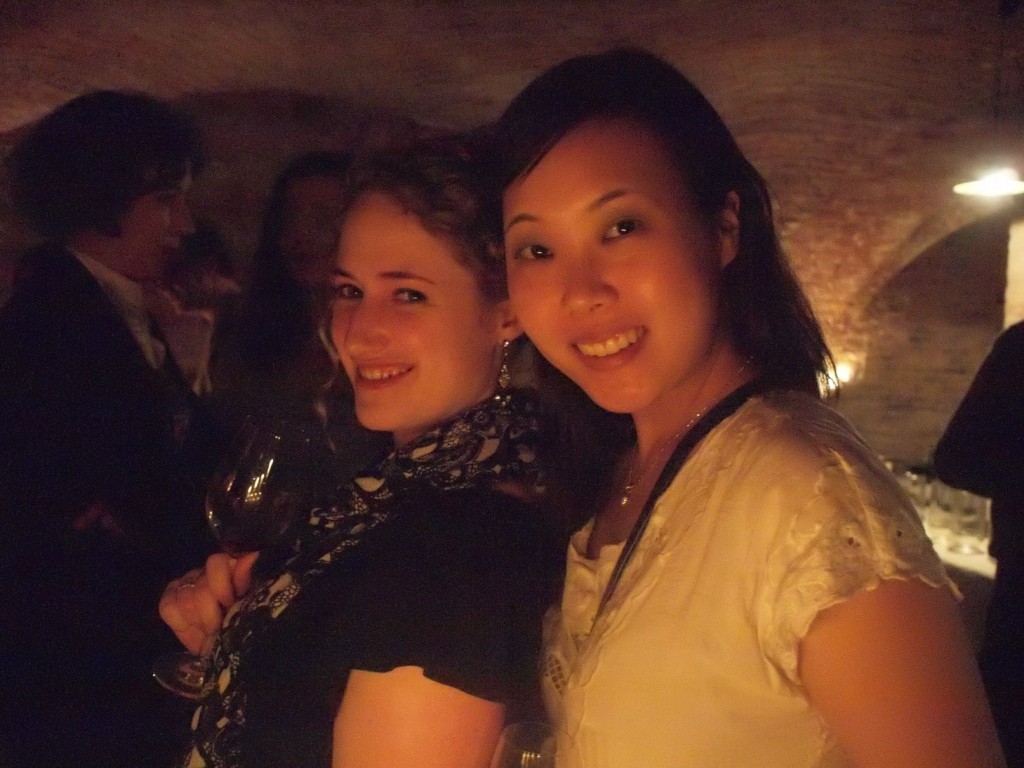 I can't show you how the Long Night of German Wines (Lange Nacht des deutschen Weins / LNDW) Berlin will look like this year – the 16th year! – because I and everybody else who attends will only find that out from 7pm on the evening of Saturday, April 20th in the vaulted cellars of Berlin wine merchant Weinstein in the Saarbrückerstrasse 20/21 (D 10405 Berlin-Prenzlauer Berg, nearest U-Bahn/subway station Senefelderplatz). I can only show you pictures like the above and the below taken during the LNDW Berlin 2012, which  everyone who participated thought the best so far.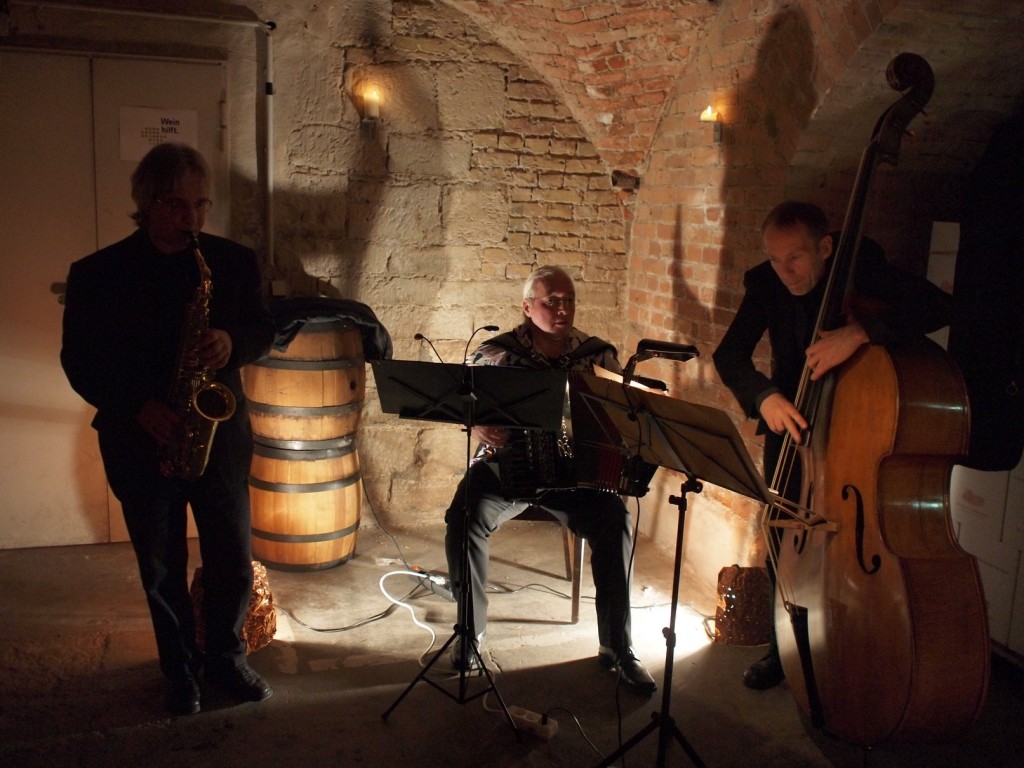 For example, this year instead of the group pictured above we will have music from jazz pianist and singer-songwriter Natasha Tarasova. As usual the food will be the "Wein-Kieseln" or German tapas from the kitchen of the Weinstein wine bar just a few blocks away in Prenzlauer Berg. This year the young wines will be provided by a trio of talented Jungwinzer, young winemakers from Rheinhessen, Christine Huff (pictured below m.) from  Nierstein-Schwabsburg, Mirjam Schneider (l.) from Mainz-Hechtsheim and Eva Vollmer (r.) from Mainz-Ebersheim who will show everything from Merlot to Dornfelder in red and Riesling to Grauburgunder in white. My colleague Manfred Lüer has described them as three amazons of wine, and if he means the quality of their wines, then I'm right with him. Mature wines will be of the controversial 2003 vintage from my own private cellar with the emphasis firmly on Riesling (what else?)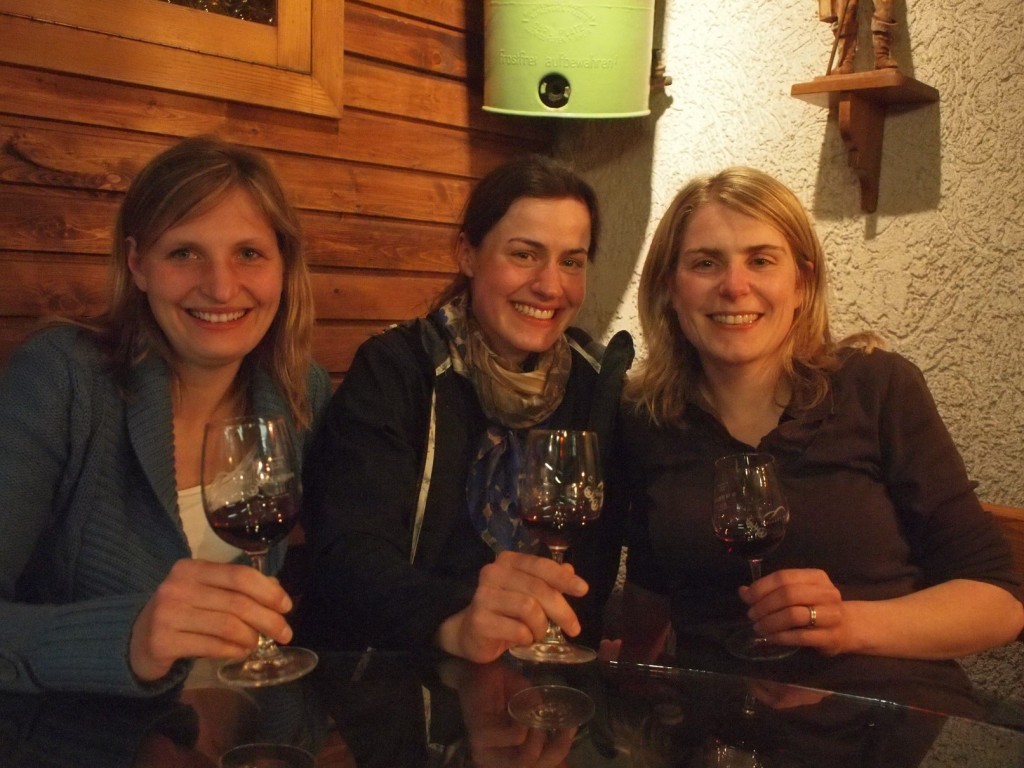 The LNDW Berlin is, and has always been, a charity event in aid of the HIV / AIDS foundation HOPE in Cape Town/South Africa. Every cent you donate will go directly to HOPE and will help them continue their excellent work on HIV / AIDS prevention, and in caring for sufferers and orphans. To take part make contact with Weinstein either at (49) / (0) 30 440 5 06 55 or by email at weinstein@weinstein.eu. We only have limited space, therefore we must take reservations. A reservation is fixed when you've paid the Euro 30 we ask each participant towards the cost of food and music. On the night we recommend a donation of at least Euro 30 per person. This is a very modest price for the limitless wine and food, live music, a wine auction and piece of wine theatre (see below, from the Württemberg Jungwinzer group Quintessenz back in 2011) which make up the program.  JOIN US FOR RIESLING & CO. !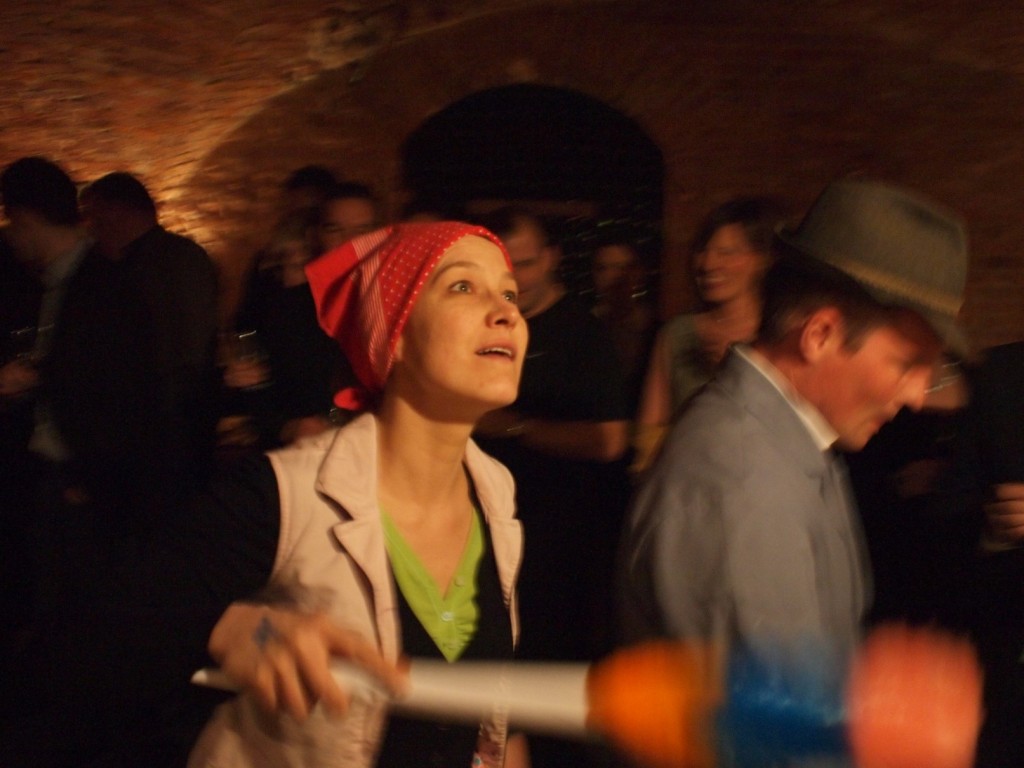 Note: no tickets are issued for the LNDW, instead we keep a list of reservations. Although we have tried to clearly signpost every possible danger, however, small, you enter the Weinstein cellars at your own risk. We also accept no responsibility for your coats and other personal belongings deposited at the coat check.
Note 2: The 3rd Long Night of German Wines in New York is scheduled to begin at 11pm on Wednesday, July 24th at Restaurant Hearth.