What the fuck!? On my first day in Alsace was I was riding high and rolling with the punches. My first tasting at Zind-Humbrecht close to Turckheim blew my tiny little mind, but then the WiFi in my Colmar hotel failed completely for no obvious reason at all. So I had to hammer out the story below on the computer in the hotel lobby. However, the keyboard was so bizarre that there was no question of repeating this kind of stone age word processing. So it's only now, three full  to bursting days later, that I'm catching up with you., and I've really got too much to tell. It was not only a extremely stimulating trip, it was also inspiring and slightly shocking.
Of course, when, on my second day in Alsace, I saw this miniature version of the Statue of Liberty I also though, what the fuck!? I mean, the half-timbered, winstub-dominated world of Colmar is about as far away from in-your-face, get-out-of-god-damned-way Manhattan as I can imagine! But this strangest of sights during my Alsace tour was immediately explained to me by 32 year old Mélanie Pfister of Domaine Pfister in Dahlenheim who was driving me back to Colmar after an impressive tasting at her domaine. "You know that Frédéric-Auguste Bartholdi, the man who designed the State of Liberty, was born in Colmar?" she asked and I had to admit that I didn't know that.
As a winemaker Mélanie Pfister is almost completely unknown compared to Pierre Trimbach in Ribeauville who I had visited that morning, and her top dry wine, the Riesling Grand Cru Engelberg costs just one tenth of what Trambach's Clos Ste. Hune does! However, just like Trimbach she is also committed to properly dry wines and pursues a super-clean and super-straight style of wine with a strong mineral character that's designed for long-ageing. So this style is obviously not an accident in Alsace, but something which fits the climate, geology (i.e. terroir) and the gastronomic (i.e. consumption) culture of the region. She can now doe this rather better than when I first met her four years ago because of her new cellar facility pictured below.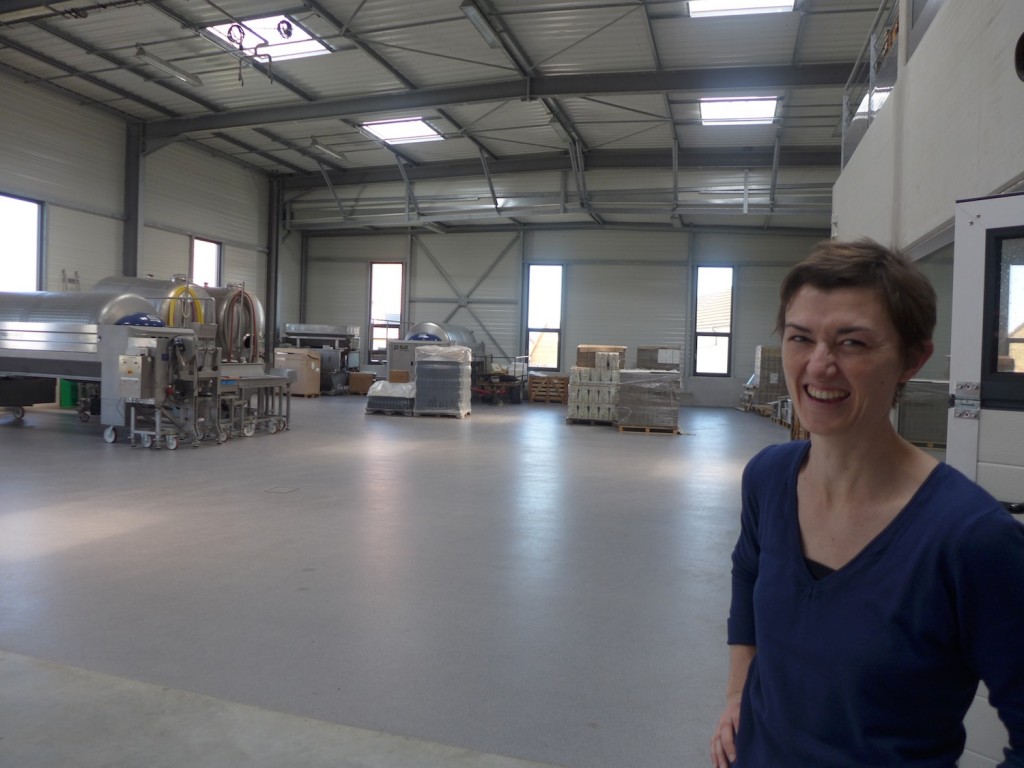 The deep roots of the dry Riesling tradition of Alsace were amply demonstrated by my tasting with Pierre Trimbach. Although we tried the full range of 2011 and 2010 wines, this was only the beginning of a tasting which stretched back to the 2005 Riesling Cuvée Frédérick Emile and Clos Set. Hune. Later at dinner Melanie and pushed this a bit further with a bottle of 2001 Riesling Fédérick Emile, the aromas of which were as fresh as the 2005, although the flavor was even more harmonious. It was just perfect with the roast guinea fowl morels and snow peas I ate. I floated back to the WiFi-free zone of my hotel.
Yesterday it struck me even more that one of the secrets of Alsace Rieslings special style (next to the area immediately west of Colmar being one of the driest places in France, and during the summer one of the warmest) is the way that for generations the winemakers thought about their wines in a very particular gastronomic context that was part rustic regionally (think choucroute) and part parisian haute cuisine (think Auberge de l'Ile). This really hit me at Domaine Weinbach, which is run by the trio of Colette, Cathey and Laurence Faller, where the tasting was followed by a lunch of black truffle sandwich (!), pan-roast sole both cooked by Cathy Faller, and followed by excellent French cheeses. Although I felt a bit like a peasant stealing from the queen's table, that didn't detract at all from the way in which rich, but dry and refined style of the Faller wines fitted this consumption situation perfectly. That's something still too little appreciated internationally…just like how well this kind of Alsace wine (particularly the Pinot Gris and Gewürztraminer that are slightly sweeter than the Rieslings) goes with many spicy East Asian cuisines.
But it's getting late here in the ICE express train taking me towards the Rheingau and the next stage of my adventure, so I will finish now and give you the final installment of my Alsace adventure tomorrow morning. So you'll have to be patient if you want to hear the story of the region's Dr. Jekyll & Mr. Hyde split personality: WATCH THIS SPACE!