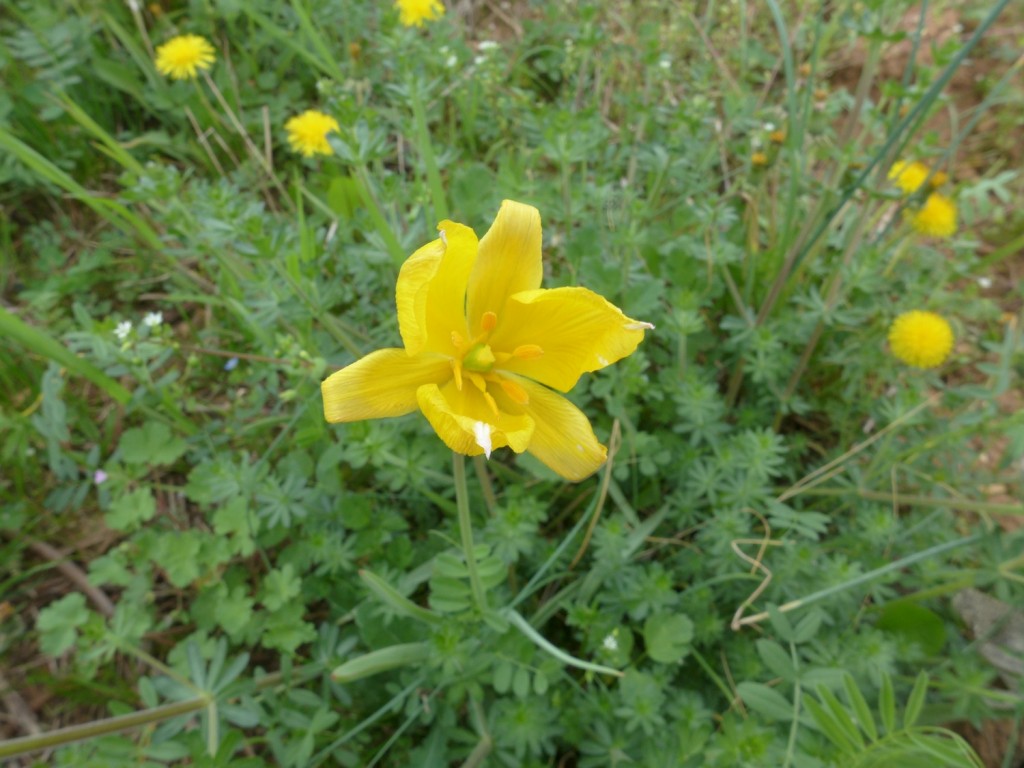 Normally I don't expect you to share my enthusiasm for the intricacies of the plant world, but I had to show you this wild tulip Tulipa sylvestris growing in the Grand Cru Hengst vineyard cloase to Wettolsheim/Alasce. It was a sign of just how seriously Maurice Barthelme of the Albert Mann estate takes bio-diversity in his vineyards, and in this, no less than in the use of biodynamic cultivation methods, he is the same wavelength as most of his colleagues. In fact there's more agreement about this among the best Alsace winegrowers than on some of the other most fundamental questions. Seen from this perspective they're a contradictory, even schizophrenic group.
They may hate me for saying this, but many of the rifts between opposing schools of thinking about the right direction for Alsace winemaking to go have their roots in the way the region moved back and forth between France and Germany over the centuries. You and see and hear the legacy of this everywhere you go in the region Most of the towns bear Germanic names (though some like Ribeauville switched to French names), but most of the people now speak French first and it's quite rare to hear the Germanic Alsace dialect spoken (not least because French has been the official school language since the end of WWII). The more ancient architecture in the towns looks distinctly Germanic, however, during the mid 19th century some imposing French-style official buildings and imposing private residences were erected. Then after Alsace became part of Germany again following the Franco-Prussian War of 1870-71 it was back to Germanic architecture, and so forth.
The previous version of the Wine Identity Crisis in Alsace revolved around the question of how sweet or dry the wines should be. No sooner had the better producers resolved this by reaching an unspoken agreement that as far as possible Riesling should be properly dry (along with Pinot Blanc, Sylvaner and Muscat) and that both Pinot Gris and Gewürztraminer both generally need a hint of sweetness, than the next split developed. This is between those who are in favor of varietal wines and those in favor of the mixed planting of varieties, the simultaneous picking of their grapes (regardless of differences in ripeness levels between them) and their co-fermentation. Because of the ethos of the promoters of this path I call them the Prophets of the Cosmic Mix. This controversy is a special version of the ancient divide between cuvées, for example in Bordeaux (where the different grape varieties are grown, picked and fermented separately), and mono-varietal wines, for example in Germany. I think that the latter association is one reason why what I will call Varietal Modernism is rejected by the Prophets of the Cosmic Mix.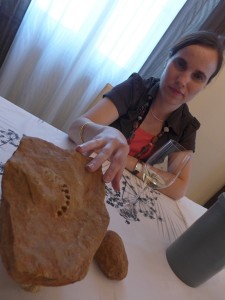 Jean-Michel Deiss is the leading Prophet of the Cosmic Mix, although his wife Marie-Héléne (pictured right) often gives a more articulate explication of how grapes of many varieties from a single vineyard are better at communicating the character specific to it, our old friend terroir. No, let's express it with the correct emphasis for this situation: Holy Terroir! Here it's important to make clear that the white wines which Jean-Michel and Marie-Héléne Deiss make at Domaine Marcel Deiss in Bergheim are amongst the best and the most distinctive in Alsace, even France. However, I must add some simple observations to this so that you don't come to the wrong conclusion about their wines. The inclusion of Pinot Gris and/or Gewürztraminer in many Riesling-based mixed plantings pushes the ripeness (sugar-content) of the juice to the point where the resulting wine cannot be dry. Of the 2011 vintage wines I tasted only the simple 'Alsace' tasted struck me as properly dry. Now the residual sweetness in many of the 8  single vineyard wines (let's call them unofficial Premier Crus) and 3 wines from Grand Cru vineyards which I tasted will certainly become less obvious as those wines age, but that process takes years. Complex, highly distinctive and refined they all are, but that doesn't make them all dry and I wonder when I would drink some of them. That, however, is not the problem.
There seems to be a Big Problem because Jean-Michel Deiss demands that others follow him on this path and they are often unconvinced by his statements. His dogmatism is causing some of colleagues to switch off when he talks, and some of them clearly feel some resentment. I think I might feel that way too if the excellent dry Riesling I had made from a plot in a Grand Cru vineyard inherited from my father or grandfather was rejected out of hand, because it was not only from a varietal planting (sin), but from a single clone of that variety (mortal sin). Give me that Old Time Religion: Holy Terroir!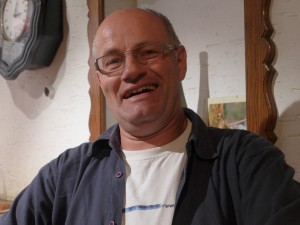 Maurice Barthelme of Albert Mann (left) in Wettolsheim is the opposite, a believer in Varietal Mondernism, a pragmatist who seeks to grow delicious wines in a manner that respects eco-systems and natural cycles without turning this into a substitute religion. At Albert Mann most of the 2012 wines were already bottled, whereas most of the top producers won't bottle anything before September, and most of the wines were bottled with screw caps, although most of the top producers cling to corks (while worrying about cork problems). Sure some Alsace wines, particularly the dry Rieslings with their pronounced acidity can benefit from extended contact with the yeast before bottling, but I loved the citrusy freshness, discrete juiciness and fresh, but already harmonious acidity of the freshly-bottled 2012 Riesling "Cuvée Albert". Although the 2012 Riesling from the Grand Cru sites – Schlossberg (granite) and Furstentum (calcareous clay) – were less open, but in a few months they too will show very well. And in spite of being made only in stainless steel tanks (another sin for some traditionalists), they were dramatically contrasting wines full of terroir character.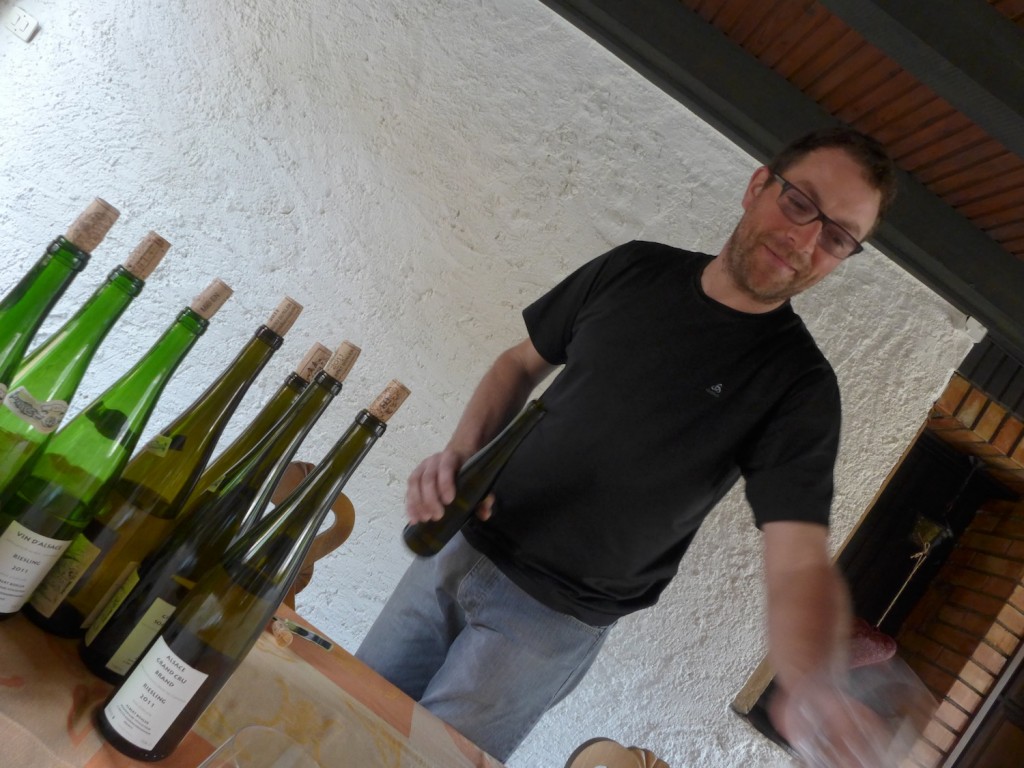 Then there was the best surprise of my entire trip. I knew that the dry Rieslings form the Grand Cru Sommerberg which Jean Boxler (pictured above) was making at Domaine Albert Boxler in Niedermorschwihr were stunning, however I had no idea that his regular quality Pinot Blanc, Sylvaner and Riesling were also superb wines that also grow on granitic soils and have the delicate aromas and sleek, lithe body this makes possible. That was the reason why the 2011s tasted so elegant in spite of having 13.5% alcohol.
"Normally we harvest the Rieslings towards the end of the harvest, but on the first day of the 2011 harvest I realized that the Riesling grapes were already very ripe and if I waited any longer I wouldn't be able to produce the dry wines I want to make every year," Jean Boxler explained to me, "so we changed plan and picked all the Rieslings first." The result is the coolest,  most delicate and elegant Riesling Grand Crus I tasted from this vintage. If those had been mixed plantings with members of the Pinot family, then the sugar level of the resulting juice would have been too rich in sugar for dry wines.
From my point of view each of these paths – Varietal Modernism and the Cosmic Mix – are equally legitimate, and both clearly yield superb wines (though of clearly different types). The existence of them side by side is certainly an expression of France's democratic culture, but of course from the point of view of the normal wine drinker far from Alsace this is confusing, and possibly seems schizophrenic. It's not my job to tell people what to think, only to offer an additional, and possibly alternative perspective that helps them to see things more clearly. Hopefully, I have been successful in that for Alsace, about the beauty of which I have spoken too little. But others have written so much about that already…