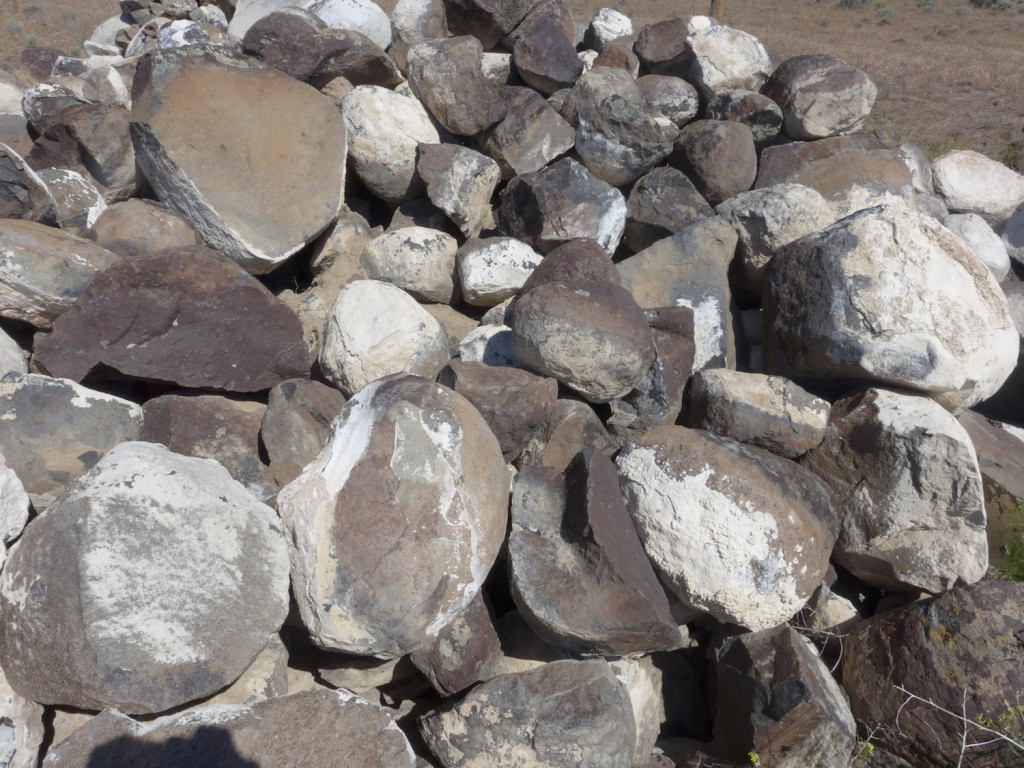 It's easy to make sense of the wines of Washington State in the glass. Mostly they taste pretty good and sometimes they taste amazing – this is possibly the most consistent and best value for money state in the Union for wine quality – but from the taste it's impossible to deduct the twin "secrets" of Washington State wines ranging from medium-dry Rieslings with white peach aromas to its dense, tannic and smoky Syrahs. And I promise you that those same twin "secrets" really are behind them all.
That's why I'm glad that I got up at 4:30 am on Tuesday to make the first flight from Seattle to the Tri-Cities airport in Eastern Washington State for two days of deep immersion in winegrowing there. That experience wouldn't have been so mind-expanding if Ed Doherty and Terry Doherty (no relations), Ryan McAdams and Mike Means of Chateau Ste. Michelle's viticultural team hadn't gone out of the way to help me make grasp the fundamental forces of this extraordinary winegrowing microcosmos. It's all about the simultaneous lack and abundance of water.
Actually you can see some of one of those secrets out of the aircraft window as you cross the Cascades (also through the car window if you take Interstate 90). With a striking abruptness the dense forest covering the Cascades and their foothills peters out on the mountains eastern side and is replaced by scrub; lush green turns to dusty brown. Of course, most of California also looks brown at this time of the year, but in California it rains during the winter and spring. In Eastern Washington State it doesn't rain much at all, and many places get no more than 6 inches of rain. Consequently it's a treeless desert and there are very few places where any kind of winegrowing would be possible without irrigation.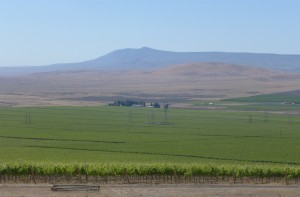 That brings us to Washington State's trump card as a wine producer, which is the huge rivers flowing through this desert, most notably the Columbia and Yakima, providing a vast supply of water for irrigation. This resource means that winegrowers and fruit growers – often they are the same people growing wine grape alongside cherries, apples and sometimes other fruits like blueberries, or even hops and spearmint – can irrigate pretty much as and when they want. In the past this lead to some excessive irrigation, which negatively influenced wine quality (e.g. very green tasting Cabernet). But they learnt from those mistakes and now use irrigation in considered and sometimes artistic manner.
Of course, the idea that almost all the water which the vines in this booming winegrowing region need comes out of pipes will strike some people as "unnatural" and purists will contend that this is incompatible with both wine quality and "terroir" (the taste of the place). However, the vines cannot know where the water which flows through them came from, and irrigation water no less than rainwater dissolves nutrients which are absorbed by the vines. Much of the best Riesling from Washington State grows on rather sandy soils little more than a foot deep over fractured basalt bedrock (see the picture of some great chunks of this unearthed during vineyard planting at the top), and it strikes me as terroir-logical that they should have the racy acidity and a mineral taste which they do.
The viticulturalists and the grape growers I spoke to – special thanks to Archie den Hoed and Derek Way for taking so much trouble to explain how they grow Riesling – have clearly spent as much time perfecting their methods as the state's leading winemakers. The wonderful bright fruit aromas and good balance of most Washington State wines is mainly the result of the grape growers hard work. Chateau Ste Michelle's "basic" 2011 Columbia Valley Riesling with some residual sweetness is a fine example of this (and retails for under $10!) but I could give many more.
Of course, if wine is uninteresting for you unless it is funky and/or rough at the edges (the wine equivalent of shabby chic) then you won't like this wines. However they already give pleasure to millions of people and at STUART PIGOTT RIESLING GLOBAL we believe in the pleasure wine gives and the conviviality it encourages. May the Riesling Force be with you!  But if you insist on something freaky, then Richland/Washington State has the beverages for you at the Atomic Ale Brewpub & Eatery…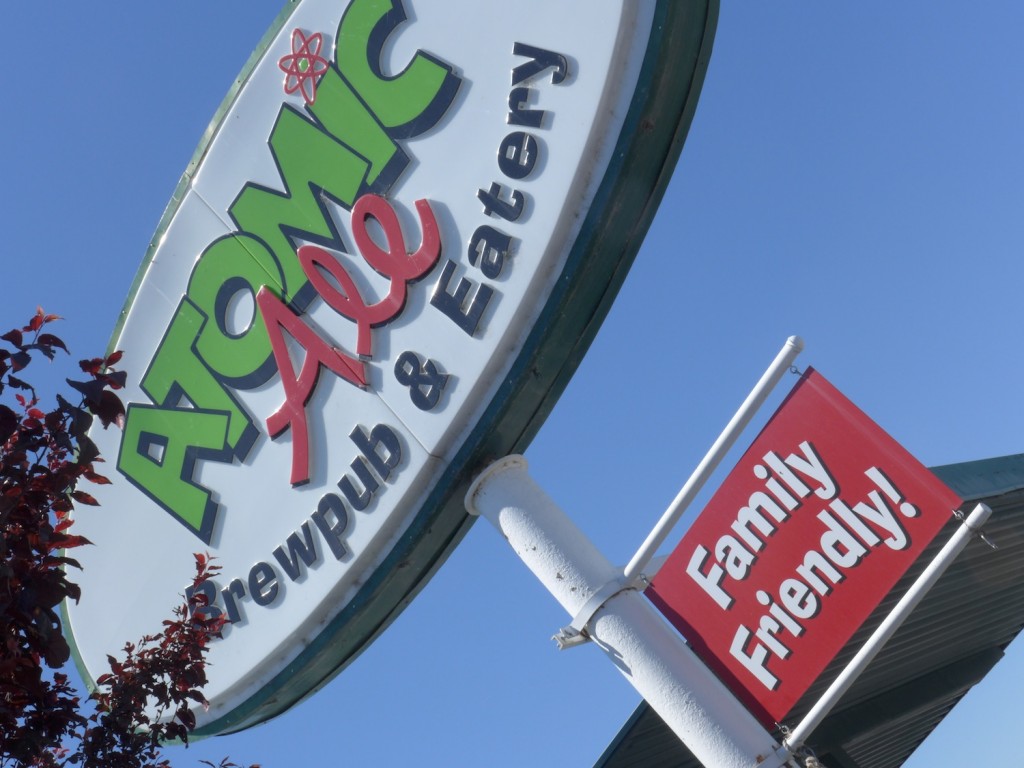 PS I am now on the Riesling Trail until the afternoon of June 27th when I return to New York City. Please be patient when sending messages to me, since I will only be online one hour or so most days and zero hours on other days. To be honest, I enjoy those zero online days when I  feel like I've returned to the Stone Age, or at least to my childhood.