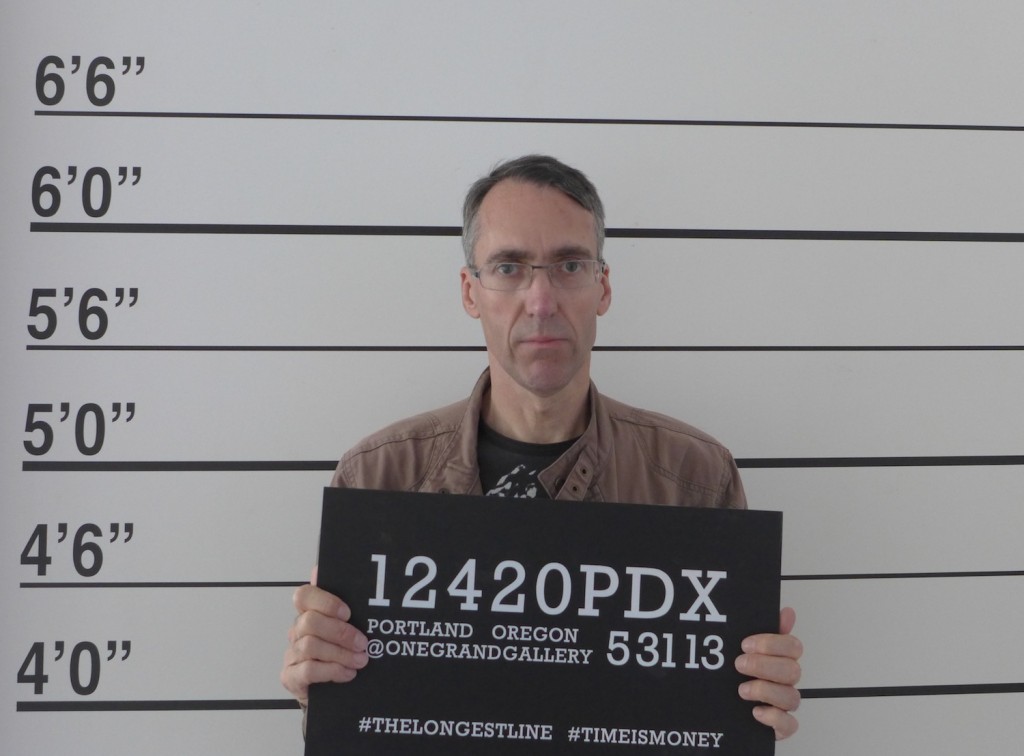 Right from the first time I heard about the Riesling Road Trip which begins in LA on June 19th and will transport me via the land route to New York Wine City (NYWC) on June 27th, I've been worried that the end of that long line would be a stint in jail for some supposedly "Un-American Activity" that is only the latest expression of America's love affair with Riesling. Today in One Grand Gallery at 1000  East Burnside Street in NE Portland (see www.onegrandgallery.com) I suddenly found myself having mugshots taken of me as part of a show appropriately called 'The Longest Line'. I was then asked how I pleaded, although no charges had been read out to out to me, and ! unhesitatingly answered, "guilty". This was the weird Stuart Pigott's way of turning pro; it struck me as the only hope of reducing the length of my sentence in a Bullshit Chardonnay penitentiary. No plea bargain was on offer though. As you can tell from that response I was seriously dazed, although I hope my confusion was on a higher level than the last time I had an encounter with the thought police. Yes, Portland is a weird place, and as Hunter S. Thompson (a man who sweated as much as I do) famously said, "when the going gets weird, then the weird turn pro."
A moment after I thought that all was lost I suddenly got incredibly lucky though and slipped out of the gallery unobserved, nipped diagonally across the road and entered the offices of Pacific Rim Winery before anyone could spot me. A Great Escape if there ever was one! Sirens rang out and there was some pandemonium on the street below, but nobody down there thought to just walk up to the 2nd floor of 1111 East Burnside Road and slap the handcuffs on me. It would have been easy, but obviously the thought police didn't image in I could be in there. Such is the power of my good friend the Great God of Wine whom I humbly thank for my deliverance from the evils of full malolactic fermentation and barrel fermentation in 100% new oak.
Congratulations are due to Nicolas Quille of Pacific Rim for the great vineyard designated Riesling which he poured for me. Was the complex herbal-mineral 2010 Wallula Vineyard Riesling in the Horse Heaven Hills/Washington State the best? Maybe, but I was also really impressed by the bolder and riper 2009 vintage of that wine and the seriously concentrated, yet bright and uplifting 2010 Solstice Vineyard Riesling form the Yakima Valley/Washington State. But maybe I'm more amazed by the three "regular" Pacific Rim Rieslings – the Dry, the Columbia Valley (which is medium dry) and the Sweet Riesling – of which the total production in the 2011 vintage was 1.6 million bottles You see they too taste really good, i.e. have ripe and honest fruit aromas, are each very well balanced and pure. That's an amazing Riesling achievement!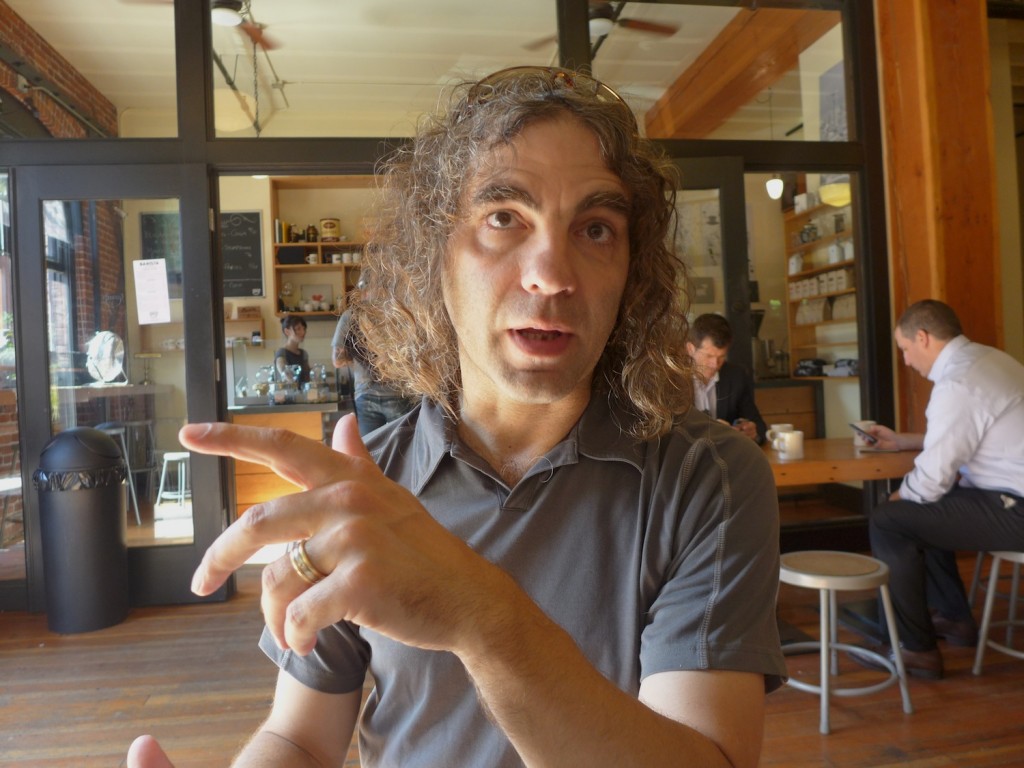 Yesterday I spent the day out in the Willamette Valley tasting, starting none too early with Jay Sommers (seen above at Barista Coffee in Downtown Portland) of the J. Christopher Winery in which Ernst Loosen of the Dr. Loosen estate in Bernkastel/Mosel and the Eroica joint venture with Château Set. Michelle in Washington State has a large stake. J. Christopher is heavily committed to Pinot Noir and makes a very different kind of – rather sleek, elegant, but earthy and complex – red wine from this grape than most Oregon producers. One reasons for being unfaithful to Riesling is that I really like those wines, and the other is that every time I talk to Jay I learn so much about how wine growing and winemaking Oregon ticks.
And Wine Oregon really does tick so very differently from Wine Washington State to its north. Here in Oregon irrigation might very well be a bad idea, not only for wine quality, but also for the environment, whereas in Washington State there's no way around it if you want to grow grapes.  This is a perfect example of the complexity of the wine world, of our world altogether, but still people want to have one rule for every wine, for every wine growing region. To my mind this ends in one rule for everyone out there, which is fascism. More about the Rieslings of Oregon when I've had time to digest the intense and (no surprise) complex impressions of yesterday and today. Try not to forget that patience is a virtue, or at least helpful when the going gets weird!