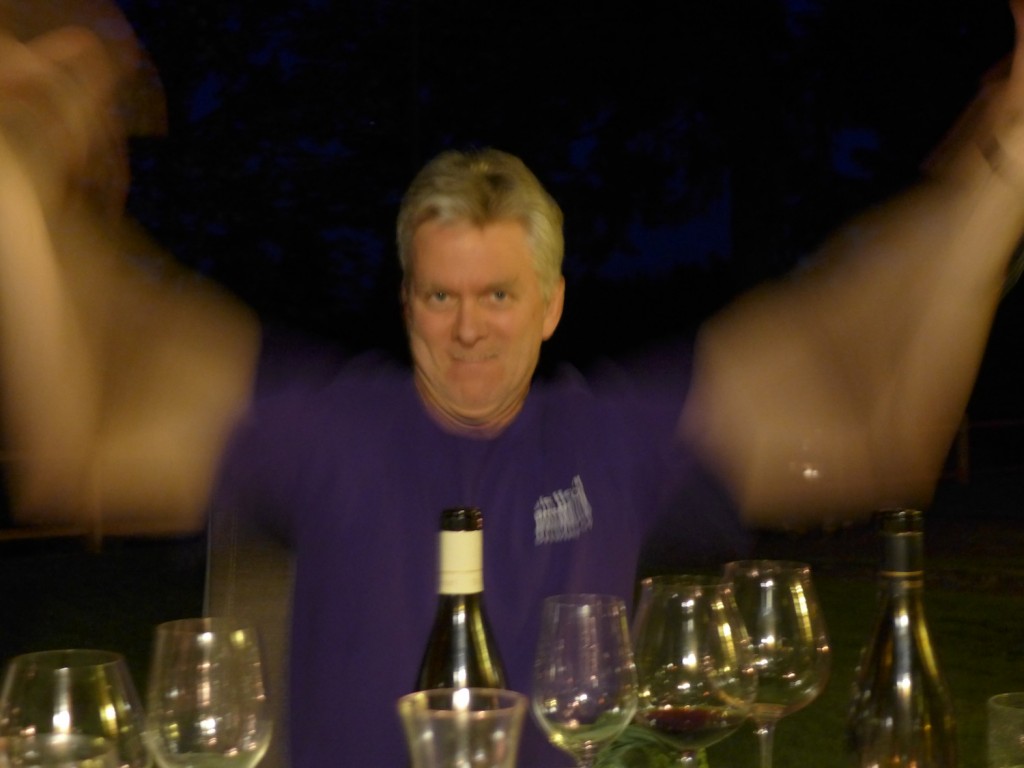 When I'm on the Riesling trail one thing always leads to the next and before I know it I'm God knows where. The picture taken late last night shows how before my very eyes Kirk Wille of Loosen Bros USA was transformed into the invincible Riesling Superhero "Super Kirk". All Kirk had done – apart from drink the same wines as everyone else at the table – was to explain how he had recently been to Britain for the first time and how he dug the "British Gestalt". It wasn't really clear to me what he meant by those words, but clearly it was something of major significance going, "beyond Benny Hill and Monty Python". I'm still trying to figure out if that or something else I don't know anything about suddenly gave him superhuman strength. Whatever it was I need some of it!
Don't get me wrong. I'm really pleased for Super Kirk that he had such a positive experience and that it was with my countrymen, but I see both this side of Britain and another darker one. On the dark side I think of the recent welcome news that the British government through of Foreign Secretary William Hague finally officially expressed its "sincere regrets" for the "torture and other forms of ill-treatment" inflicted upon the Kenyan people during the Mau Mau rebellion in that country during the 1950s. The problem with this is that for almost two years the British government fought tooth and nail in the courts to avoid any kind of legal, moral, or financial responsibility for what happened. Although just over 5,000 survivors are to be compensated, many thousands more survivors have not been offered anything. Worst of all, the British government denies liability, as if all this took place during a distant geological epoch rather than (mostly) under Winston Churchill's second premiership. For more information see:  http://www.bbc.co.uk/go/em/fr/-/news/uk-22790037
But back to the Riesling. Yesterday afternoon at the offices of Watershed Communications in Portland/Oregon I had a fascinating blind tasting of Oregon Rieslings which showed how fast these wines are improving. There were three really surprising wines in this tasting, (in order of ascending sweetness) the 2012 Estate Dry Riesling from Anne Amie in Carlton, the 2012 Ribbon Ridge Medium-Dry Riesling from Tristaetum in Newberg and the 2012 Willamette Valley Riesling from Willamette Valley Vineyards in Turner, which had all had a Mosel-like aromatic vivacity and interplay of succulent fruit and racy acidity. The extensive tasting sheet Katie Bray of Watershed had prepared (many thanks) revealed that just shy of 200,000 bottles of that wine from Willamette Valley Vineyards were produced. OK, it isn't quite as exciting as the totally seductive and still vibrant 1999 Riesling Spätese from Helmut Dönnhoff of the Nahe (it was the auction bottling from the Brücke site) which Super Kirk opened for us last night, but the retail price is just $14; far below that of a Dönnhoff Riesling Spätlese. That combination of quality, quantity and price is remarkable achievement of which winemaker Don Crank can be proud. It and the 'Best Case Scenario II' special offering of Oregon Rieslings which Watershed has organized are further signs of the positive direction in which the United States of Riesling is developing.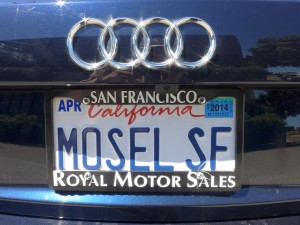 As you can see from the picture left I just made it to San Francisco/California where I will continue my hike along the Riesling trail until June 19th. I now get a couple of days off before giving a Riesling "GG" (Grosses Gewächs) seminar at Jardinière Restaurant in the city on Monday morning for my friends at Dee Vine Wines. Unfortunately that event is already fully subscribed and there's non way I can invite you along to it. Don't worry though I will report in full. As mentioned many times before your interest in this blog, website or whatever you want to call it is enormously appreciated. It is the only prize that really counts for me. May the Riesling Force be with you!