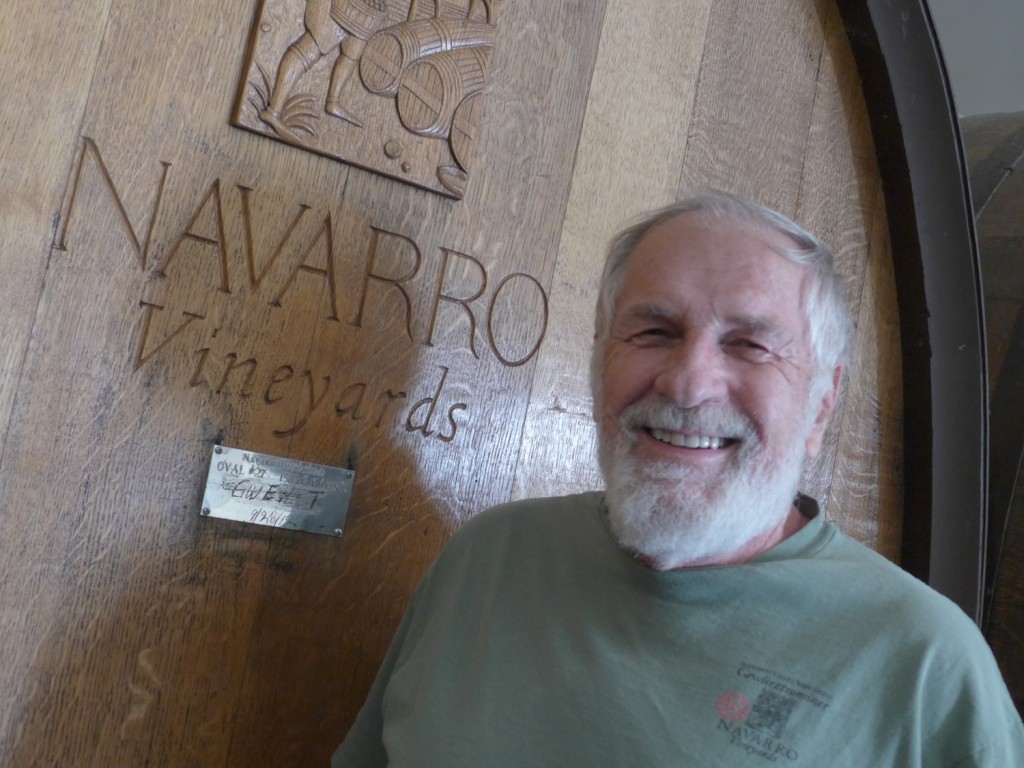 In the intense sunlight out of a blue sky the yellow of the grass and the deep blue of the pines had a clarity you won't find anywhere in Europe no matter which time of year it is or which drugs you take. And that does something which I find hard to describe in a few words, although it's certainly also slightly erotic. We drove over the rise and turned the corner as I'd done so many times before, physically and mentally retracing my path to Navarro Vienyards outside Philo in Medocino County/California first taken a quarter century ago. Was I stuck in some kind of loop ? I can well understand the criticism that I often write about "my gals/guys", because I frequently go back and hope that I find something new in a person and a place I've visited many times. But today I was in a very strange and almost completely unknown place called Great American Riesling, and the best thing about it was that it was also great american riesling.
Some stories creep up on you without you realizing and maybe those are the best stories, because there's something inevitable about them – you should have seen it coming, like a gathering storm or a garden full of flower buds about to blossom, also because its roots already so deep into you – but for some reason (complacency s usually the villain) you don't realize that until an entire landscape of cinemascope expansiveness – dark and threatening or multicolored and seductive – has spread itself out in your mind. Then it's too early and too late and exactly the right moment all at once. And that's what I encountered today when I drove over that rise and turned that corner, which I'm still trying to make some kind of sense of.
Ted Bennet of Navarro Vineyards (pictured above in his barrel cellar) is one of the most important winemaker in America, and I say that not (only) because of my Riesling obsession and his Rieslings, but because he's found his own field (the Anderson Valley of Mendocino), ploughed it in his own direction (the "Alsace" grape varieties, which in this case mean Gewürztraminer, Riesling, Pinot Gris and Muscat), and in his own fashion (sleek and pristine dry white wines with fruit aromas so delicate that they seem atypically Californian). I've drunk so many delicious and wonderful wines – literally wines to wonder! – from Ted Bennet over the years, at restaurants in the (San Francisco) Bay Area, inNew Yorkand I don't know where else…that I took them for granted in the best sense of those words. That's why I was unprepared for what  happened today.
After tasting the super-elegant 2012 dry Pinot Noir Rosé, Muscat blanc, Pinot Gris and Gewürztraminer from Navarro I picked up a glass of the dry 2012 Riesling and smelt the honeysuckle in the hedgerows in the country lane in Southwest England where my grandparents lived during my childhood. Those are the kind of aromas you don't forget, can't forget, don't and can't ignore. However, it wasn't just this "effect" which blew me away. No, it was the fact that this is a wine of pristine purity with a line of a straightness which nature ought not to allow (read Einstein and think about the logical consequences of what he says). Technically the wine was so perfect and although it had been bottles just two weeks ago it sung with a brilliance and energy which was seriously dangerous.
So here I am in the luxurious guest house of a Sonoma County winery down in Billionaire's Hollow where I slept the last nights struggling to find adequate words to describe a wine that costs just $19.50 ex-cellars, but electrifies my sense far more than a bunch of California wines (that I like and admire) that cost $50, $100 and more a bottle no matter where I buy them. Of course, this wine means so much more to me, because it's Riesling, I'm the "Riesling Guy", and this is the best dry Riesling I ever tasted from California. But the importance of the moment is much greater than that personal revelation, because this wine shows what Riesling could be here if it was only understood for what it is; a grape from which great dry white wines have been and will be produced in this state. What I mean is that, if winemakers don't believe that a certain kind of wine is possible, then how can it happen? Only by accident, but then it won't be recognized for what it is. Knowing that something's possible changes the whole ball game.
Honeysuckle, yes, but also white peach, apple blossom, just a hint of yeast, because it was bottled only two weeks ago, racy without being sharp, mineral…and so sexy in the Ingrid Bergmann (in Hitchcock's 'Notorious') sense. What the fuck? Yes, the buttons are fastened tight right up to the chin, but underneath that tightly-fitting blouse there's a volcano of passion. And that's now set in amber in my heart…until I can drink this amazing wine again.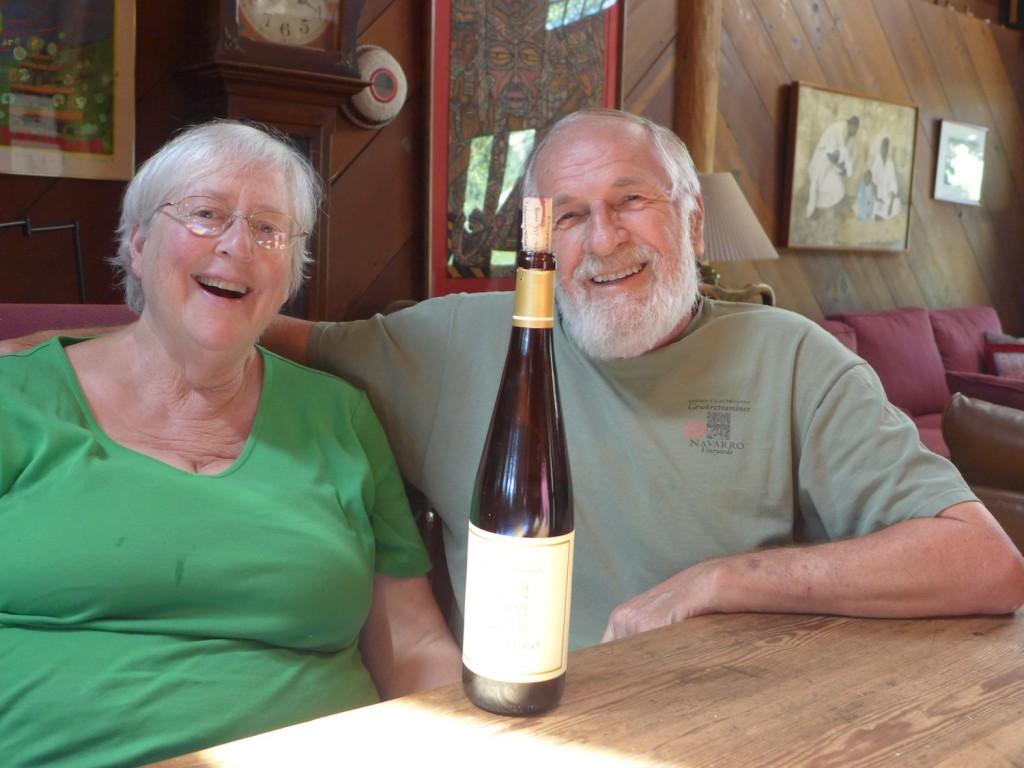 Of course, it wasn't only Ted Bennet who made this wine, but the entire Navarro Vineyards team of roughly 50 people had a part in this and the long-term support of the many thousands of people on the Navarro mailing and regularly bought the wines are also collectively responsible for making this wine possible. However, top of the list is Deborah Cahn (with who he's pictured above) who no less than he has steered Navarro Vineyards for forty years. 
PS My apologies for the long silence, but down in Billionaire's Hollow the internet connection did not function at all. Finally I'm back in the cosy blogosphere!