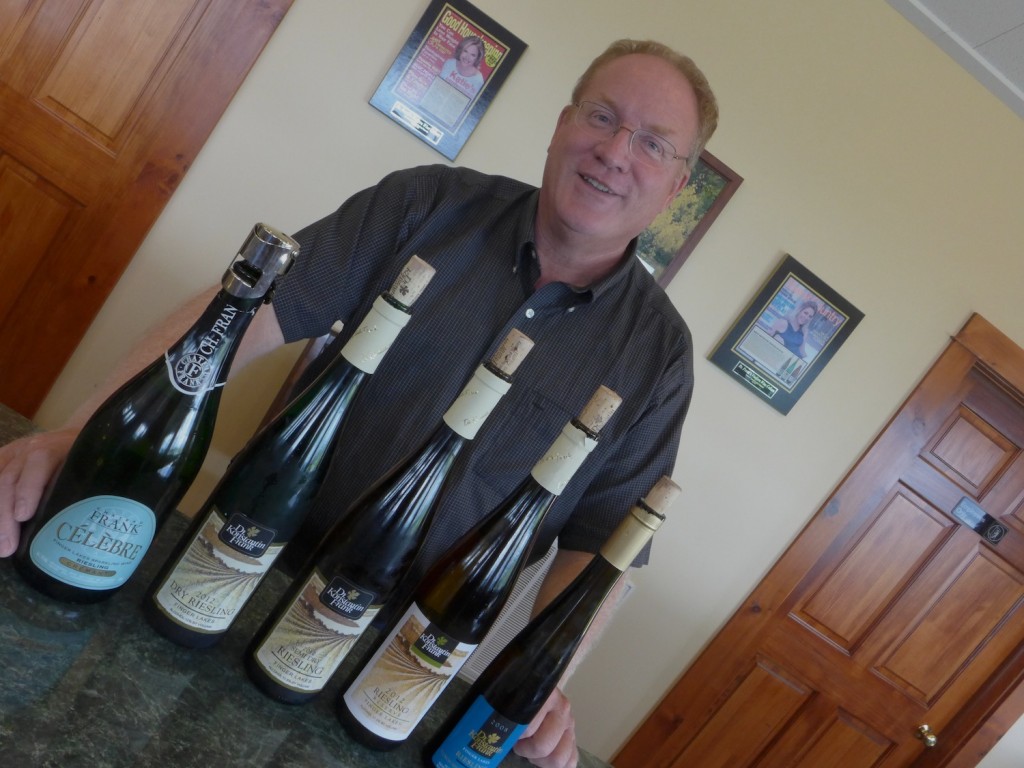 I had some serious problems with my computer system, which meant that the photographs for this posting only just went online. That's very disappointing considering the considerable effort I made to come up with good photographs here in the Finger Lakes (FLX) New York, but there you go. I think that it's more important to report than not to report because of technical failure…
The first photograph (above) is of Frederick Frank of DR. Frank on Keuka Lake/FLX with whom I tasted some spectacular Rieslings on the fourth of July. Frederick Frank is one of the few American winemakers to make the full range of Rieslings from almost bone dry to honey sweet, from still to sparkling. And all of these wines are really good. Even the sparkling Riesling is in the first league of American white wines and has creamed off a slew of awards at wine competitions. As Frederick Frank told me,  with a following wind you can win a Gold Medal here or there, but if they start stacking up this really means something. It was also interesting to learn how – without vineyard designating his wines – he does distinguish between his vineyards on Kueka Lake, from which his Dry Riesling tends to come (in the 2012 vintage a fairly austere, but refined and subtle wine) and Seneca Lake, from which his Semi-Dry Riesling originates. Then there's the 'Celebre' sparkling Riesling, which has a wonderful balance of fruit, acidity and discrete residual sweetness (Medium-Dry on the IRF taste profile).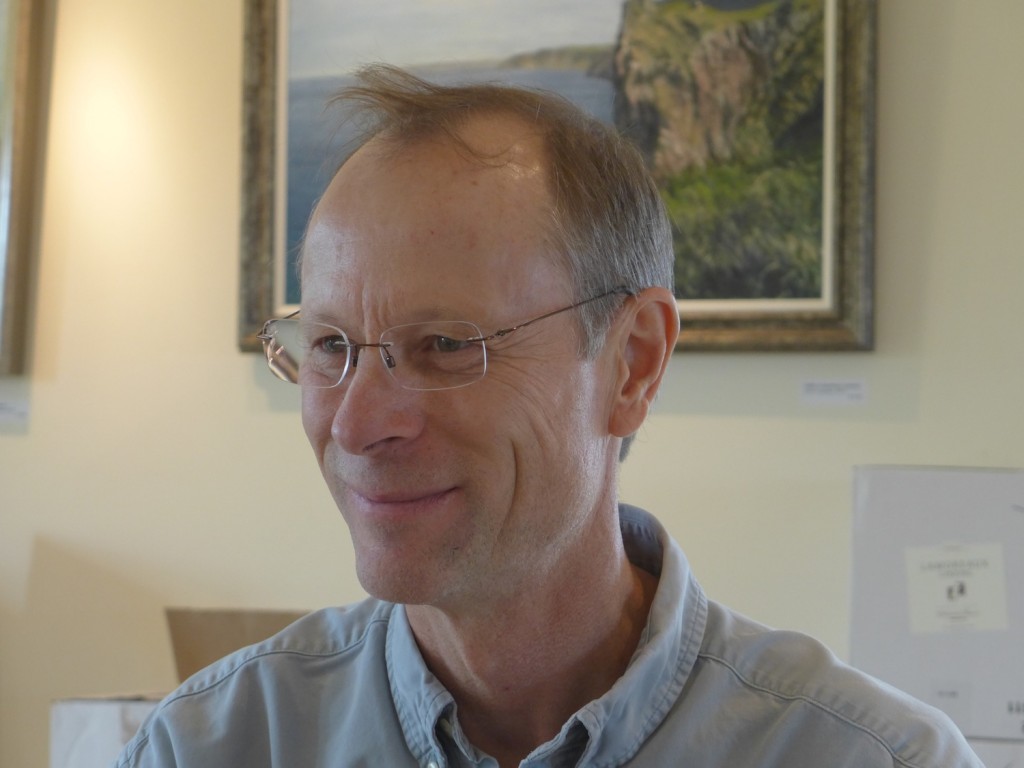 Mark Wagner of Lamoroux Landing on Seneca Lake (pictured above) has obviously done a lot of work to produce three single-vineyard designate Rieslings – 'Yellow Dog', 'Round Rock' and 'Red Oak' – which are extremely distinctive. All of these wines are clearly Medium-Dry (also on the IRF taste profile), but the 2012s are all beautifully balanced and really refined. I tasted a vertical of 'Red Oak' going back to the first vintage – 2008 (you can't go back further than that!) and they were  all very impressive wines. Young vines? Yes, but the wines didn't show it at all! That small row of wines showed very well how the leading winemakers of the Finger Lakes have achieved a big leap forward during the last few years. The 2010, '11 and '12 had so much more finesse than the previous vintages. These are world class wines!
One of the problems for the Finger Lakes during the last years has been the small number of producers who are producing a serious amount of good Riesling with which they could attract attention to the region and it's most important grape variety. Thankfully David Whiting of Red Newt Cellars has been working on this since the 2008 vintage with a wine called 'Circle'. This wines comes from the same vineyards he draws the grapes for his single vineyard bottlings, so the grapes come from growers who really know what they're doing. And you can taste that in the finished wine. Sometimes you can run into this wine for just $9.99 and for that price it is sensational value for money, particularly the 2012 vintage which is just coming onto the market. This is a medium-dry wine which has a great compatability with all manner of lighter, summer foods from salads to grilled meat.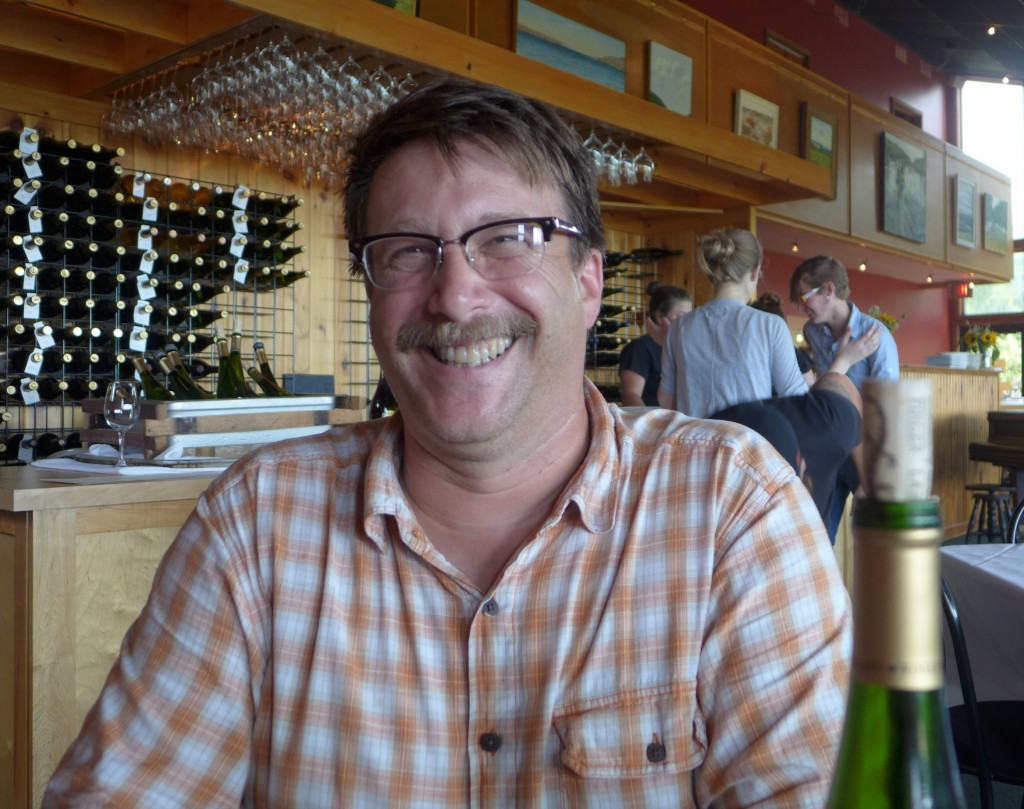 What does all this mean? I think it means that the FLX have really made a big Leap forward and the reaction in the market seems to confirm this, because the wines have started appearing in places in NZwineC I thought I'd never see them. This means that they have already convinced a large number of sceptics. Sure these wines could and will become even better, but I think that the leading winemakers have cracked the FLX Riesling Code and are now in the business of refining their technique rather than trying to figure out where up and down are ( as it was a decade ago). Now I have to sign off, because a bunch of winemakers are about to walk in the door for a serious analytical tasting of their current wines, and they expect me to say something coherent. That doesn't go without saying.