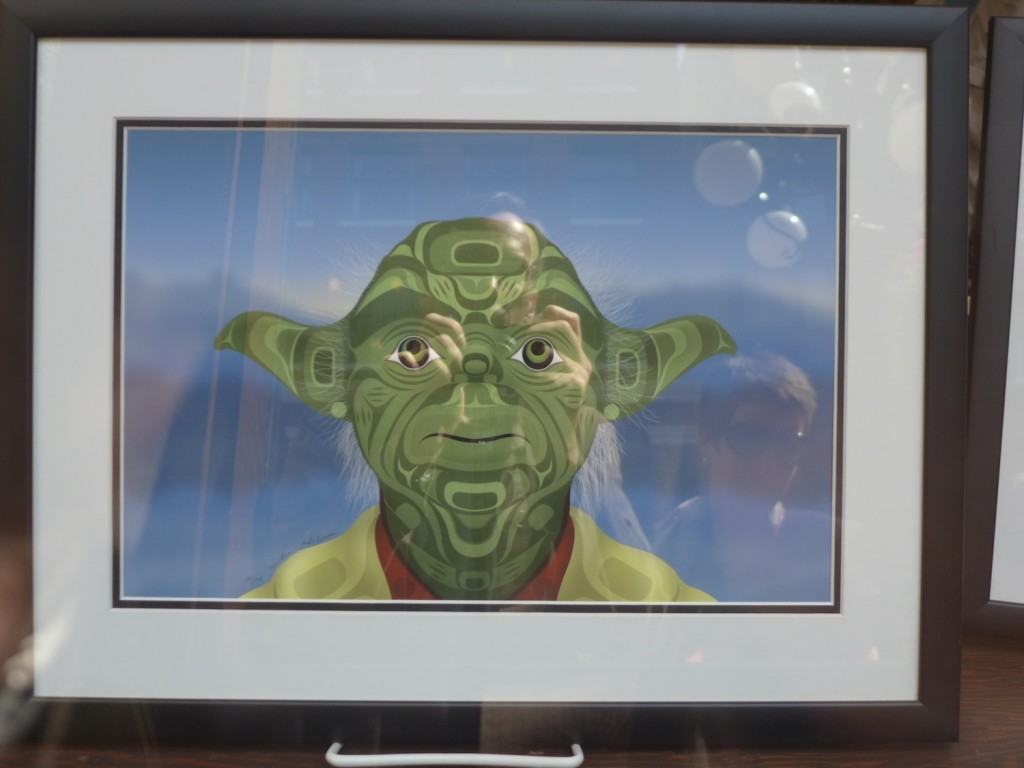 Everywhere I eat and drink in Vancouver/BC dry Riesling from the Okanagan Valley is available as if this stopped being something requiring any discussion a very long time ago. When I asked I was told that it's one of the wines Okanagan does the best, full stop. And the first wines I've drunk have been really good. The excellent dry Riesling from Tantalus in Kelowna, is even available in the bar at my hotel, the Moda at 900 Seymour Street. Yesterday evening I was very impressed by the 2012 Thorny Vines Riesling from new kids on the block Synchromesh, which was just on the medium dry side of dry, was bristling with aroma ranging form roses to lime and had a challenging acidity which reminded me of wines from cooler areas of the Nahe region of Germany. So what's Yoda doing at the top?
Well, it may not look like it at first glance, but this city is a wonderful example of cross-cultural pollination. The picture of Yoda was drawn by an artist belonging to what Canadians call the First Nations (with capital letters!), that is the Native Canadians, but of course Yoda was originally a creation of Hollywood, which could hardly be more White American. Perhaps you think I'm making a joke, but the truth is that I'm not (even though I find the photo funny, not least because my own face reflected in the glass of the store window has become part of the image). Vancouver wouldn't look the way it does today without the huge influx of Hong Kong Chinese money into the real estate sector since the 1980s. Now, seen from the right angle, it seriously resembles Hong Kong. You scoff at me? Well, fully one quarter of the city's population comes from that part of China!
It is in this multi-cultural matrix that the generally dry Okanagan Rieslings function so well, not in some unofficially segregated WASP Zone. They are part of the great cosmopolitan melting pot that is contemporary Canada. Sure you have the same thing in New York where I left on this long and winding Riesling Trail, but there it doesn't feel nearly as relaxed or comfortable as it does here. My guess is that the social mobility here is also higher than in the US. However, that's something I shall have to look into, like so many other aspects of this place which looks so much like parts of the US, but is clearly very different. I've already been digging into the city's multicultural cooking pot. This lunchtime I had an excellent Shawarma fish sandwich from the Fresh Local Wild food truck (a dish which originates in the Levant), tonight I'm going to an Indian restaurant, but Korean, Japanes, French, Italian and many, many other options were available too. And the warm, but not hot sunshine, together with the fresh breeze are making me very hungry and thirsty!
PS Stay tuned to this station for reports direct from Okanagan Valley where I arrive in just under 48 hours!