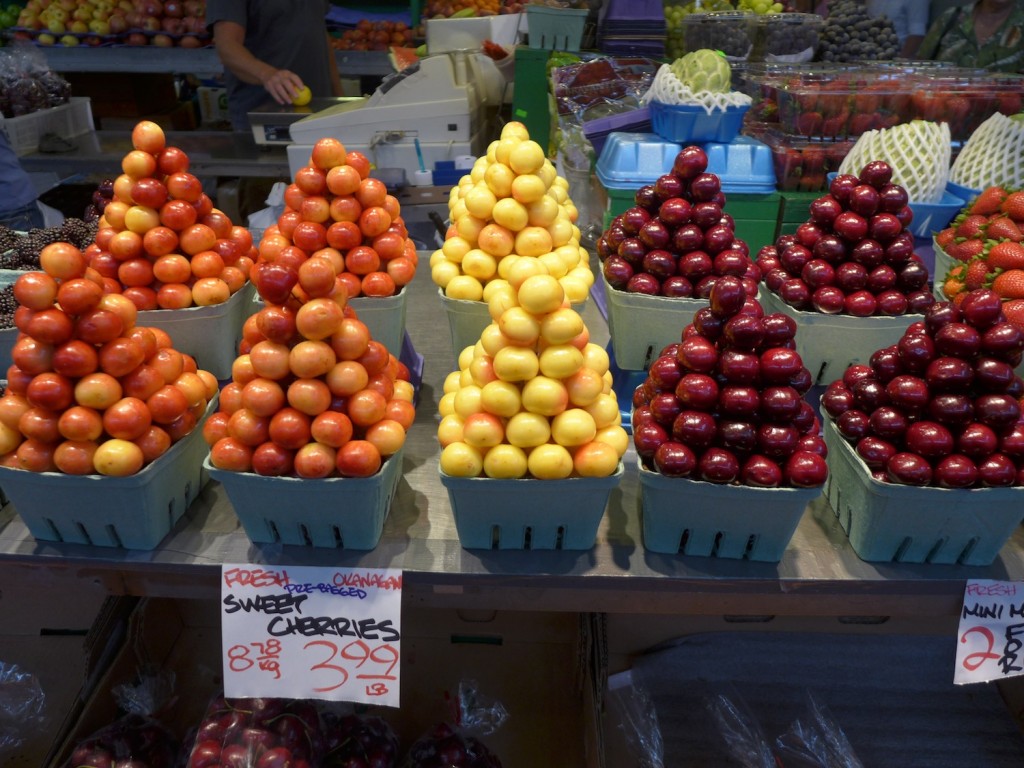 These cherries which I found today at the Granville Island market were my first sighting of the Okanagan Valley in unfermented form. The link between fruit-growing and wine- growing is something few non-winegrowers are aware of. Almost nothing is more destructive for the grape vine than frost just after its young shoots have emerged in the spring. This occurs simultaneously with apple blossom (and the blossoming of many other fruit trees is close to this date), and almost nothing is more destructive to apple-growing than frost during the bloom. Therefore, any region where apple-growing is a viable commercial undertaking is a good candidate for growing wine grape varieties suited to cool climate zones. This was something I learnt during my 2007 tour of Norway with German winegrowers who were checking out the potential for the grape vine there. Just a week before in Denmark I'd learnt that the flowering of the vine (though it depends upon the variety) is roughly simultaneous with that of the elderberry. To be frank I picked up this rather basic stuff way too late, so I'm happy to pass this gem of knowledge on to as many people as possible. I hope that it reaches you early enough!
Today's final day of exploration in Vancouver has convinced me that the city could have been a healthy market for locally-produced wines during the twenty or so years before the collapse of the real estate market in 1913 and the beginning of World War I just a year later. That wine-growing in British Columbia did not develope at that point merely says that other new industries (the domestic and international demand for lumber and canned salmon at that time were clearly immense) were then more attractive and distracted those with the talent which could have founded a BC wine industry.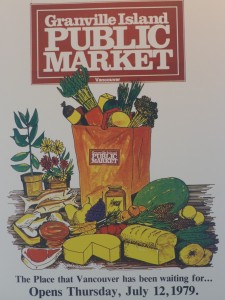 The opening of the Granville Island market (see the poster pictured left) in 1979 was a sign of growing interest in local produce and to my mind there's always a close link between that and the demand for local wine. Sometimes the produce comes first, sometimes it's the wine, but where fruit-growing flourishes the two almost inevitably go hand-in-hand. Just how far the Okanagan wine industry has got I will begin exploring tomorrow afternoon. Although I will – of course! – be focusing on Riesling, I shall cast my net as wide as possible. The fact is that in spite of the global Riesling revolution which is this website's subject it is still, for example, easier to command healthy wine prices with high-end Pinot Noir red wines than it is with Riesling. Consumers are used to the idea that those wines have to coast something to be really good (lower yields than for Riesling of comparable quality are generally necessary and the wines often don't reach the market until two years after harvest, another cost factor).   However, that's also theory and it's the practical reality which really interests me. Watch this space to find out more about the Practical Riesling Reality of Okanagan Valley!