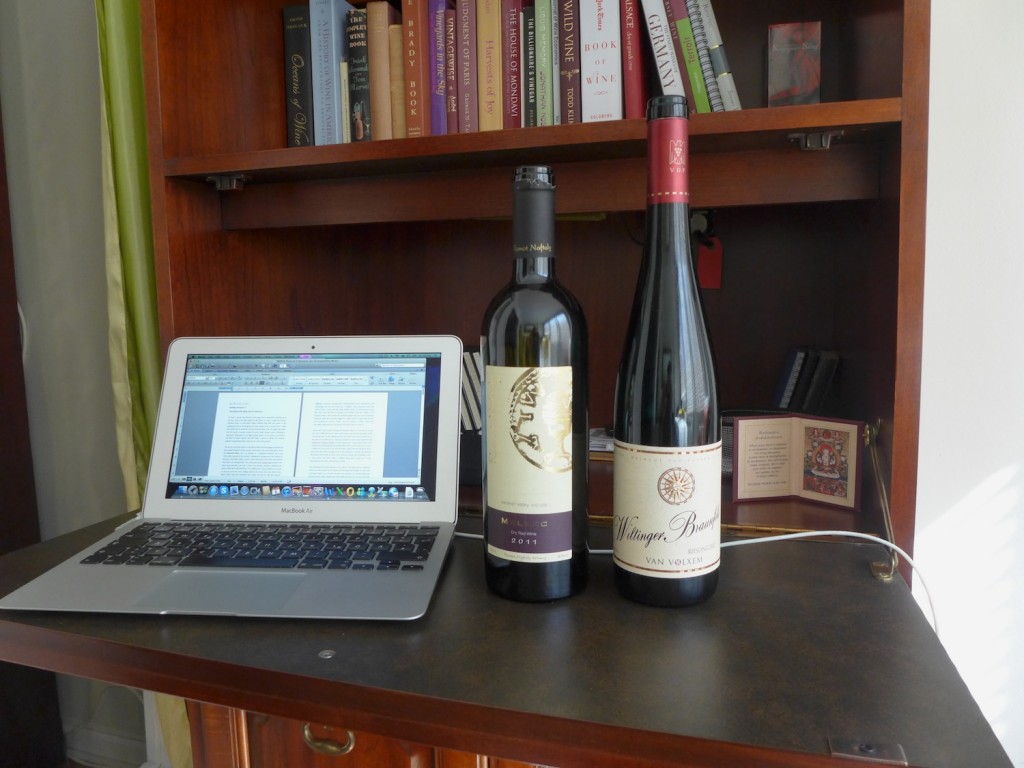 Pictured above is new new desk on West 16th Street, the place where I'm feverishly working like crazy on the manuscript of my new book BWWOE. Probably more of the book will be written here than anywhere else, although my time at the Hotel of Hope on East 7th Street was equally vital. There the ideas that I'm now turning into a portrait of the Planet Riesling first took coherent shape.
Of course, as  you can see from the empty bottles on my desk I haven't stopped either tasting or drinking wine and the mix of the sampled and consumed remains as eclectic as it always was. Yesterday evening Volker Donabaum of A.I. Selections called around to deliver a sample for a tasting here in a couple of days time. Suddenly he popped open his rucksack and there was a half empty bottle of the 2012 Wiltinger Braunfels Riesling from Van Volxem in Wiltingen/Saar. It was so delicious and so fascinating that we completed the emptying of the bottle. I really think that the 2012s are the best wines which Roman Niewodniczanski has yet made at Van Volxem, not because they are the most concentrated (the 2011s were slightly bigger wines), but because their balance is nearly perfect. What I mean isn't only the balance between acidity, alcohol (a modest 12% in all the wines) and rather less residual sweetness than in previous years, but also between the fresh and ripe components of the wines, of their minerality and textural richness.
The balance of the wine was also what impressed me about the 2011 Malbec from Ramot Naftaly in the Kedesh Valley/Israel. I'm not a Malbec fan, finding the wines often too big and heavy their spice less than subtle. However, this wine which weighs in at 13.7% (compare with the 14.5 – 15% typical of Argentine Malbecs) has a lovely freshness (compare with the inkiness of many French Cahors) which lifts the finish and the dark berry fruit and spice aromas are well matched. So, I found myself emptying another bottle with real enthusiasm, although it contained wine from a grape variety I don't normally like.
Of course, the rather dry (but to my mind not at all too dry) Van Volxem Riesling reminded me of Terry Theise's reactions to my criticism of some sweeping statements he'd made about dry German Riesling, one of which was reprinted in the New York Times of August 22nd. In the cause of fairness I gave him an entire posting to state his case in detail (just scroll down to find all this stuff). I've read and reread what I wrote and although my postings are certainly direct, I don't think my language is at any point rude, much less insulting. I merely point out what seem to me to be the logical implications of those statements, and what they seem to willfully ignore. However, Terry Theise seems to insist that it was all a personal attack upon him on the basis that, "I am the person behind the ideas and words." However, the logical conclusion of that is that nobody should be allowed to question or criticize any of his statements, because that would a personal attack upon him. If that's the case then he's placing himself beyond criticism, like a statue on a high pedestal that you can't look in the eye. Maybe he feels that the same should apply to everyone, which at first glance seems very fair. However, that would be even worse, because then blatantly anti-semitic, racist and other outrageous statements would all have to stand. In a democracy with a free press I can't believe that's the right way of doing things.
So, let me make it very plain. If you ever think I've said something untrue or unacceptable in any way, then please send me a comment and I will always put it online. The only "comments" I ever block are those which are actually sales pitches.  This desk may be full of the BWWOE work in progress, but there is always room for your comments. If they are interesting or important enough I will give them extra space, just as I did to Terry Theise's. If you have something new to say that strikes me as being as interesting as anything I have to say, then space is also available. That strikes me as being in the spirit of openness characteristic of the Global Riesling Network. Thank you all!