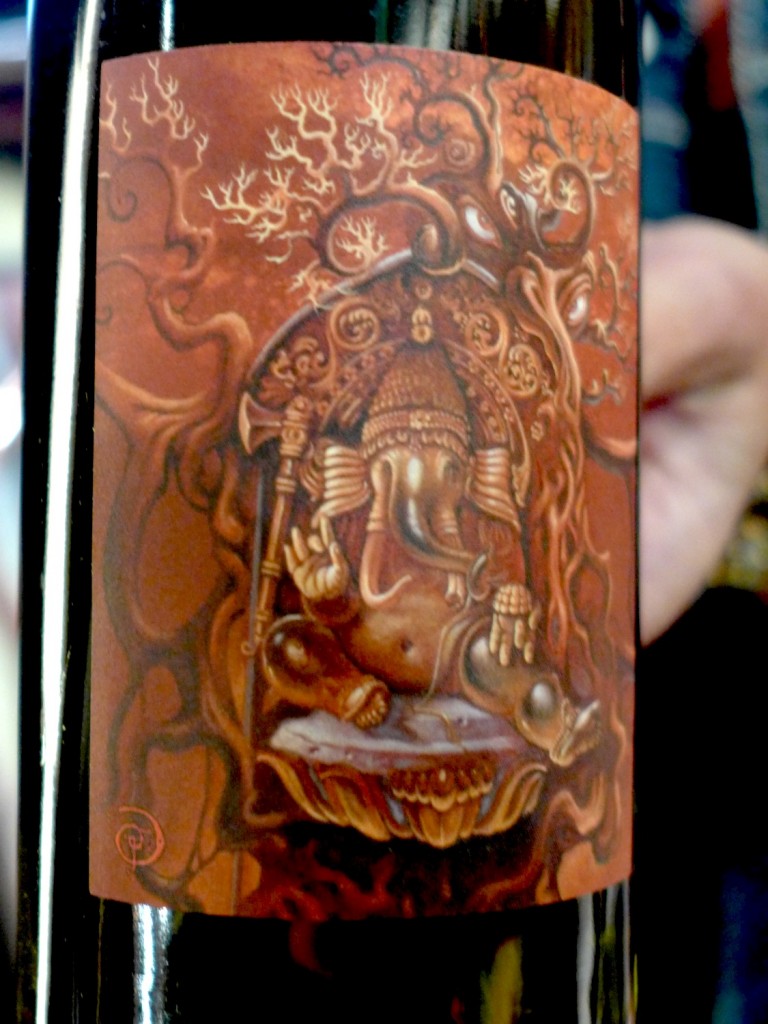 This is the extraordinary label for an extraordinary Riesling that I bumped into this week. Theoretically I'm in 24/7 solitary confinement frantically working on the manuscript for my new book BWWOE, which Abrams Books of New York will be publishing in June of next year. However, I do occasionally get out of the apartment on West 16th Street where I'm staying, for example on Tuesday when the cleaning woman came and I had to get out of her way. I took the opportunity to visit the annual portfolio tasting of Regal Wines, where I bumped into this image of Ganesh on the label of the 2012 'Folk Machine' Riesling from Hobo Wine Co., the best dry Riesling I've ever tasted from Monterey County/California. It had a rich apricot character, and a great balance of powerful and freshness. Sadly only around 1,700 bottles of this wine were produced, the reason being that it comes from a small plot of old vines going back to the 1960s. Is this the oldest Riesling vineyard in California? Maybe one of you can tell me.
Also at the Regal tasting I encountered the 2009 Cabernet Sauvignon from …purusued by bear, which means the actor Kyle MacLachlan. A bunch of famous actors and musicians make wines and often these are either disastrous (no names mentioned), or grossly over-priced (Gerard Depardieu in France). This wine is rare exception to that rule and regardless of who made it this is one of the most distinctive wines I've ever tasted from Walla Walla/Washington State. In the best sense it's a dark wine, meaning an elderberry aroma, but also a balsamic notes, and positively chewy tannins. Sure it has 14.4% alcohol, but this makes it neither sweetish nor heavy.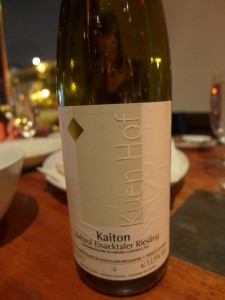 I'm calling this entry to my Riesling Diary 'Rear View Window' because I was so busy writing this week that none of this is up to the minute in the way I normally am. On Monday night I had dinner with Janie Brooks Heuck of Brooks Wines in Oregon, one of the foremost producers of Riesling in that state, at Hearth Restaurant. She suggested that I order the wine and I picked the very rare 'Kaiton' Riesling from Peter Pliger/Kuen Hof in the Alto Adige of Italy. The reason that this wine is so rare is not that the production is tiny, rather that the demand for it in Italy is huge. It is a huge swirl of herbal notes, rotating around a black hole of minerality that threatens to suck us all in. It made sense to try this with Janie, because she too is making daring Rieslings that are attracting a cult following. Both these winemakers are helping define what's possible with Riesling in their regions, and doing a lot to raise awareness of the grape in their respective countries.
As I said, I spent a lot of time at home at this desk with this computer, but last night I went to the Corkbuzz wine bar on 13th Street between Fourth and Fifth Avenues where I bumped into an old friend, the Saperavi red wine from NIKA. Georgian artist-winemaker Nika Bakhia lives around the corner from me in Berlin and I got to know him immediately before my trip to Georgia (I mean the one in the Caucasus) in June of 2008. He was invaluable in helping me make some sense of this country which is neither European nor properly Asian, rather bridges those two continents. That was the year Nika produced his first commercial wine, a Saperavi red that he fermented and matured exclusively in Qvevri, the traditional amphora-like wine vessel of the region which is buried in the ground. I say "amphora-like", because the Greeks adopted its use from the Georgians, then the Romans took it over from the Greeks, so Qvevri is the original name for this vessel. The 2009 which I drank at Corkbuzz was also a "pure" Qvevri wine and is still inky tannic. It needed an hour of exposure to the air before it revealed all its dark secrets. It was a steal for $45 and a great counterpoint to the warm, but urbane ambience of Corkbuzz.
I shall return there, but not until after me trip to Northern Michigan and Ontario which begins Monday, September 16th and ends Sunday, September 22nd. I will try to report from on the road, but have a stack of work for BWWOE with me, so no promises.