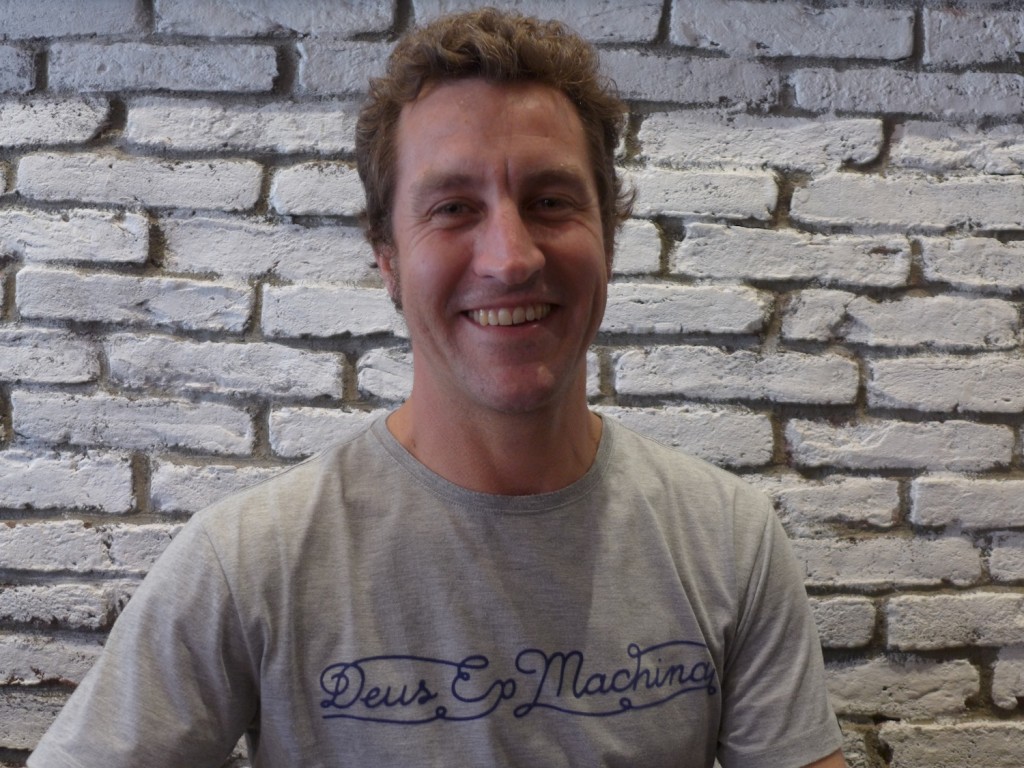 Sometimes the Great God of Wine knows it all so much better than I can ever hope to do and gives me a helping hand. The last days I was struggling to finish the Australian chapter of my forthcoming book BWWOE – The Riesling Book, then suddenly I received an invitation from Volker Donabaum from A.I. Selections to lunch today with Mac Forbes of the eponymous micro-winery in Victoria/Australia (pictured above). Mac's Rieslings had already struck me as being some of the most new OZ Rieslings I'd tasted since beginning research for my book (in Australia!) on February 1st last year. It was too good to miss meeting Mac in spite of the enormous pressure of writing work on the manuscript (deadline 6pm, Friday, November 1st!) so I headed down to Taqueria Empellón on West 4th Street this lunchtime for what turned out to be one of the most interesting tastings in a long time.
Not only were the 2013 Rieslings even more exciting than I'd dared to hope they were seriously provocative, and Mac was also full of wonderful surprises. This began with the story of how he'd done a bunch of work as a winemaker in Austria – yes, Austria! – including making the first vintage of Dirk van der Niepoort and Dorli Muhr's game-changing Blaufränkisch red wines in Carnuntum. Then came the discovery that I wasn't the only one not to know where the Strathbogie Ranges – the home of his high altitude Riesling vineyard (1,950 feet/600 meters above sea level) – are located. "Most Australians don't know where that is!" he insisted.
After tasting his 2013 Riesling 'RS16' and 2013 Riesling 'RS37′ (yes, the names give the residual sweetness content of each wine in grams per liter!) I shall have to visit those granitic hills the next time I get to OZ. Not only are those wines medium-dry and medium-sweet, instead of bone-dry like most OZ Rieslings, but they also lack more than the a hint of the lime aroma widely considered "typical" for them, and are gentle and delicate in flavor instead of complying with the stridently acidic norm. The flavors I noted for the drier of this pair as "beeswax and fresh ginger"! All this raised exactly the probing questions I'd been struggling to formulate about the true nature of OZ Rieslings and this all I had to do was to get them down on paper.
I was also seriously impressed by the other wines I tasted, of which the most extreme was the 2011 Yarra Valley Chardonnay with just 12% alcohol and almost no perceptible oak aromas or tannins, although it had been vinified in barriques (including a few that were new). Instead it smelt of dried apple and pear, was fresh and – again! – gentle and delicate. There was quite a contrast between the crisp and vibrantly fresh Mac's 2012 Yarra Valley Pinot Noir, and the more floral character and firmer flavors of his 2012 Worri Yallock Vineyard Pinot Noir.
Even more extraordinary is Mac Forbes' determination not to expand his production above the current total of max 4,000 cases of wine per year. That's not only counter-intuitive for the wine industry, but might be considered by some of his OZ colleagues to be Anti-Australian behavior! That's fine by me though if it means he keeps making Rieslings and other wines as remarkable as these.