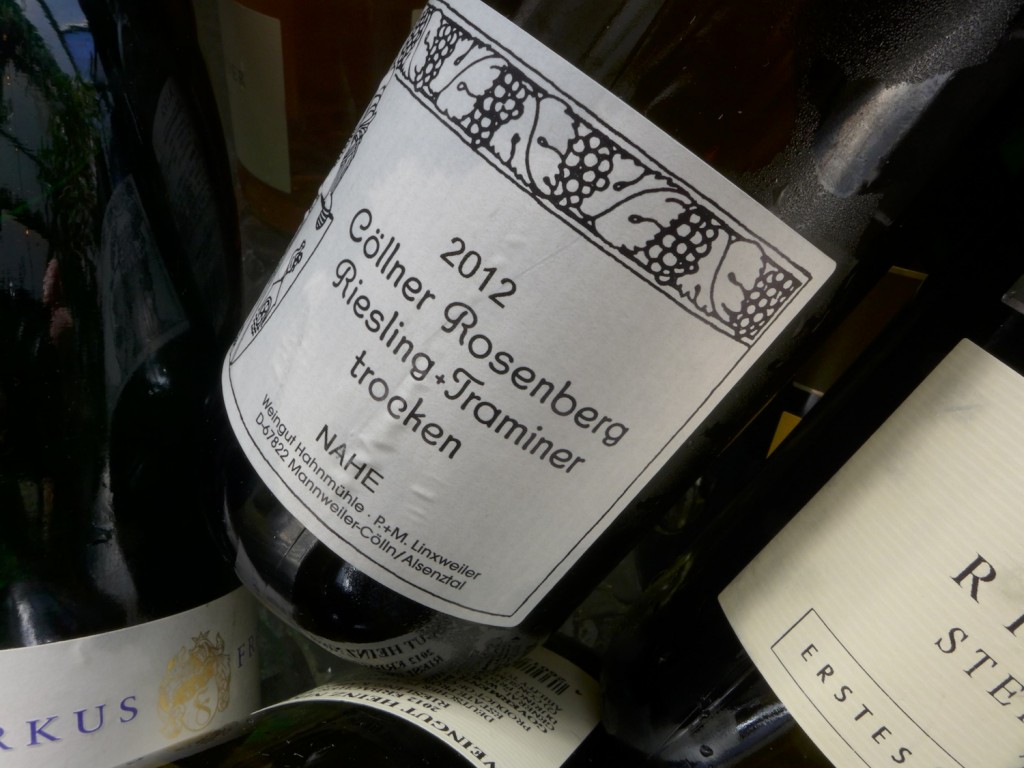 Writing this book (BWWOE – The Riesling Book, for Abrams in NYC) against a crazy deadline ought to be sending me insane, but thankfully it isn't. One  reason for that is that most days I make great progress with it and forget the gargantuan mass of material I still have to cover by November 1st. The other reason is that every couple of days I sneak out of my solitary confinement cell in this writers' prison on West 16th Street and hit a wine tasting somewhere in New York Wine City (NYWC). They have also provided some useful material for BWWOE, or at least reminded me of something important that I have to cover in the book.
The last of these was the annual portfolio tasting of Savio Soares Selections on Wednesday, one of the most interesting smaller importer's in the NYWC area. The location was the top floor glased-in terrace of a hotel just off Gramercy Park and it meant that I realized how great the current fall weather is. As well as tasting an excellent 2001 vintage drier Rieslings from Carl Erhard in Rüdesheim/Rheingau and several great mature dry Rieslings from Franz Künstler in Hochheim/Rheingau I discovered the bottle pictured above in an ice bucket.
"What are the wines of Hahnmühle doing here???" I asked myself, because this is a small producer in an out of the way location in the Nahe region (i.e. nowhere near Dönnhoff) who have ploughed their own furrow every since I can remember (and I've been doing this "job" for decades now). The answer obviously is that Savio obviously ran into them and he's a lot more daring than most of his competitors. In fact, the Hahnmühle wine you have to try is not the above, but the 2012 "Sandstein" (sandstone) Riesling which is so subtly peachy, so pure and elegant I could have sat down and drained the bottle straight away. Hahnmühle's bargain Riesling (75%) and Traminer (25%) blend is a beautiful wine that could retail for around $20. It marries a modicum of Traminer richness and yellow rose aroma with dry Riesling mineral freshness and is a great Fall Wine!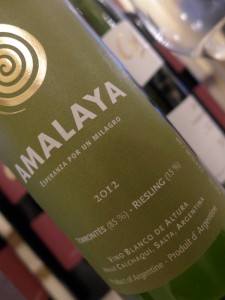 I'd unexpectedly stumbled into the subject of blends of  Riesling with other grape varieties the day before at the Wine of Argentina tasting when tasting all the dry whites from the indigenous Terrontés grape. After tasting the very elegant 2012 from the Colomé winery their representative asked me if I'd be interested to try the 2012 Terrontés (85%) and Riesling (15%) blend from the company's sister winery. Interested? Of course I was, although also skeptical as to whether just 15% Riesling in the blend could make such a huge difference. However, with its ripe apple and lime aromas, mineral power and freshness the almost bone-dry wine was certainly very different. Earlier I'd tried a high-end Terrontés which had been "improved" by the addition of some Sauvignon Blanc, but as good a glass of dry white wine as it was, the two elements clashed a bit. So Amalaya have really hit upon something with this blend, and my guess is that we'll see more of them.
At each of the tasting there was also a serious surprise. On Tuesday at the Wines of Argentina tasting it wasMS Evan Goldstein thanking me for the tasting at Fort Mason in San Francisco, then realizing he was referring to an event held in 1991! Then on Wednewsday at the Savio Soares event it was Eduardo ofDBGB Kitchen & Bar telling me, "You've been as you imagine you've been!" I'm not sure exactly what that means, but it certainly help me with my Zen and the Art of not becoming "insanely busy" when writing a Book against a Crazy Deadline project. Thank you Eduardo!
Now back to that book manuscript…
PS Alice Feiring was at the Savio Soares tasting, but disappeared before I could speak to her. Alice, did you get to taste the Hahnmühle wines?