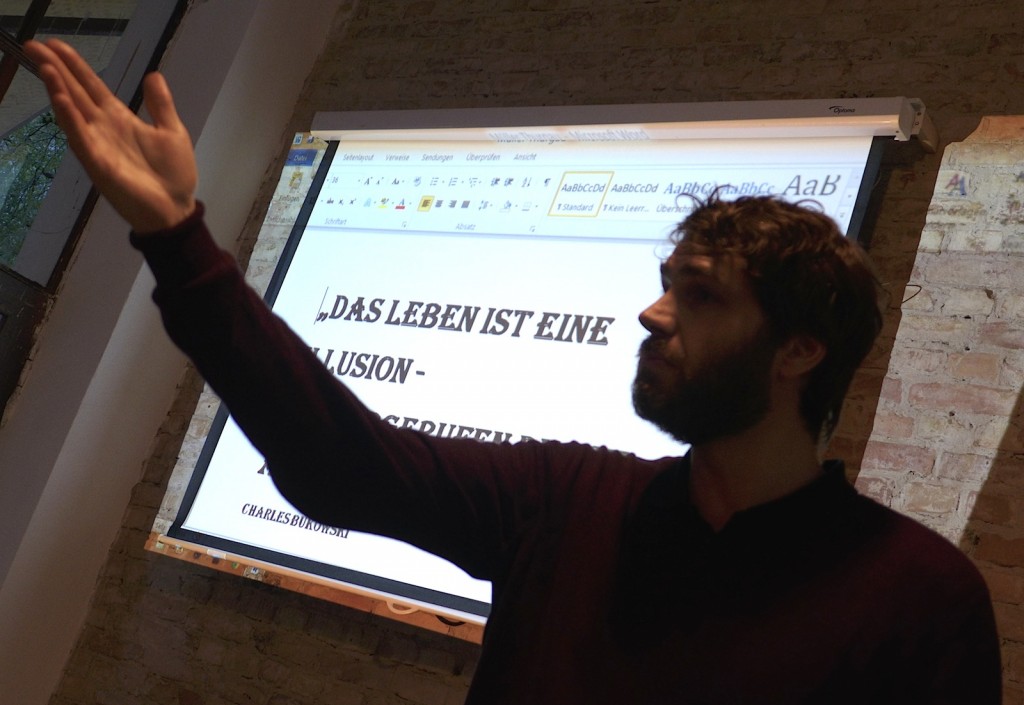 "Hi! Remember me? I'm back!" is how the beat poet Charles Bukowski said he would greet the cockroaches in hell. It was also the perfect motto for yesterday evening's mind-expanding multi-media wine tasting event at The Cooks Connection / Berlin, 'Bukowski meets Müller-Thurgau'. This was all the work of Frank Krüger who works for Berlin wine merchant Wein & Glas. By the way the full quote on the screen behind him says, "Life is an illusion – brought on by lack of alcohol." And looking at Frank's silhouette against the screen filled with that quote it really feels like Bukowski is back!
My guess is that now you're all asking yourselves why, why, why??? Well, not only was Bukowski born in Germany, but for most of his life as a writer his books sold way better in German translation (sales of 4 million books! – how did he do that?) than in English. When Bukowski visited Germany he was not only a sensation, he also discovered Müller-Thurgau (M-T). Sure, he was an alcoholic, but he lived as one for about 40 years and they were really productive years…with the help of German MT. Obviously Bukowski and MT have something fundamental in common, because both were outsiders – as Frank pointed out, even Jancis Robinson's Oxford Companion to Wine is scathing about MT – but sold well, at least in certain places.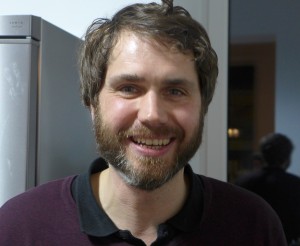 Furthermore, there's been something of a revival of interest in the unruly school of writing to which Bukowski belongs, just as there has for MT. In the latter case the reinvention of MT as a dry white wine with quite some power and intense exotic fruit and/or herbal and mineral character by a group of mainly young winegrowers certainly helped. In Bukowski's case it is probably just the great wheel of pop fashion turning a full mad circle. "It is not only sex 'n' drugs 'n' rock 'n' roll," Frank said of Bukowski's writing, "it is also lyrical and tender." Not knowing it well enough I'll have to check on that.
My guess is that many of you are now saying to yourselves, so what???  Well, wines like the 2013 'Belemnit' MT trocken from Weingut Clauß in Nack (herbal and racy), the 2013 MT trocken from Weingut Schwarzer Adler (cassis note, bone dry) in Oberbergen and the 2013 Olgaberg MT trocken from the Staatsweingut in Meersburg (flinty, sleek and intensely mineral) proved that in the region of Baden MT gives character and each with a strikingly individual style. My guess is that many of you  are saying to yourselves, well that's the exception, the one place MT works well. Well, the 2012 Sulzfeld MT trocken from Luckert in Sulzfeld (at once creamy, spicy and according to Frank, "vibrating"), the 2012 Fürstenberg MT trocken "S" from Horst Sauer in Escherndorf ("it has curves and is sexy like Marilyn Monroe," as Paula Sidore of www.weinstory.de described it) and the wines of Christian Stahl, Winzerhof Stahl in Auernhofen proved the same can be said of Franken; a  region with a very different climate, traditions and geography.
Christian Stahl's bone dry Müller-Thurgaus from the Hasennest site in the Tauber Valley (just 12 kilometers northwest of the historical town of Rothenburg ob der Tauber) were not familiar to many of the participants in Bukowski MT orgy and seriously fucked many of their minds. These wines more than any others we tasted embodied the Bukowski principals of going for the cerebral cortex and the crotch simultaneously, and telling it straight without worrying about the consequences. The 2012 is now  a very sexy mouthful of ripe fruit and fresh herbs, succulent and salty, and God knows what else. With much more natural acidity, and only just bottled, the 2013 is still all elbows. "Razorblade MT!" as Frank described it.
Now my guess is that for many of you the last line of defense is the claim, MT might taste good young, but it certainly won't age! Well the 2006 MT trocken and 1995 MT trocken from Bernhard Huber in Malterdingen/Baden were both really elegant wines that still had plenty of life.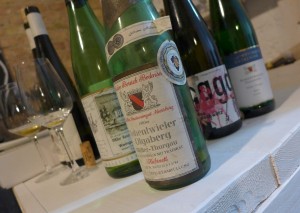 The 1983 Olgaberg MT Kabinett from Staatsweingut Meersburg proved that when grown in an MT Grand Cru site (they're different from the top sites for other grapes) then aging for a whole generation is not a problem. It was really impressive how this wine was still lively at an age when many Rieslings of the same quality level are starting to fade and dry out. It was the final, conclusive proof that Bukowski knew what he was drinking and that he was right about what he was drinking. As he often said and wrote, "don't do it," that is, let it happen to you without being judgmental or trying to force something upon the illusion called life.