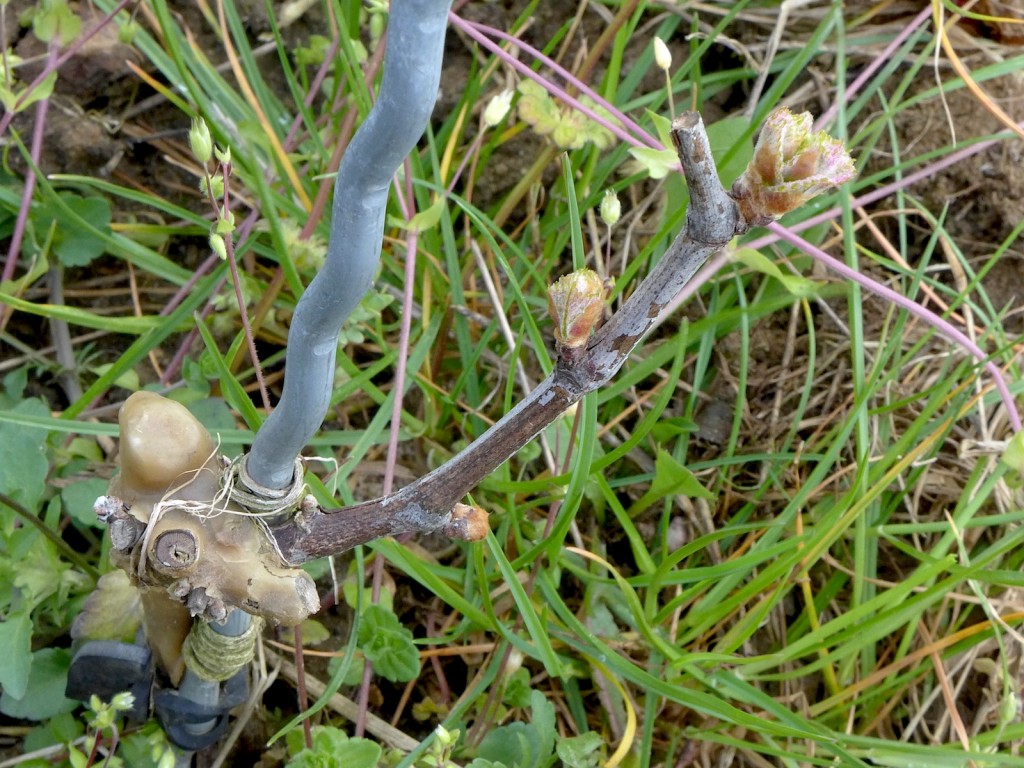 Those of you who've followed this blog for some time already know that on May 4th, 2013 a group of friends and I planted just shy of a thousand vines of the variety Pinotin (thank you vine breeder Valentin Blattner) at the Klosterhof Töplitz wine estate just outside Berlin on the southwestern side in the state of Brandenburg. We are talking about 52° 26′ North, almost 12° further north than my other base in New York Wine City! This south facing gently sloping hillside is historic vineyard land originally planted some time in 1360 by Cistercian monks (the ones who were responsible for Clos Vougeot in Brugundy and the Steinberg in the Rheingau). Since 2012 this 6.5 acres / 2.6 hectare organic vineyard has been run by a small team under Ludolf Artymowytsch, a native of Grünstadt in the Pfalz. The most important other member is Andreas Schultze, because he's the one who does most of the day to day work.
A couple of days ago I spent a day in Töplitz working with a hoe. I would already have reported if the Bukowski meet Müller-Thurgau story (scroll down to the last story) hadn't demanded immediate attention. The above picture shows you what I found: young Pinotin vines that had just budded out and around them a mixed growth of "weeds". I put that word in inverted comas, because I consider the other plants growing between the vines as important as them. The greatest possible bio-diversity – excepting the vines mortal enemies, which are mostly fungi, is the goal of Klosterhof Töplitz and I'm in complete agreement with them. It was great to see how their strategy of exposing part of the soil in alternate rows and sowing the seeds of various herbs and flowers into the openings has borne fruit. Now the couch grass (an invasive species that sucks a great deal of water out of the soil) is no longer dominant, instead being just one of many plants growing between the rows and vines. Why hoe at all? Well, I wish I didn't have to, but young vines are not yet deep rooting and they need a helping hand in order to grow well in their first couple of years, build up a solid main stem and put down some deeper roots.
However, I didn't just find a diversity of plants. I found many ants nests, saw ladybirds and spiders, then in the afternoon after the sun came out I also saw honeybees, bumble bees and tortoiseshell butterflies. While I worked I heard many small birds (sorry I can't identify them from their song, but I'm no bird-watcher!), crows and wild geese. High above the vineyard several buzzards circled. When hoeing I frequently found the burrows of field mice, which is the main reason that the hawks were there. Taken together with the invisible microbial life in the soil, and some other creatures which I missed, they all form an eco-system of which I am also part. I will be a more important part of it after the first crop when I start to consume what grows here. The way things look now I feel optimistic that we'll fill one barrique with Pinotin in fall 2015.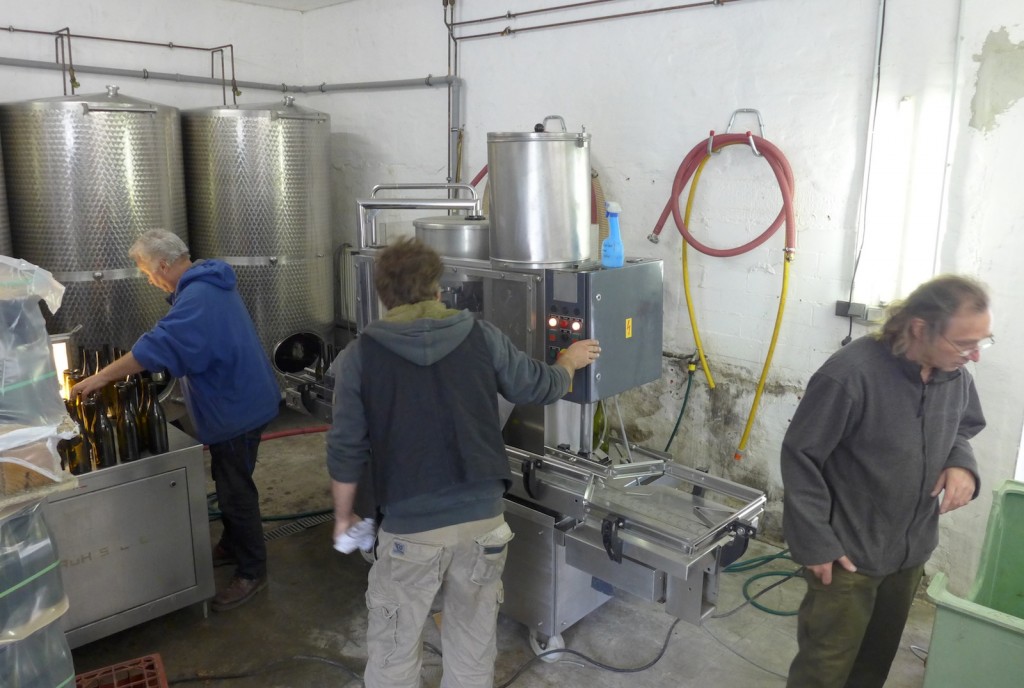 While I was busy with my hoe, the team was busy with the other equally unromantic end of the winegrowing process, bottling. However, this meant that I got the opportunity to taste two just bottled wines and one that would hit the bottle within hours. The latter, the dry 2013 Grauburgunder (Pinot Gris/Pinot Grigio), was delicious with a fresh melon aroma, sleek body and moderate 12% alcoholic, and a beautiful balance of bright acidity and a hint of unfermented grape sweetness. The dry 2013 Cuvée Blanc is surprisingly full in flavor for just 10.5% alcohol with a pronounced nutty character, and the 2013 Bacchus is juicy and spritzy with a sweetness that's just a tad too much for my palate at 2.4%. Those are pretty good results for an average vintage (early fall frost knocked all the foliage off the vines before optimum ripeness could be reached) at 52° 26′ North! It all makes me feel optimistic about my project to make a powerful and complex red wine in Töplitz that while show what Brandenburg and Pinotin can do…Yes, I am crazy.