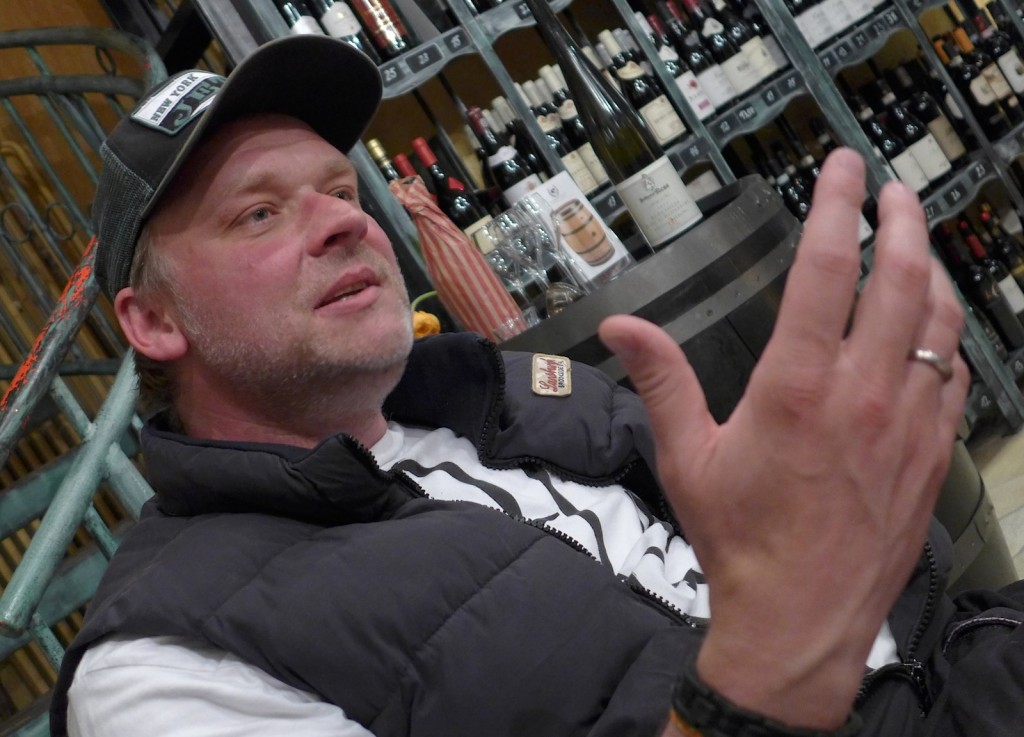 Nobody could think up Dirk Würtz, winemaker of the Balthasar Ress estate in Hattenheim / Rheingau since 2009, if he didn't already exist. Meeting him is like suddenly finding yourself in his movie and realizing that there's no choice but to improvise, because (once again!) he's forgotten to bring a copy of the script for you, then you realize that actually you're having a ball. It turns out that the man widely regarded as Germany's most successful wine blogger also makes Wurst, or sausage, in his spare time. Hence the title of yesterday evening's event in the Planet Wein in the Charlottenstrasse / Berlin-Mitte: Würtz, Wein & Worscht (as Wurst is spoken in some German dialects).
OK, the group of somms, journalists and fellow travellers who gathered in this very cool store at 7:30pm yesterday didn't actually get to sample any of Dirk's own Worscht, but we did get to try his favorite from biodynamic Metzger Bayer in Kiedrich / Rheingau. More importantly we got to sample Dirk's unique take on the Rheingau, German wine and his entire Weltanschauung, or world view. It began with a sentence which will shock many readers, "Riesling is an overrated grape variety!" Ouch!
It took a little while for me to grasp exactly what he was talking about, which was that he isn't interested in the interplay of acidity with sweetnes and/or fruit that is often declared to be the most important characteristic of Riesling wines. The dry Rieslings from Balthasar Ress that he poured for us all had a mild acidity, having undergone malolactic fermentation (that converts the malic acid in wines into the softer lactic acid) and all those described below were properly dry. However, this didn't mean they were much of a sameness nor the same of a muchness. Instead the wines Dirk poured lived up to his reputation for no-holds-barred individuality.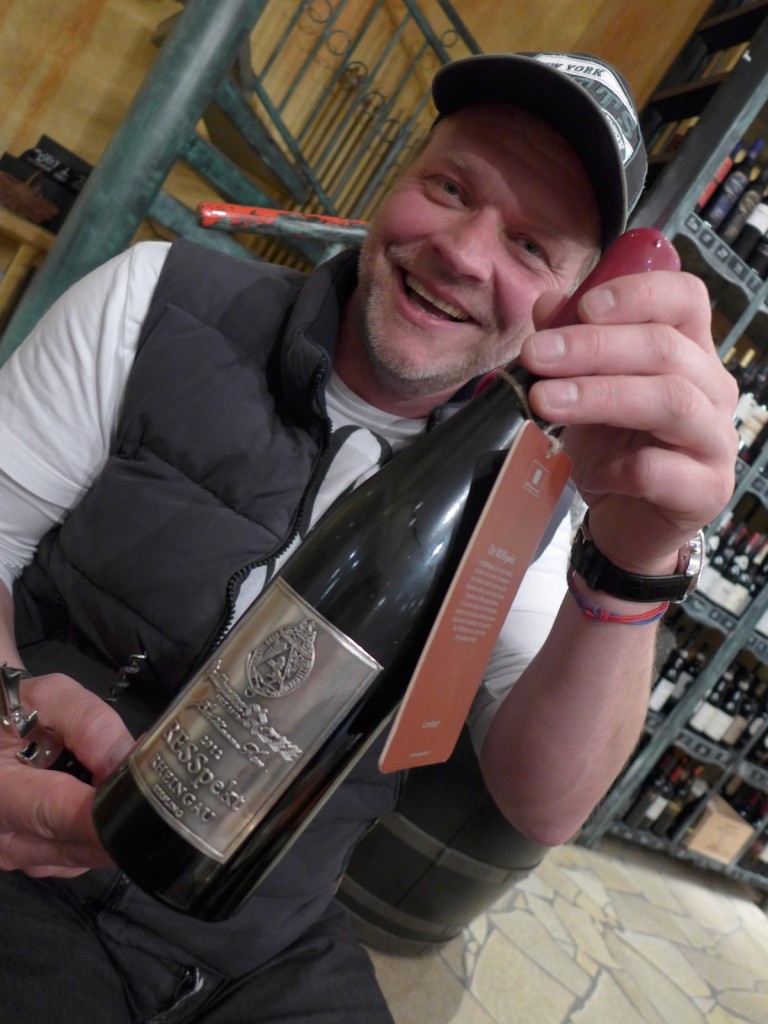 First came the 2012 Riesling Große Gewächse (GGs) from the Hattenheimer Nussbrunnen and Rüdesheimer Berg Schlossberg , both made from ripe grapes that were still greenish in color, to prove that even with full low acidity there's a clear difference between the wines from sites as different as these. The Nussbrunnen is quite a mighty wine with rippling muscles and a full apricot note; the Berg Schlossberg is way sleeker and more sinewy, with more tension and underplayed power. In contrast, the 2012 "R" was made from the grapes that were golden with a violet tinge (over-ripeness with the very beginnings of botrytis) and was a much more opulent, full-trottle wine, although I found the flavor ended with something of the sleekness and coolness of the Berg Schlossberg GG. My guess is that as the wine ages this will become more obvious.
Finally came the 2011 of a wine called 'RESSpekt' (pictured above – yes it has a metal label!) that is made from only violet-colored, over-ripeness from the Berg Schlossberg site. As Berlin super-somm Billy Wagner said, this was a seriously massive wine for just 12% alcohol (the alcoholic content wasn't high in any of the wines we tasted). Someone said the wine was schön, or beautiful, to which Dirk replied that, "Wein ist nicht schön! Wein ist geil oder lecker!" that is, wine isn't beautiful, but it is horny or tasty. Sorry we couldn't offer you a part in Dirk's movie yesterday evening in Berlin!