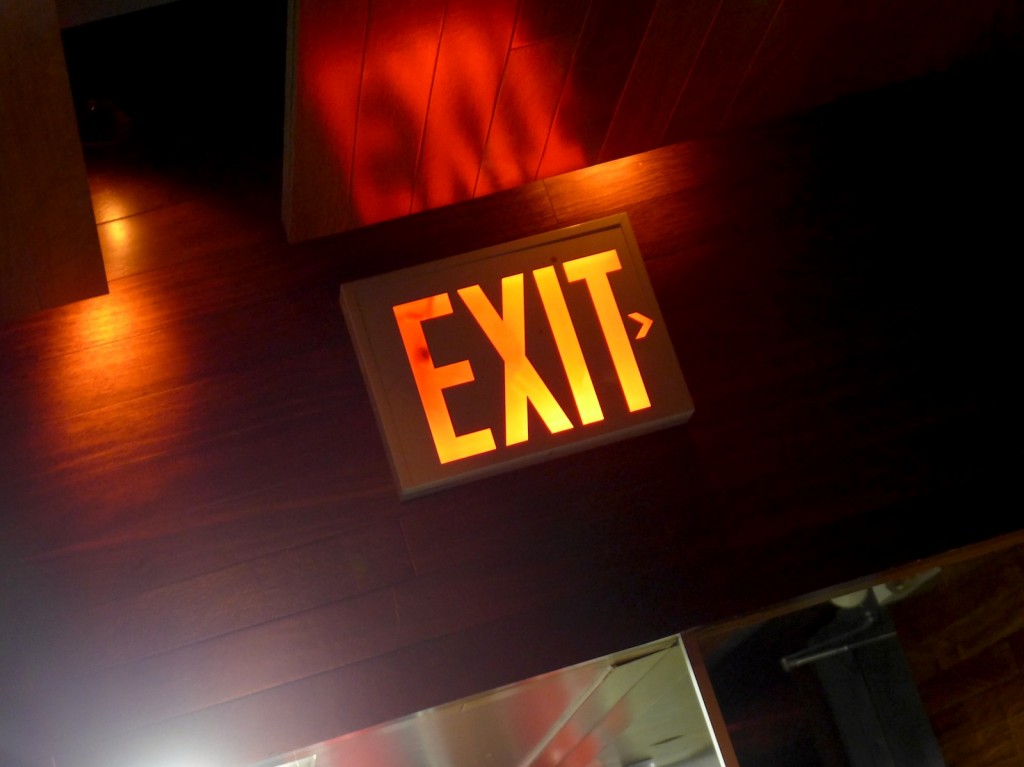 There were several moments yesterday evening at Momofuku Ssäm, 207 Second Avenue in Manhattan, when I felt that like the best solution would be just to run for the exit. "Let me out! Let me out!! Let me out!!!" The problem was the way the "service" kept creating problems, were barely capable of grasping what those problems were even when this was pointed out to them, then hesitatingly and reluctantly tried to solve them, often botching this.  They weren't actively trying to insult us, but they still came damned close to doing so. David Chang, what went wrong? Your restaurant may not square with the traditional concept of fine dining, and that's one of the things I like about it, but it is a high profile place with prices to match. Then there's no excuse for staff behavior so crass that it makes it difficult to focus on the food.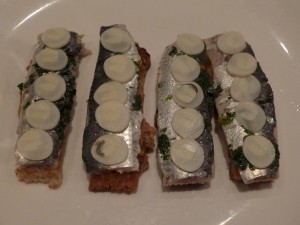 Obviously the joint is jumping, both because the food is so (mostly Asian) creative and so delicious. Let me briefly describe a few of the dishes we had last night. Pictured right are the sardines on toast, which sounds as simple as it looks, but the flavors, textures and freshness of this dish are spectacular. Optically more in tune with the world of "fancy" restaurants was the smoked liver mousse with currants, maitake mushrooms and red mustard, left, and I was glad we also ordered the bread and butter in order to have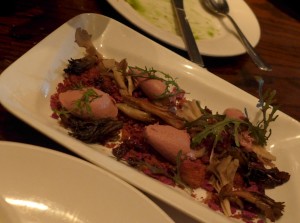 some baguette type white bread to spread that smoked liver mousse on. That was so delicious. Not pictured are the incredibly refreshing fluke with cucumber, lily bulb and amaranth or the simultaneously cool and spicy Uni with tofu, trout roe and wasabi peas, both of which were really memorable. Even the flat iron steak with ramps pesto (non-Asian and non-fancy) was spot on. Why then let hellish service take away the heavenly impression left by dishes like these? I really don't get it! It was never like this during my previous visits to this restaurant, quite the opposite. Each time the service was at once relaxed, competent and attentive, adding to the pleasure of the experience.
The NYWC person who invited me to Momofuku Ssäm last night thought they knew what the problem is and expressed themselves rather more abruptly than I did. Of the service personnel they said, "they all think they're so fucking special, because they work for David Chang and they know that he's something fucking special." If that's what it is, and I fear that is exactly what it is, then it could very quickly lead to what my NYWC friend calls the, "asshole problem", as in, "the problem if you employ assholes, is that people think you're an asshole! That's why at my place we have a zero asshole quota; zero asshole tolerance." Having once employed an asshole on one of my projects in Berlin, only realizing my mistake when it was way too late, then having had to pay a hefty price to disassociate that person from my project I think I know what my NYWC friend was talking about.  That project was my one cast-iron business failure! David Chang, don't let this situation do anything like that to your business. You've provided me with too many moments of gastronomic inspiration for that!

PS I am not a restaurant critic, nor do I ever want to have one of those jobs!