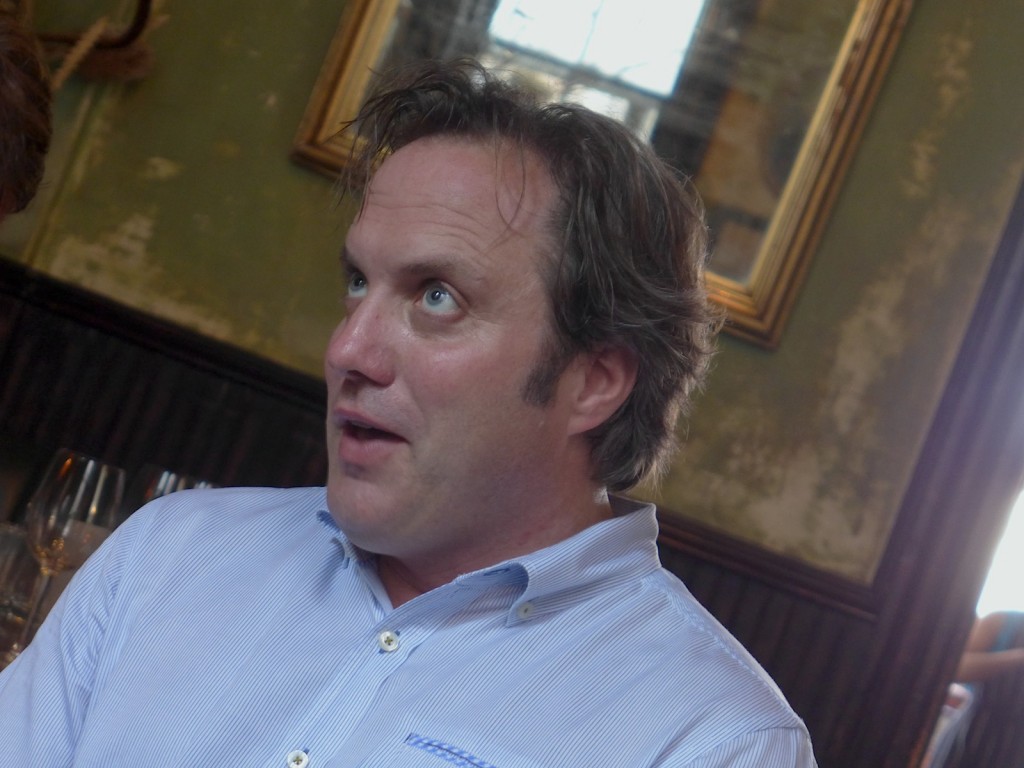 When it's not full of hipsters, and I didn't see any of them there late Wednesday afternoon, then Hotel Delmano in Williamsburg/Brooklyn really looks a bit like a time machine. Of course, it only feels like a historic hotel saloon bar, and when those hipsters are there in force the coolness is no less artificial than the patina. I was there for the last of the series of special tastings held in conjunction with publication of my book BEST WHITE WINE ON EARTH – The Riesling Story, which have been called Welcome to the American Riesling Time Machine. The host was Sean O'Keefe of Chateau Grand Traverse  close to Traverse City/MI, pictured above, who brought with him two boxes of Riesling from his family's winery going back from the just bottled 2013 vintage to 1984.
In spite of abundant evidence to the contrary, white Americans keep telling me that America is not old and – they ring their hands as they do it – that it is chronically and appallingly lacking in tradition. Of course, they're telling me that because I come from "Old Europe" the mythical home of all important traditions and the only Good Deep Roots on the planet, tantalizingly far away on the other side of the Diving Waters. Sometimes there's a hint of desperation in their voices which makes me feel like somebody's acutely ill, and I should call can ambulance or even attempt mouth to mouth resuscitation, although – should I feel embarrassed? – I don't know how.
In the US when it comes to wine those 30 years seem like half an eternity and might easily be considered evidence of tradition in winemaking although this one part of the US that Americans associated least with winemaking (hell, it's the home of automobile industry and "failing" Detroit)  and with a grape variety many older white Americans still stubbornly refuse to take seriously (a bald prejudice based upon the idea that it comes from the wrong part of Old Europe, i.e. Germany). So, this was not just an interesting wine tasting, rather we all entered Sean O'Keefe's American Riesling Time Machine Sean to discover the truth about this Other Wine America which few somms or other wine professionals know much about.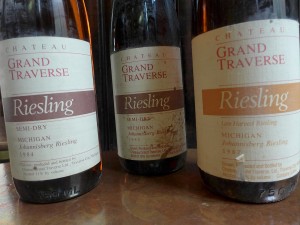 By chance it happened to be the 16th anniversary of Sean joining Chateau Grand Traverse and becoming the second generation of his family to run the company (he does so with his brother Eddie), following his father Ed O'Keefe. Ed was nicknamed the Ayatollah of Riesling for planting this grape, then widely considered totally unsuitable to the Northern Michigan climate back in 1974/5, and he relished being considered a maverick. He still does, just like Sean. By the time we got started explaining all this background stuff to the audience just after 5pm Sean was dripping in sweat, because he'd lugged the wines over from his Manhattan hotel, arrived late due to the traffic, then rushed to get all the wines onto ice before the first guests arrived. "I feel like Meat Loaf on encores!" he quipped as he went on to tell his own story, of which the most important episode was spending a year the the famous Geisenheim wine school in the Rheingau/Germany, "the Hogwarth's of Riesling."    He returned to Traverse City in the summer of 1998, since when he has been developing a series of wines that flew and continue to fly in the face of the dominant wine fashions. Our tasting focussed on the most important of these, the medium-dry, medium-bodied 'Whole Cluster' Riesling of which we tasted the 2013, '12, '11, '10, '09, '08, '07, '06, '05, '04, '02, '01 and the first vintage '98. Parallel to this we also sampled the more powerful and usually slightly drier 'Lot 49' Riesling from '13, '12, '11, '10, '09 and the first vintage '08.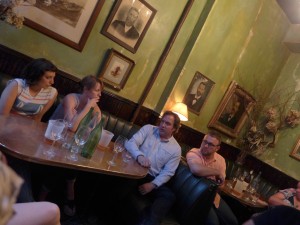 There was nothing approaching the holy preciousness – don't breathe or you might smash something metaphysical! – of the atmosphere in which many professional tastings take place, not least because much of the audience was mad up of young women somms, who "don't do that stuff", as they might put it. Nobody hesitated to say that the 2001 'Whole Cluster' was oxidized, or to enthuse about the youthful vitality of the racy and herbal-mineral 1998. Everyone stayed to the end too, perhaps because the wines were so very different from anything else on Planet Riesling that they were familiar with. "Fennel and licorice," are the words Sean uses to describe the distinctive style of the wines from what he and other Northern Michigan winemakers refer to as the OMP (Old Mission Peninsula). This strip of glacial deposits is almost the same size as Manhattan and extends into Grand Traverse Bay, which is part of Lake Michigan. That might sound like the Middle of Mid West Nowhere, but luxury homes compete with vineyards for every piece of lakeside or close to lakeside real estate.
A lot of the vineyards which went in recently were planted with Riesling, and as you can read in my book, the area planted with that grape in Michigan consequently soared 180% during the decade 2001 – 2011. Sean's 'Whole Cluster' Rieslings success was one of the reasons for this boom. New York Wine City (NYWC) is just beginning to wake up to the existence of these wines, and clearly given their absence at the tasting in Hotel Delmano some of the city's older somms would prefer to pretend that these wines don't exist. The current vintages of the 'Whole Cluster' make that attitude look very narrow-minded, even look like the opposite of the openness which those older somms theoretically stand for. Sure, the 2013 still has some tropical fruit aromas and an up-front juiciness which are the equivalent of puppy fat in Riesling, but it is also racy with that salty-mineral quality so sought after by NYWC somms. The latter qualities are much more pronounced in the 2012 vintage, which ought to age like the 1998.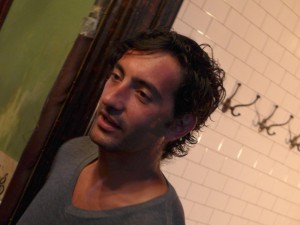 Of course, we were all hanging on the edge of our seats for those wines from the 1980s, which were made by Roland Pfleger of the Pfalz/Germany, who was Chateau Grand Traverse's first winemaker. Although a tad sweeter than Sean's 'Whole Cluster' wines the 1985 'Semi-Dry' Riesling bore a certain resemblance to them and was still very much alive, if a little rustic. By the time we reached that wine nobody present expressed any more doubt that Northern Michigan can producer drier style Riesling wines that are of a quality and distinctiveness which merits their being taken seriously by NYWC. We all thanked not only Sean, but also Alex Alan who writes the (excellent) wine list of Hotel Delmano that we could use their back bar for our own dangerous purposes. At least, I'd say that the demolishing of myths is a dangerous purpose, whether it takes place in a hipster bar in Williamsburg or on the pages of a book like BEST WHITE WINE ON EARTH – The Riesling Story!