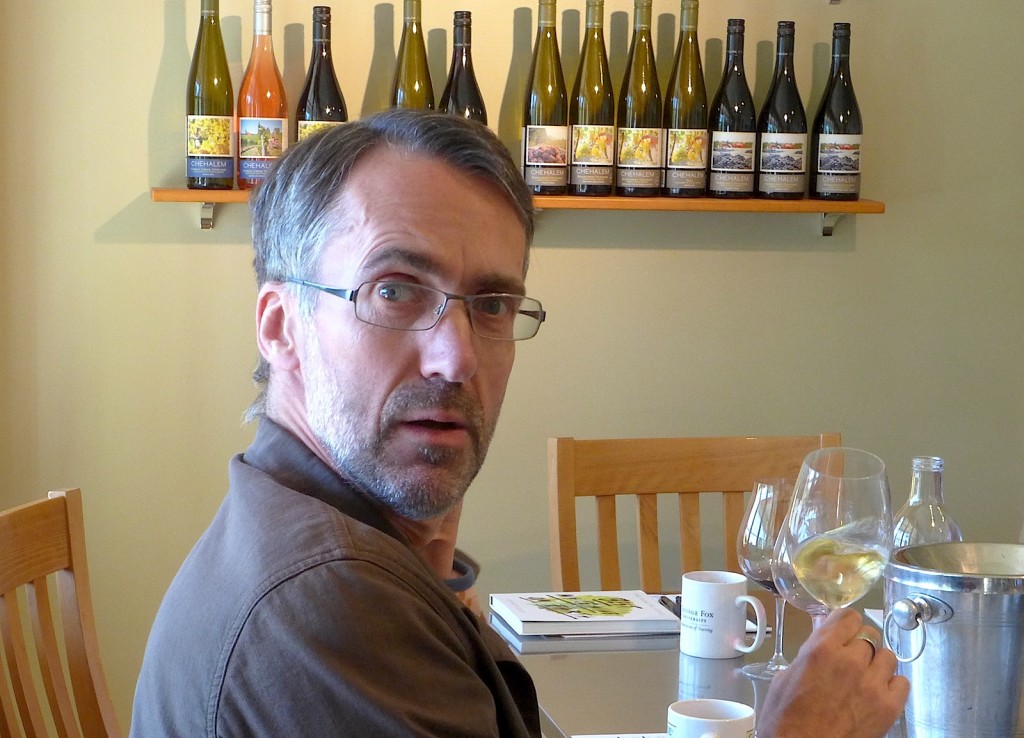 In the interests of International Security I can neither confirm nor deny that the image above is a still from my recently completed film WATCH YOUR BACK – The Riesling Movie (Part 1) which has it world premiere at Michael Moore's Bijou By the Bay movie theatre in Traverse City on the evening of Sunday, July 27th as part of the City of Riesling festival (scroll down to previous posting for more details). However, that is definitely me in the picture and as you can see I'm watching my back. Why? You'll have to see the movie to get the full answer to that question. However, it has to do with the fact that there are although there are "only" about 12,500 acres of Riesling planted in the US (now the second largest area in the world after Germany) compared with more than 8 times as much Chardonnay, a group of industrially sized Chardonnay produces clearly feel threatened by Riesling's coolness and the increasingly wide acclaim for it as a "democratic" (i.e. fairly-priced) wine and it's food friendliness. There is a backlash, and yes, I have felt it. For that reason I recommend any of you who have literally been vocal about Riesling, or actively talking about it in the social media, to watch your backs too.
I only got to see the finished film myself for the first time last night in New York Wine City (NYWC), because my producer, cutter, editor and additional cameraman Klaus Lüttmer had a horrible accident while working in one of his vineyards in the Unstrut Valley a couple of hours drive south of Berlin. This threw him back a couple of days when there were only a few days left, and robbed me of the chance for a final round of corrections. Sure, there are a couple of things that I will tighten up or change, but we are talking about details. Just as I hoped, there are many steep climbs and falls, a few jolts and abrupt changes of direction, some ugly moments and much strange beauty during the movie's coast-to-coast journey across the US of Riesling. That and the erratic quality of picture and sound, much of it shot and recorded by me with low-budget equipment surely qualify it as a "Gonzo B-movie", the category I placed the project in before I began shooting here in NYWC back in July 2012. You may well hate it, and possibly with good reason, but I promise you that it isn't going to leave you cold whatever your taste in movies is.
I look forward to seeing you in Traverse City and don't forget, WATCH YOUR BACK!