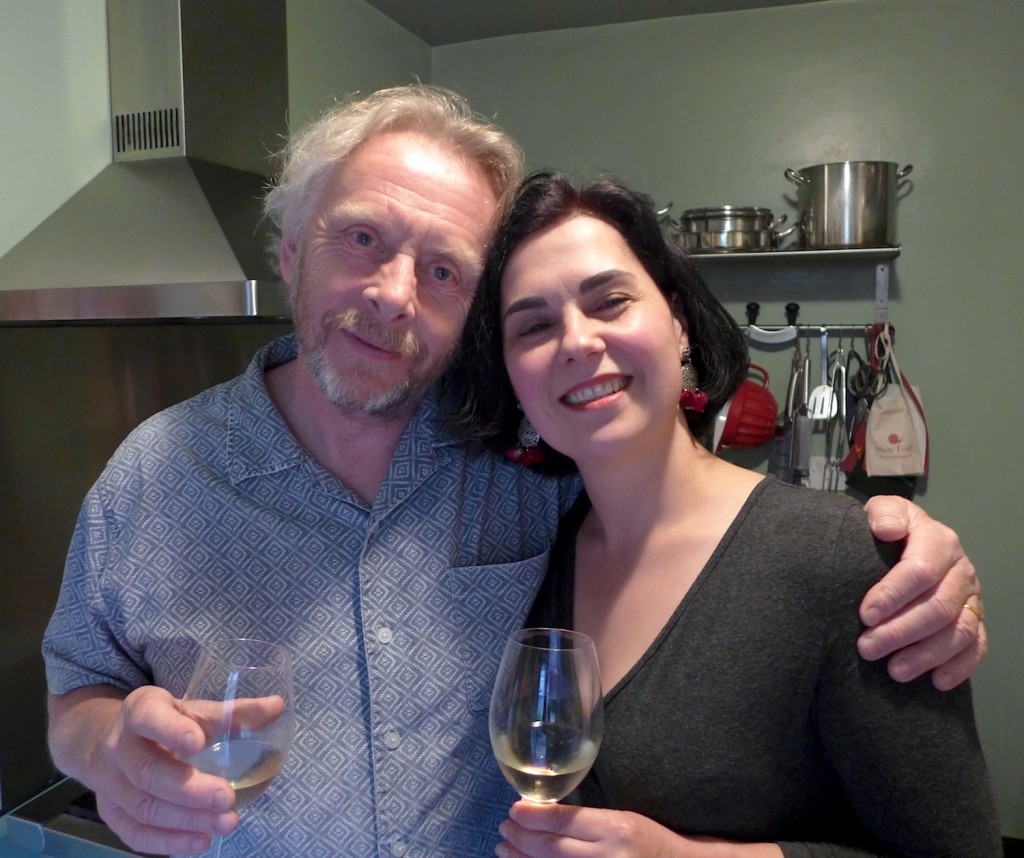 Hopefully, a blog responds to events and has an ethos, but is not a rigid editorial program that requires slots to be filled come what may. I think it should be like bamboo bending with the wind, rather than an unyielding grid. This is my explanation for the fact that this, the 600th posting since my blog went onlinel on September 1st 2007 (most of you only know it in its present format which it acquired on April 17th 2012), is about Spätburgunder, not Riesling. That's the German name for Pinot Noir, also known by the alias of Pinot Nero, which still appears on the labels of most wines of this variety produced in Germany. Pictured above are the two reasons for this subject demanding my attention today: on the left Nigel Greening the owner and guiding spirit of Felton Road winery in Central Otago, one of New Zealand's top producers of Pinot Noir and Riesling (see BEST WHITE WINE ON EARTH pages 101 & 196), and on the right Anne Krebiehl, a German wine journalist who has been in London for the last 14 years. They're standing in a corner of Anne's kitchen and the sparkling wine in their glasses is the delicious – floral, delicately creamy and elegant – English 2009 Neytimber.
Earlier this year Nigel got very excited when I suggested I could organize a tasting of the top Spätburgunder from the little-known Breisgau sub-region of Baden from the excellent 2007 vintage later this year in London. When I told Anne about this she suggested that we could do the tasting at her dinner table. That conversation took place in Vienna during the VieVinum trade fair, to be precise at the big party on the Saturday night of the VieVinum. Just before 11pm I crawled away from that party as Paul Grieco and Matt Stinton of Hearth Restaurant and the Terroir wine bars in New York burst into the entrance in high spirits. They couldn't begin to understand how exhausted I felt after four fascinating, but very  intense days of wine tasting. Out on the sidewalk I drew a deep breath, then gingerly pulled out my cellphone to see if I'd missed any messages and discovered that Bernhard Huber of the eponymous winery in Malterdingen, Breisgau had just died of cancer. Suddenly the "tasting" gained a new importance, becoming also a homage to one of Germany's leading winemakers of the last quarter century.
In spite of that several people who were anxious to attend couldn't do so because that's what happens in London in August (more on this subject at a later date, because it's of great personal importance to me). So, in the end there was only Anne, Nigel, Sebastian Thomas of Howard Ripley Wines and I. Sebastian brought a handful of other German Spätburgunders including the top 2012s from Weingut Keller in Flörhseim-Dalsheim, Rheinhessen with him which made the evening an unsystematic, but rather serious review of how far German Spätburgunder red wine has come in recent years.
The first thing which has to be said is that in spite of the fact that all of the winemakers who's Spätburgunder we tasted are inspired by Burgundy, none of their wines tasted like Burgundy, rather they were self-confidently themselves in spite of all the differences between them in aroma, flavor, style, etc. Even the 2007s from the recently founded micro-wineries of Holub and Zallwander were very distinctive wines, the former rather mature and soft with an intense savory character, the latter much more oaky and tannic, still a bit gritty. Nigel told us that there was an Inuit (i.e. Eskimo) word that means, "I quite like you, but I wouldn't like to go seal hunting with you", and that was how. In felt about these two wines. These were "serious" wines, but today both these producers are making much better wines than they were back in 2007. The difference between how Shelter Winery (yes, that's the name of a German producer) made their 2007 and the way they make their current wines is much smaller, and I think the concentration and dry elegance of their 2007 Pinot Noir (yes, that's how this German wine is labelled) very much reflects how their new wines will age. It is still a young wine with many years ahead of it, which pleased Sebastian Thomas, because Howard Ripley is the UK importer!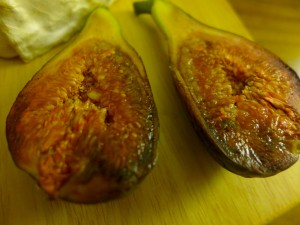 By this point Anne's excellent food – a leg of lamb that momentarily made me wish I lived in England instead of Germany, and super-ripe figs from her garden – was beginning to distract us. A great effort of concentration was necessary to do justice to the wines the wines that followed. The trio of Bernhard Huber's 2007 Spätburgunder "Großes Gewächs" (GG) were all stunning wines. The rich and silky GG from the Sommerhalde site got the most comments, but the sleeker and drier GG from the Binenberg meant more to me, perhaps because it reminded me of my first visit to the Hubers back in 1993 when they were still making the wines in the cellar and garage under their home. Already it was clear that they were in the leading pack, but not how they would pull ahead of the field after their acquisition of new vineyards like the Schlossberg. The 2007 Schlossberg GG was my favorite wine of the entire evening, because of its great fragrance, super-fine dry tannins and herbal-mineral a character. Not having a bottle of Huber's most expensive Spätburgunder, the Wildenstein, from 2007 in my Berlin cellar, I'd brought a bottle of the 2005 which I had in New York. It was very different in balance to the other Huber wines, richer in body, but with a hint of green freshness. That prompted Anne to open a couple more 2005 German Spätburgunders, of which the Mergelberg GG from Knipser in the Pfalz was an impressive wine with an intense smoky note, a fleshy body and slightly sappy finish.
The 2012 Spätburgunders from Keller are extreme wines, particularly in their present extremely youthful state, and I expect both rave reviews (possibly some critics will even slather at the mouth) and some really damning words. Spätburgunder/Pinot Noir/Pinot Nero hardly gets any sleeker, cooler and fresher than this. I'm sure they're going to develop very well if anyone has the patience to put the Bürgel and Frauenberg GGs in a cool dark hole in the ground (i.e. a wine cellar) for several years, then live clean enough to still be around when they come back up into the daylight. I loved the floral aromas of the Frauenberg, but I'll have to check the price on this. Expensive it may be to make high-end Spätburgunder/Pinot Noir/Pinot Nero or red burgundy which doesn't usually declare on the label that it's made from this grape. However, wherever wines of this grape come from three figure prices come about because very generous profit margins are being taken, that is unless you factor the price the land would fetch today into the equation. However, as far as I can see that can be used to justify any and all wine prices, since land prices follow wine prices.
And in spite of the tube (i.e. subway/metro) strike I made it back to my mother's house on the other side of London. On the trains and planes of recent days I've been reading Philip K. Dick's 'Do Androids Dream of Electric Sheep', upon which the movie 'Bladerunner' was loosely based. The dystopia (the opposite of a utopia) it describes makes me feel that London in August 2014 is actually a tacky science fiction movie that remains unfinished, because the budget ran out. The opposite applies to German Spätburgunder, a work-in-progress that is anything but tacky, and to Anne's hospitality.