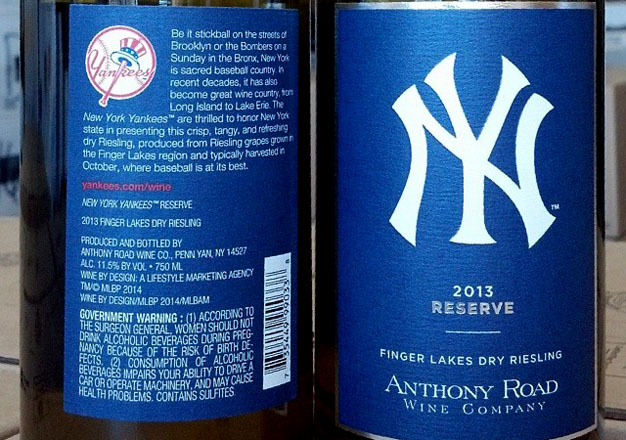 'New York Yankees' Dry Riesling from Anthony Road in the FLX for $24.99
Of course, as no-sports Englishman (currently) in New York I am not able to fathom all the intricacies of baseball, but then I cant do the same for cricket, the British equivalent, either.  It wasn't difficult to get what the New York Yankees mean to the people of this fair city. That happened without me going to one of their games, or even watching a whole game on TV, so fundamental is it to what being a New Yorker means. Now the Yankees have their own Riesling, from Anthony Road in the Finger Lakes (FLX), which is literally a game changing development for my favorite grape here in New York Wine City (NYWC). When I first learnt about that my jaw literally dropped in shock: baseball and Riesling!? I thought it was baseball, hotdogs and beer.
That the Yankees have their own Riesling is a big surprise to me, but not the choice of Anthony Road. It was one of the most consistent Rieslings producers in the FLX over the decade that I have been closely following developments in the region due to the winemaking talents of Johannes Reinhardt (now of Kemmeter Wines just next door) and the successor he trained, current winemaker Peter Becraft. They are also one third of the 'Tierce' dry Riesling, a blend of dry Rieslings from Fox Run, Red Newt and Anthony Road, the 2010 vintage of which was served at the lunch for the 57th Presidential Inauguration (the beginning of Obama's second term) at the Capitol in Washington DC on January 21st 2013. That and the Yankees Dry Riesling are a sure sign of mainstream acceptance and success for the FLX and the region's Riesling wines.
The way the wine tastes is the final confirmation of the rightness of all this. Although 2013 is a less consistent vintage than 2012 and the ripeness was sometimes clearly less than ideal this wine has generous apple and lemon aromas, lively rather than dominant acidity and great balance. And if you want to have a similar taste experience without the Yankees label for slightly less money, the regular 2013 Dry Riesling from Anthony Road is $16.99.
2013 'New York Yankees' Dry Riesling is $24.99 from
Anthony Road at their FLX tasting room at 1020 Anthony Road in Penn Yan/NY
or at their stand on Saturdays at the Green Market in Union Square/NYWC
or by going to: http://www.anthonyroadwine.com