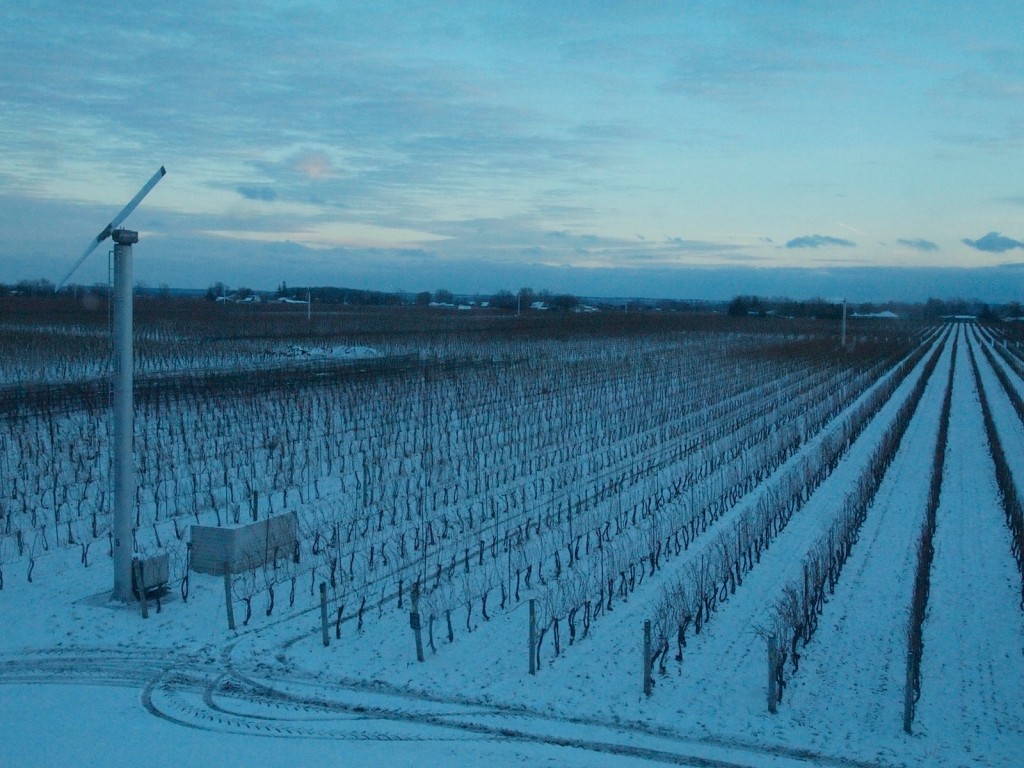 OK, this isn't exactly the way I normally see vineyards in my mind's eye when I think of Riesling, but this is the way that the vineyards of the Niagara Peninsula in Ontario/Canada looked when I arrived here yesterday afternoon. Today the sun came out and everything shimmered rather than being bathed in that ice-box blue, but whatever the color there's no doubt that this is the Riesling Central of the Northeast. Nowhere in the eastern half of the North American Continent are there more Riesling vineyards than here. In BEST WHITE WINE ON EARTH – The Riesling Story (of which the German language edition PLANET RIESLING is about to be published by Tre Torri) I used the statistics for 2011, because in that year almost all the states and provinces I wanted to compare had gathered new statistics, creating a level playing field. In 2011 Ontario had 1,648 acres of Riesling ahead of New York State's 1,034 acres, then Michigan in third with 575 acres. You have to look right across the continent to Washington State and California to find more Riesling than is here in Niagara. Here Riesling is in the process of overtaking Chardonnay (another variety very well suited to this region's climate and soils) to become white Vinifera grape number one.  Here in Niagara people are pulling out Cabernet Sauvignon and Merlot in order to plant Riesling!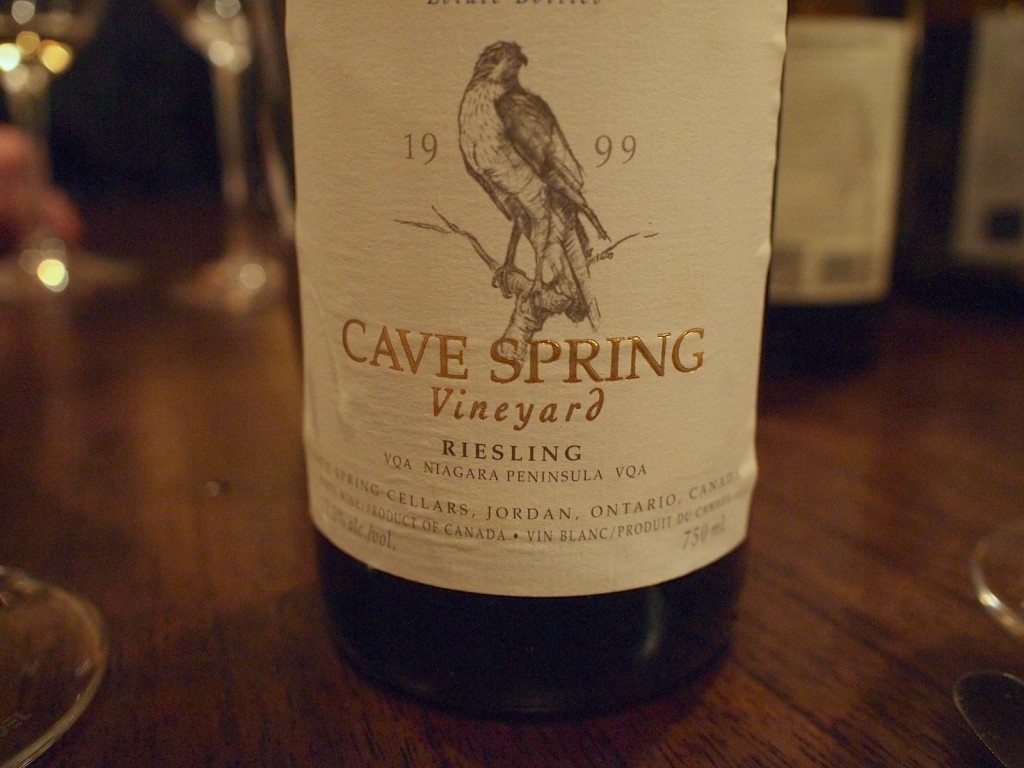 Of course, those and other statistics are only one part of the story of Riesling. The taste of the wines is always far more important, because it delivers the punchline to the wine drinkers and it is their reactions – in this case people demanding more good Riesling – that drive the vineyard planting. Pictured above is one of the most beautiful mature dry Rieslings I've tasted in a long time. The 1999 'CSV' from Cave Spring here in Jordan was perfectly mature in aroma, super-elegant and properly dry (although it began life as a mdeium-dry wine – all wines dry with age) in flavor with a great mineral freshness. I'm sorry that few of you will ever get the chance to experience this wine, because Cave Spring now have just 17 bottles left, but at least it proved the oft-made claim about the aging potential of Niagara Rieslings is not a hollow one. Please remember that this was the very first vintage of this wine, and that the first plantings of Riesling in this region are only slightly more than 20 years older than this wine. That is either a shallow history or a rapid and dynamic development, depending upon you have a the-glass-is-half-empty or a the-glass-is-half-full perspective. I choose the latter.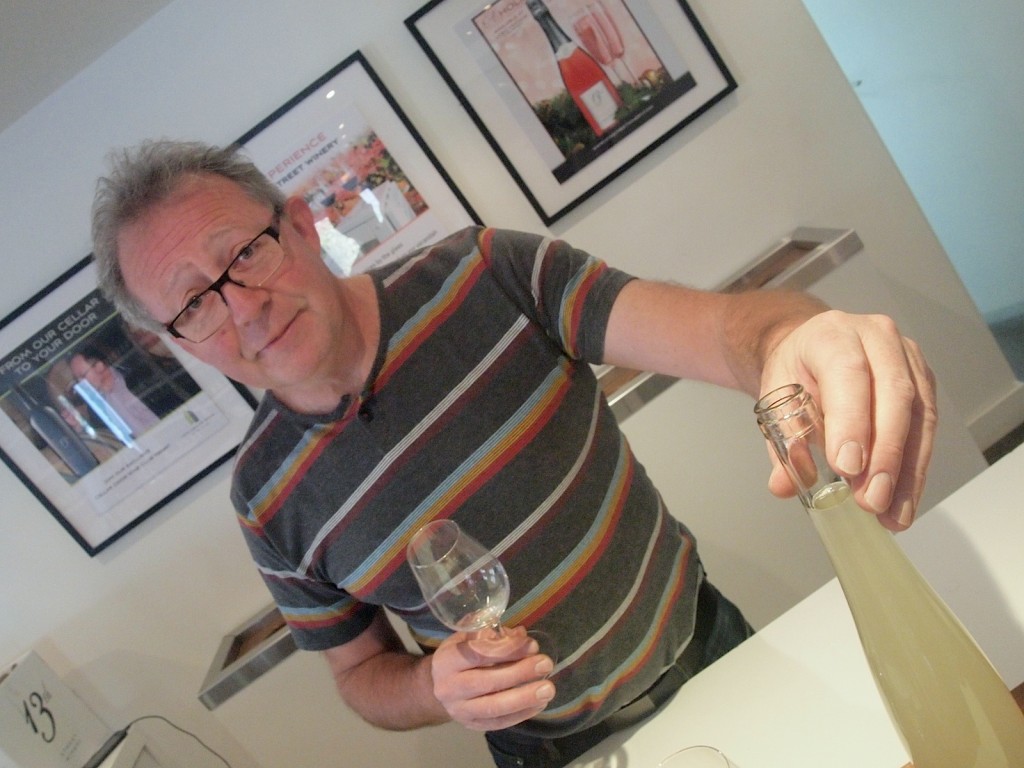 I already got to taste a few of the 2014s, wines that only just finished their fermentations. Here is Jean-Pierre Colas, the winemaker of 13th Street presenting me with the powerful and grapefruity  2014 'June's Vineyard' dry Riesling that is still milky with yeast. That first taste was very promising for this extremely early stage of the wine's life and bodes well for the new vintage. Like 2013 it seems to be a cool and elegant vintage with quite high acidity, but also excellent balance. I can't wait to taste these wines when they are in the bottle, but right now I have to run to Grano's Restaurant in Toronto for a signing of my book and the Riesling dinner that will follow it.