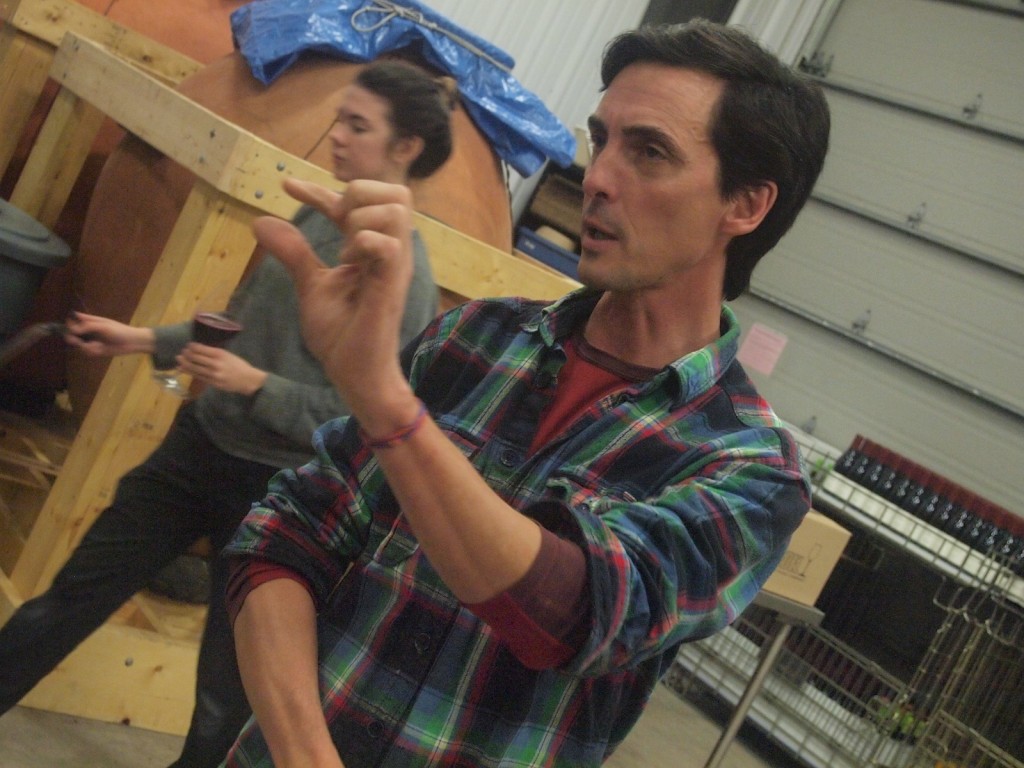 When it comes to wine it's easy to throw around big important words like "revolution" without adequate reason, because it sounds so good and therefore nobody questions the relevance of such a term to the situation in question. For many years the quality of the wines from the Niagara Peninsula has been improving and this is a process which has been well recognized if not well reported by the international wine media. Their lack of a clear focus on this region has created an established wisdom which the facts on the ground often seem to support: the progress has been steady and incremental, remains so to this day. However, as a result of today's visits to a number of the region's producers large and small I really do see a revolution beginning thanks to people like Francois Morissette, pictured above at his Pearl Morissette winery just outside Jordan.
Francois is seriously rethinking how the wines of this region could taste, and therefore also how they could be made. I just had one of the most fascinating tastings I can remember with him and those are also words that I don't throw around lightly. It began with Rieslings that were as radically outside the norm for Niagara as you could imagine. Bold yet delicate, richly textural, but also blessed with an intense yet subtle fruit character they need several years of aging to shine, and even the 2010 and '11 have both opened up just about enough to show what they really are. His 2013 Riesling will need a couple more years to reach that point, and may well not be released until then; another radical departure from conventional practice. You will have to wait for that one to enable you to drink outside the Ontario wine box! By the way, these wines all did full malolactic fermentation, but they still had a healthy acidity and no hint of unattractive "non-Riesling" aromas like butter or sauerkraut from that process.
Some local winemakers are painting Francois as a charlatan, a troublemaker or even a devil, and he's certainly a charismatic character with a lot of strong opinions, but he's also a thinker, an experimenter and a pragmatist (without compromising his core ideals) who isn't afraid to look at the analytical figures and think about them before making winemaking decisions. In fact, I think he does more analysis of his wines than many conventional winemakers in this region!  "I am making wines with low sulfur, but I am committed to biological stability. I don't accept wines that are oxidized, have too much volatile acidity or other faults. But, I'm not afraid of things I don't understand," he told me. So far he has made Riesling in stainless steel, then large old oak casks and now concrete eggs in his search for the right way to realize his vision of Riesling as a wine with textural complexity and appeal.
In fact, texture is what interests  him most in any wine. For Chardonnay this is a less unconventional way of thinking and thus his Chardonnays are also less unconventional wines, although they have their own very distinctive personality. How many high-end Chardonnays outside Chablis have zero perceptible oak aromas? Almost none, except for these and I promise you I wasn't yearning after vanilla and toast when I tasted them! Personally, of his dry white wines it was the 2012 Chardonnay that stunned me the most. In that vintage of lush and tropically aromatic wines he added 10% Riesling to give the wine more acidity, rather than either add tartaric acid to make the wine taste fresher, or to add nothing and accept a balance that was far from the vitality that he seeks in wines. It was a stroke of genius that resulted in a spectacular wine with a whiplash of mineral freshness that comes as a wonderful surprise after the almost opulent first impression which it mades. He also showed me some striking and highly original Cabernet Franc and Gamay reds, which belong to the best produced from these grapes in Ontario and are great wines in any context.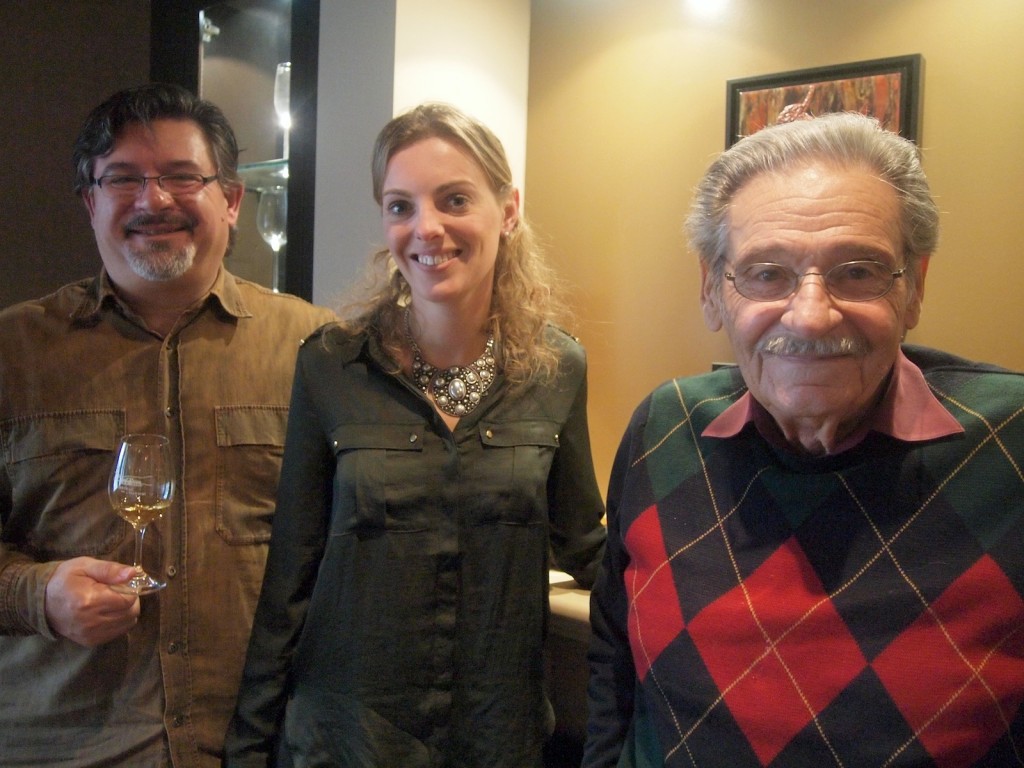 There was a total contrast of approach to creating something revolutionary at Chateau des Charmes  in St. David's where Paul Bosc Snr. (right in the photo), his son Paul-André  (left) and winemaker Amelie Boury (centre)  have pursued the arduous process of breeding new grape varieties ideally suited to this region with its "Siberian" winters and "Algerian" summers (the family originates from Algeria). Since Paul Snr began this process 18 (!) years ago he's run through perhaps 20,000 combinations of vine genetics in the search of a new one that will at least match the most successful vinifera varieties grown here and have a distinctive personality. "146" may be an unromantic name for a variety – it is only temporary – but this cross of Gewürztraminer (mother) and Riesling (father) combines the baroque aromas of the former with the racy acidity of the latter to give something that is completely new and exciting either as a dry wine or one with some sweetness. In a few years, under a new and much more attractive name, the first experimental wine will hit the market. My hunch is that the Boscs will vilify it in a similar style to their impressive dry 'Old Vine' Riesling (great value at just under $15 here) Who knows what the reaction will be? I was certainly amazed by the micro-vinifications I tasted and can't wait for the revolutionary moment when the first commercial product hits the market!