I'm sure that many of you think, that after 30 years of doing the Riesling Thing as intensely as I have, I've got nothing to learn from another trip to a wine region like the Finger Lakes (FLX) in Upstate New York like my present one. And to be honest, during the five hour Greyhound Bus ride up to Ithaca on Wednesday I also thought that I'd taste a bunch of new wines and get a first feel for the 2014 vintage in the FLX, but probably not much more. However, through running around and tasting those wines I discovered something fundamental to this region's identity, something that I'd never have got if I hadn't come up here.
It was Kelby Russell of Red Newt Winery in Hector, pictured above, who at the breakfast table this morning pushed me towards full realization of an important truth: during the icy and snowy depths of the FLX winter the wine in the outdoor tanks partially freezes. Currently a good part of the contents of every outdoor tank (the water in the wine) is a thick sheet of ice on the inside of the tank. This probably sounds seriously mad to, and I also feared that that it might seriously harm the wines – all those delicate Riesling aromas! – but the fact is that all it does is put them into a state of "suspended animation". Kelby told me that he sees this as a positive, "because while the wines are in that state nothing can happen to them." Being the precise and thoughtful winemaker he is, he then pointed out that you still have to watch out for oxidation, because at the moment they unfreeze they are most vulnerable to that (something else I didn't realize before).
My guess is that word about this highly unusual situation will spread as a result of the upward curve these wines are on in the marketplace, and within a couple of years at the max wine geeks will be probing FLX winemakers about every single one of their Rieslings, honing in on the wines that went through the Big Freeze.  The mainstream wine press will run stories about the Big Freeze and earnestly debate it's advantages for the wines. Somms will apologize to customers that the wines which went through the Big Freeze are not noted on the list, "but if you ask me, then I'll tell you which ones did."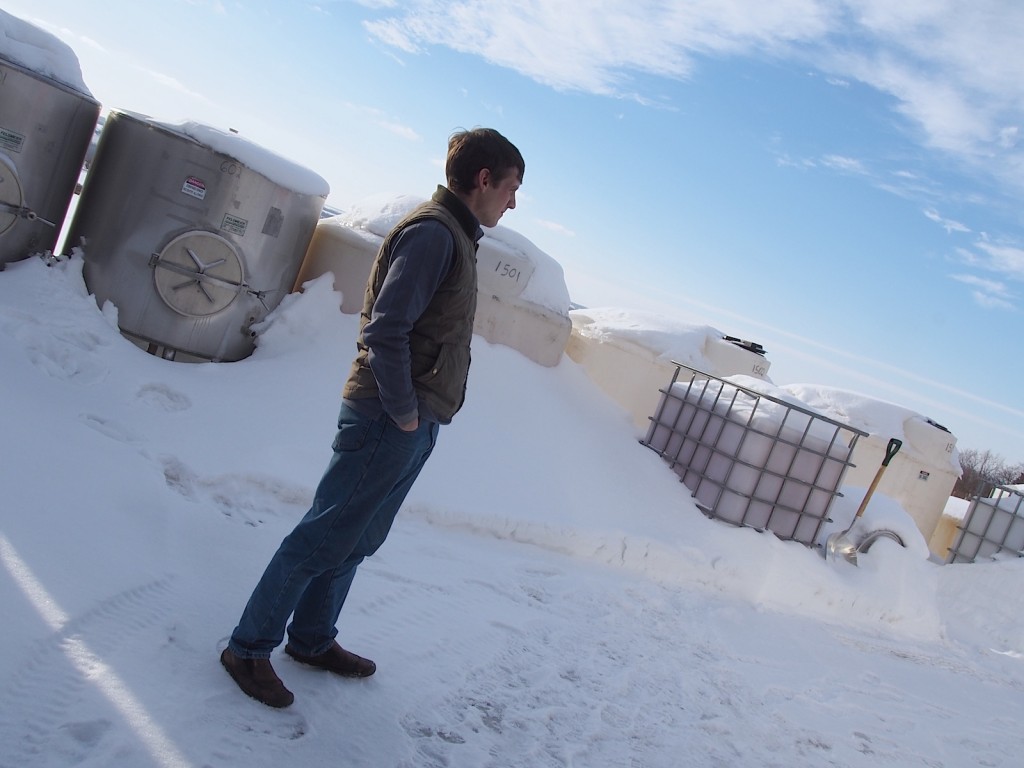 I'm afraid this is the only decent picture I got of the outdoor tanks (at Red Newt), because it was so cold I didn't dare hang out with those tanks for any longer than I really had to. Even coming from New York Wine City, which had its coldest winter weather in a long, long time this is another dimension of cold. For the first time this winter there was absolutely no question of going out for even a short walk without long johns. To my mind, this is part of the nature of this region, even it's terroir. This is the second year in a row that there will have been winter damage to the vines and it will be interesting to see just how many of the vine buds actually do spring into growth when spring finally comes. This (again) raises a fundamental question as to the future of frost-sensitive varieties like Merlot and Grüner Veltliner.
The other thing which I didn't realize is more basic, but perhaps of even greater importance. Dry FLX Riesling has made a big leap up in popularity during the last couple of years, and it did so without poaching consumers from the medium-dry field. The new excitement for the dry wines means that people are daring to drink FLX Riesling with food in the same kind of way they drink Chardonnay or Sauvignon Blanc (not always as dry as they claim to be) with food. The volumes of wines like the Fox Run and Boundary Breaks Dry Riesling have increased dramatically, and that is a trend which seems to still be on an upward curve. How far can it go? My guess is that in about five years the main market for FLX Riesling will split between dry and medium-dry wines, with the sweeter wines becoming an important niche. Rieslings that taste more like juice than wine will become rarer. But maybe I'm being too optimistic and I'm heading for another Great Eye-Opening at some later date.