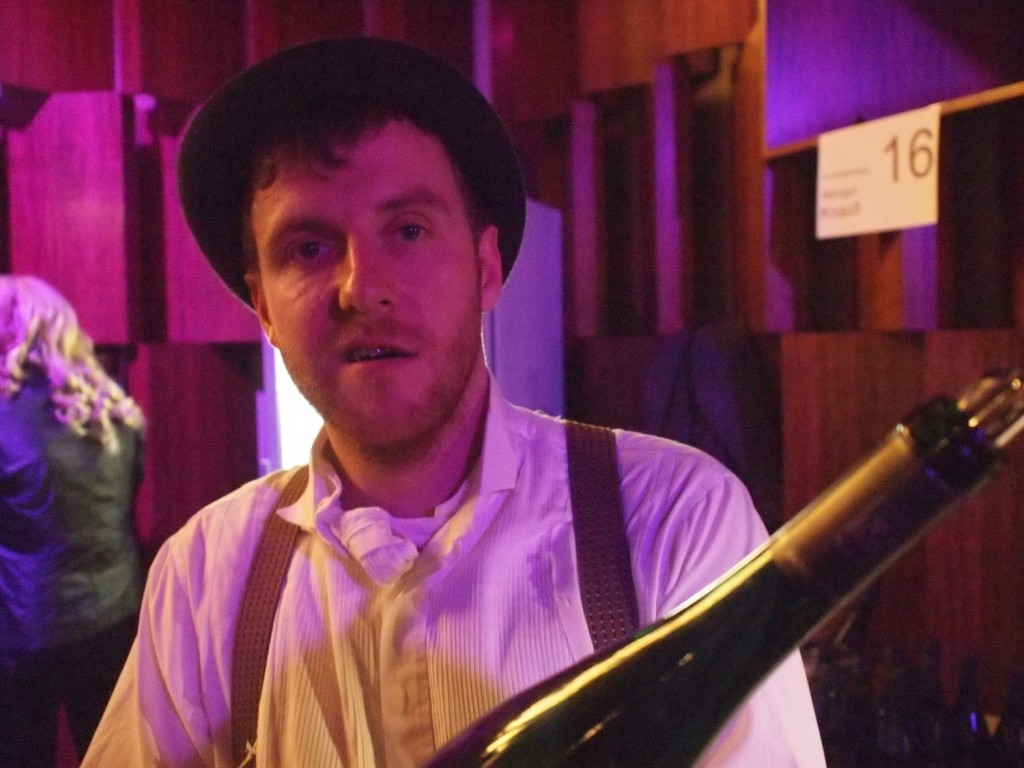 The photograph above is a Portrait of the Gastronomic Artist as a Young Man, which is to say the previous incarnation of Billy Wagner just before he started seriously planing what became his new restaurant Nobelhart & Schmutzig (N&S) on the wrong part of the famous Friedrichstrasse in Berlin (the section in the Kreuzberg district, rather than the much cooler one in Mitte). I was not in good shape health-wise the evening I visited N&S for the first time on Friday evening, which had the advantage that I didn't take a very active a part in conversation and therefore had plenty of time to think. Watching Billy Wagner zipping around the restaurant, opening bottles, pouring wines and changing the vinyl on the record player it struck me that N&S is not only the stage on which the new Billy Wagner performs with the grace of a gazelle in its natural habitat, it is the stage which gave birth to the new Billy Wagner! If you doubt this, then I suggest you compare the above picture with the one in Part 1 below and see if you really find no difference.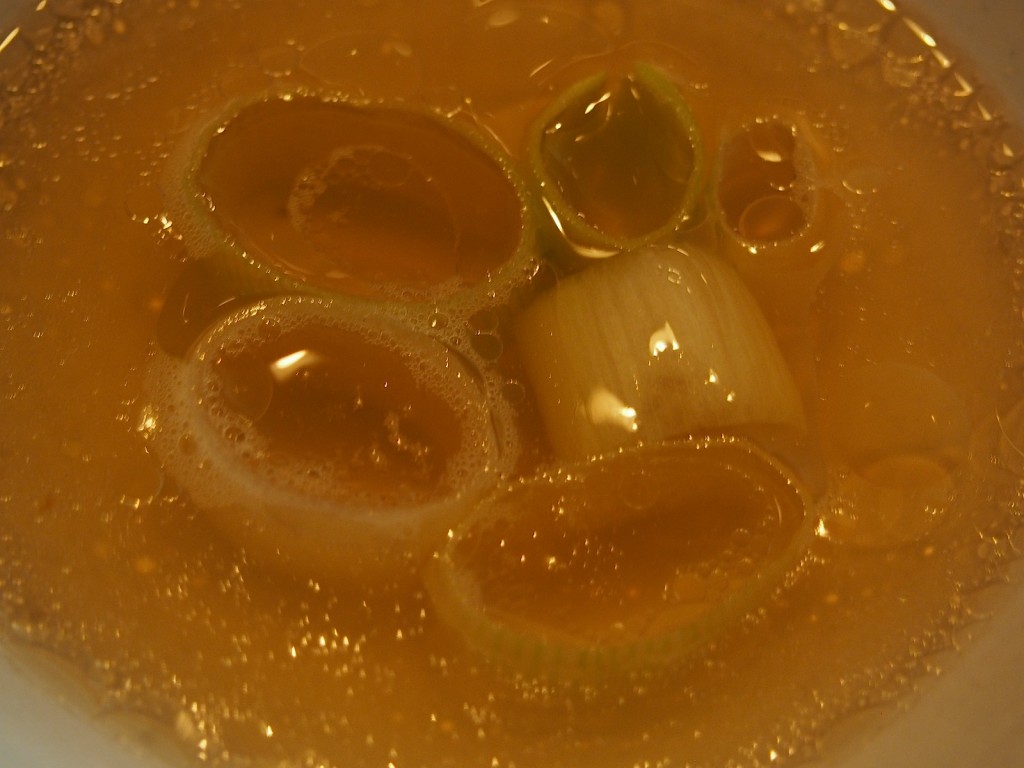 We return to the Mahlzeit, or meal, just as the oh so very noble, hard and dirty soup course was served. Like many other dishes, you can't tell what is actually from the "menu", because it only tells what the main ingredients are and where they came from. In this case it said celery, leak and lamb fat from Bauer Zielke (farmer Zielke). Exceptionally, I think my photo conveys very well what this dish looked like. Either you'll love this soup's very low key, delicately rooty and mellow flavor, or you'd find it way too bland and ask for Tabasco or some other form of chili to pep it up, as someone in my group did! (Billy Wagner just laughed at that comment). Every dish at N&S has this potential for controversy to a greater or lesser degree, and if that idea doesn't excite you I suggest that you don't go there. Maybe this was a shock for some of the "young and beautiful people" who made up the majority of the guests last Friday, but if so they weren't showing it. Maybe the pervasive aura of coolness surrounding N&S at this early stage in it's life distracts some guests from this situation, but that's an effect that will wane in a short time. Then we'll see how they take these gastronomic slaps in the face. Not everyone can say, "hit me", and very few can say it and mean it.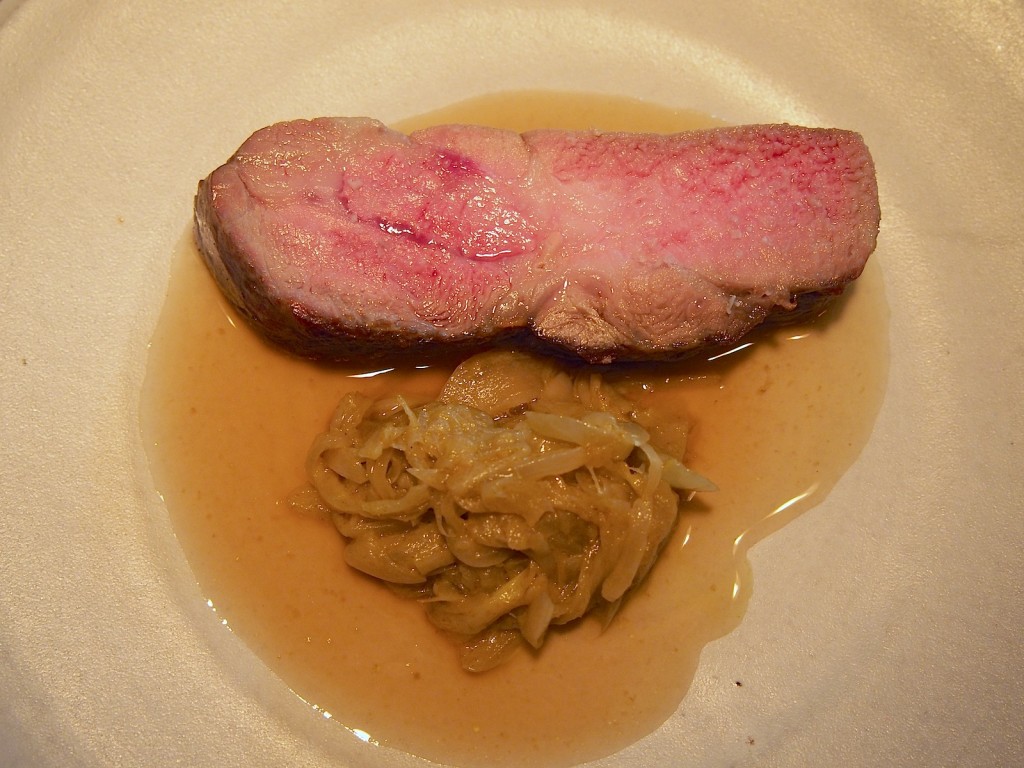 Meat was a single course and – if you really wanted to see things this way – was just about recognizable as a "main course". I forgot to take a picture of my plate when it arrived and when I was able to take a picture of another plate of this dish later in the evening (the photo above) the piece of meat was much larger than the one I got. I guess that I got about 75 grams / <3 ounces, but feel I should point out that this is all any of us need per day to obtain the protein our bodies need. I'm actively in favor of this portion size, also if it's goal is to make this dish less of a conventional "main course". Democracy for dishes and wines is something I strongly believe, but am sometimes not thorough enough about.
This piece of Mangalitza pork neck from the Landwerthof farm was delicious thanks to the exact preparation and the intense flavor of the fat. The caramelized onion with it made it even more schweinisch, or piggy, as Billy Wagner called, and the hint of camomile added a light touch to this fat bomb of a dish. The 1975 Kiedricher Gräfenberg Riesling Spätlese – a 30 year old sweet Riesling from the now defunct Rheingau estate of Schloss Groenesteyn – was also the most daring and exciting wine pairing of the evening. The combination of fat and delicate sweetness landed spot on the pleasure center of my brain and I could have wallowed in this dish like a Mangalitza pig in mud. By the way, there is a pig in my name, Stuart deriving from styward, or warden of the pigsty.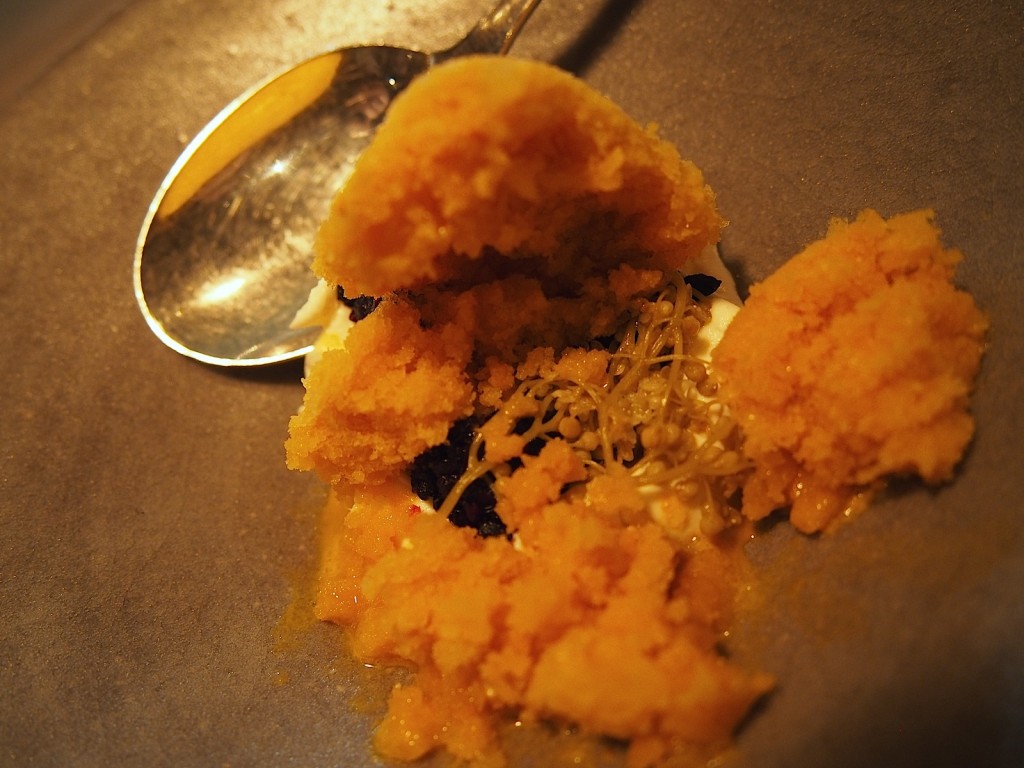 Also only slightly sweet was this combination of flower pollen sorbet with elderberries and yoghurt and for my palate this would have been the perfect happy ending to the meal, because the sweet dishes I like are anti-desserts like this. That's a personal preference though, and not to be taken too seriously if this is a serious review who's purpose is to assess how good N&S really is according to the motto, "two stars or three?" Before I go any further I have to take that purpose and heave it into the dustbin of history though, because what this story is actually about is figuring out what N&S stands for and what the food, drinks and everything else about it says to us. "I'm not a critic, I'm a free thinker!" Let's leave this subject right now though, so that the dustbin doesn't get too full of what seem to me rubbishy ideas before this posting ends.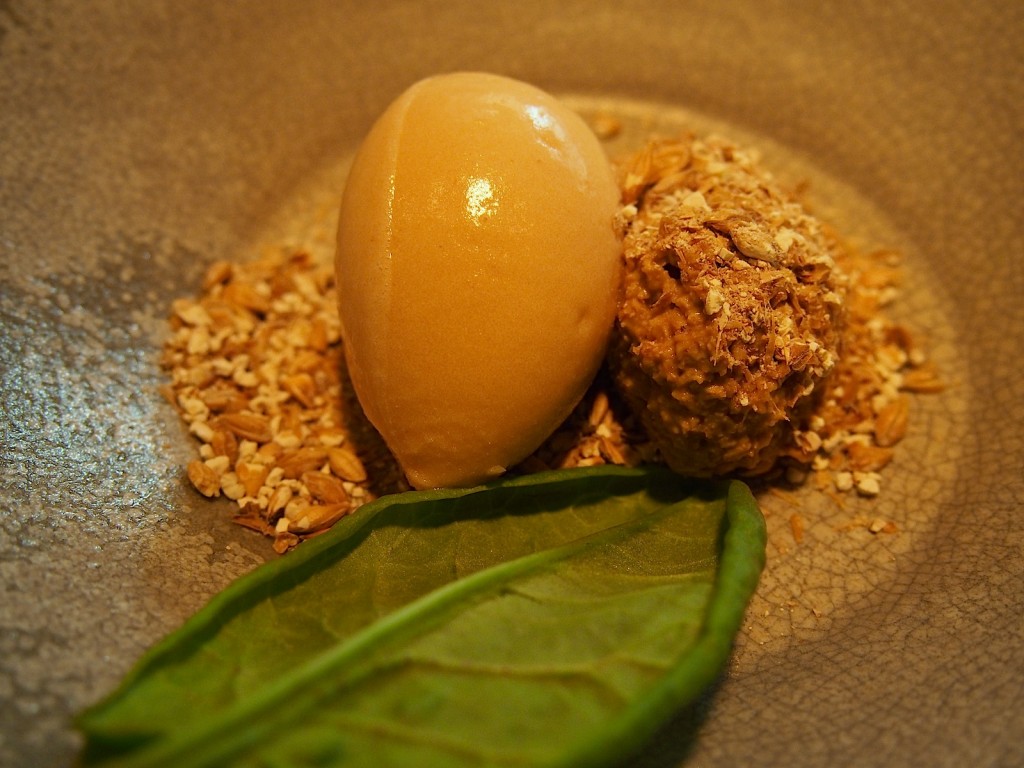 The other end of the scale to personal preferences are those things that once we taste them immediately make us want to retch. I started eating this dish with the Elstar apple ice and liked the "odd" – an ugly little 3 letter word – contrast with the grains. Then I tried the oat mass and, although I eat quite a lot of oats, the flavor was just too intense for me and I wanted to retch. I consider that quite an achievement by chef Micha Schäfer, because most chefs are so dependent upon being praised, admired, talked about and generally loved to death that they only put stuff they know almost everyone will like on the plate. That narrows down the range of gastronomic possibilities before even ingredients are bought never mind prep begins. Don't get me wrong, other people in my group loved this stuff. It's me that was the problem, and the good thing is that Micha Schäfer doesn't shy away from this kind of collision. As I wrote yesterday, N&S is a gastronomic collision chamber!
With the considerable help of his friends the team, the new Billy Wagner has made N&S this. Everything from the David-Lynch-dim lighting to his own wine selections fits into this dangerous, rag-bag whole without anything ever drifting off in the direction of familiar well-rounded harmonies. I dislike them as much as I like well-rounded answers to difficult questions. That makes this is the Berlin restaurant for me.
For more details go to: