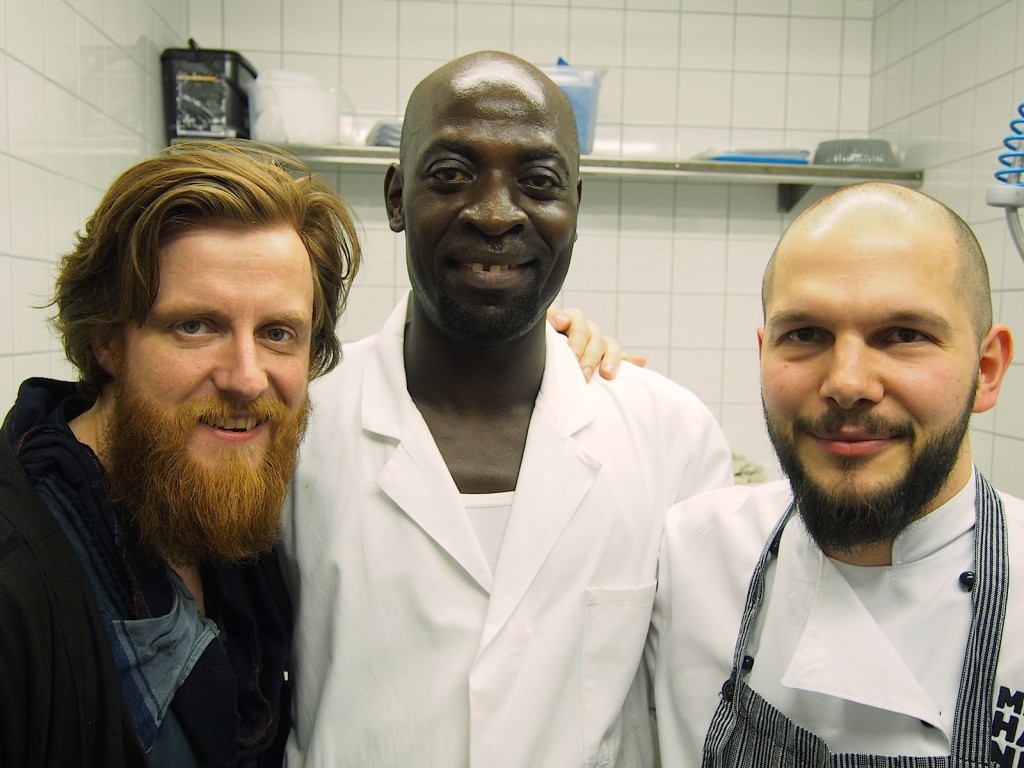 I don't normally do restaurant reviews, but occasionally my visits to restaurants were so exciting that I ended up writing some kind of "review". This is such a case thanks to restaurateur Billy Wagner (left), dishwasher Samuel Teye-Osom (centre), chef Micha Schäfer (right) and the rest of the Nobelhart & Schmutzig team (sadly invisible in this "group" photo).
Before I pressed the bell of Nobelhart & Schmutzig's (N&S) front door in an unlikely off-centre location in Berlin-Kreuzberg I already knew a great deal about the personality behind this new restaurant that dares to declare itself to be oh so noble, hard and dirty. I first met Billy Wagner when he became the sommelier of Weinbar Rutz in Berlin-Mitte a few years back. That was "late", since many other people in the wine and gastro scenes knew him from his previous job in Düsseldorf. At first I didn't know what to think of this larger than life Natural Born Waiter, then we slowly became sort-of-friends, although contact was always erratic, and my observation that I'm old enough to be his father (me vintage 1960, he vintage 1981) repeatedly annoyed him. More importantly, many waves of mostly positive comment crashed over his new restaurant even before it opened, then a rogue wave of immense proportions hit immediately after it opened. I haven't read what people wrote on the social media, blogs and in newspapers, although some of it was reported to me by friends. As the door opened I tried to forget all this stuff before going, and what I could remember certainly didn't prepare me for the experience.
I stumbled into the dingy space, and immediately felt dazed and confused in this small-town bar on steroids in the wrong location, turned around and saw I was actually in an over-sized Japanese restaurant (all the best places in Japan are small), then sat down at the enormous three-sided bar and felt sure I was actually sitting in the lovechild of Noma (Copenhagen's most famous joint) and New York's Momofuku Ssäm (David Chang's luxurious street food emporium). It is all of this, but also defies any simple description. Then it was clear that the long gestation process before the lovechild's birth wasn't due to any problems, but had been necessary for all of these facets to align in this precise pattern. Diamonds and movies both have to be cut, and N&S had to be cut too.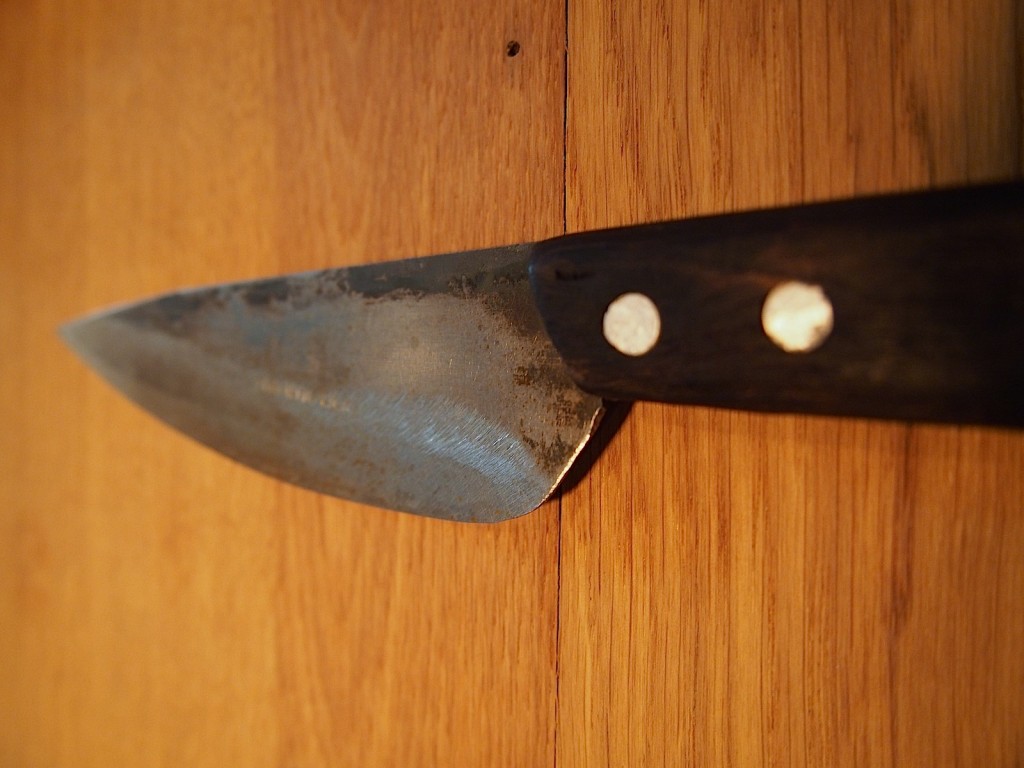 Not that every aspect of the evening was "perfect" in the conventional sense of that nasty little 7 letter word. The two surprising, but playful amuse bouche – ramps roots with mayonnaise, then goats milk cheese nuggets coated with elderflower – along with the delicious white bread and butter (from Stettin in Poland) count as dishes in the 10 course Mahlzeit, or meal, that is the only solid nourishment on offer. I'm all in favor of breaking down the hierarchy of dishes, so it is seriously inconsistent of me to now "complain" about these details. And let me say right away that whatever other criticisms I have – the wine list is too complex for me to read, but maybe I'm just way too linear? – the 80 Euros which the N&S Mahlzeit costs is a wound I will inflict on my credit card as often as I can.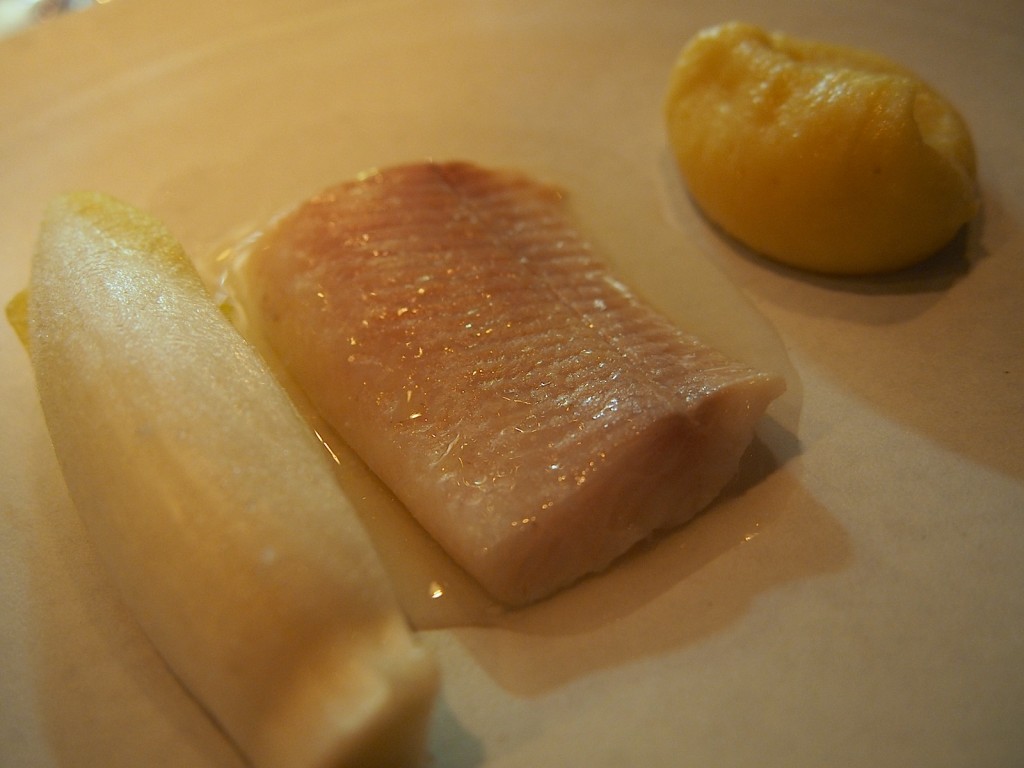 The super-delicately flavored trout from Müritz in the state Mecklenburg served with potato purée and almost raw chicory (pictured above) announced that regional products are not a fad here, much less a politically correct reflex, but are at the very heart of what N&S aspires to be. I don't think it's going too far to say that this restaurant is trying to reinvent the regional identity of this city, and with dishes like this Micha Schäfer has already got a long way along down that path. Yes, this dish doesn't look like that much if you're used to all the clever fancy stuff that passed for gastronomic creativity before the Age of Noma, but I think even my so-la-la photo does communicate something of the Geist or spirit (it is, of course, a Zeitgeist) of N&S.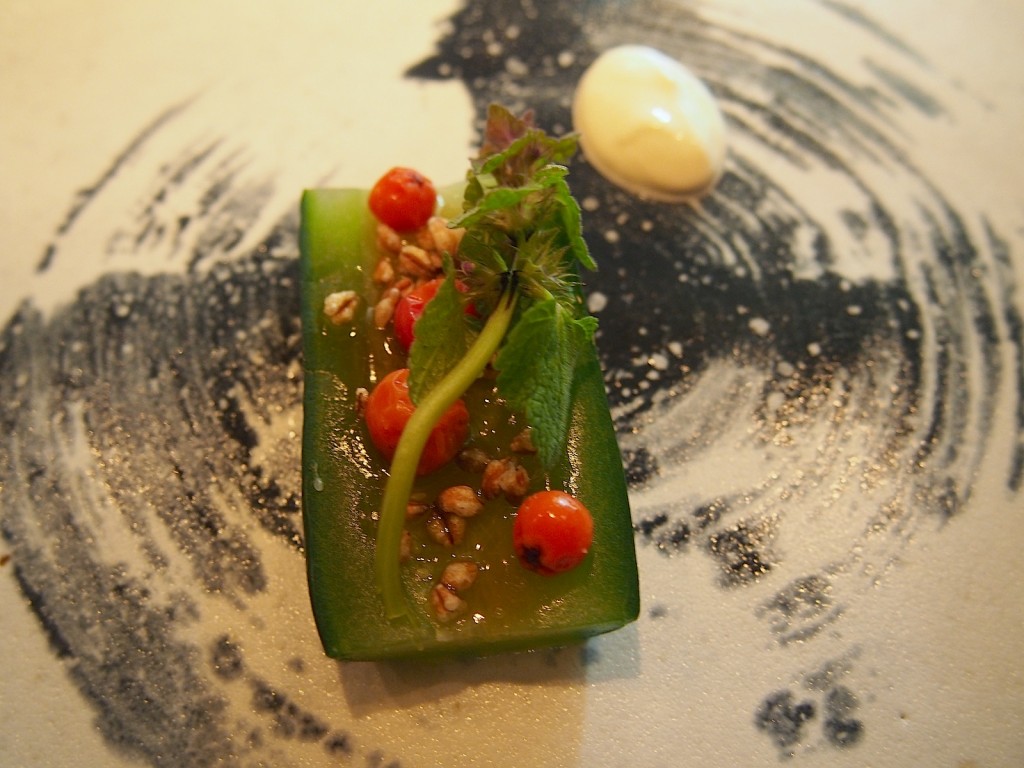 "Too many vegetables!" was one comment I heard, but realizing the untapped vegetable potential of the landscape around Berlin (mostly flat with sandy soils, many meandering rivers and lakes – lush green in summer, grey-brown in winter) is a noble cause, which has its hard and dirty sides. So, I was all in for the gherkin with emmer wheat and rowan berries. The combination of textures was as exciting as those of flavor, and all of these ingredients have deep roots in this landscape. In some way, that I can't adequately describe this fact gave the dish an inner logic behind the interplay of textures and flavors. To some degree you could say that about all the dishes.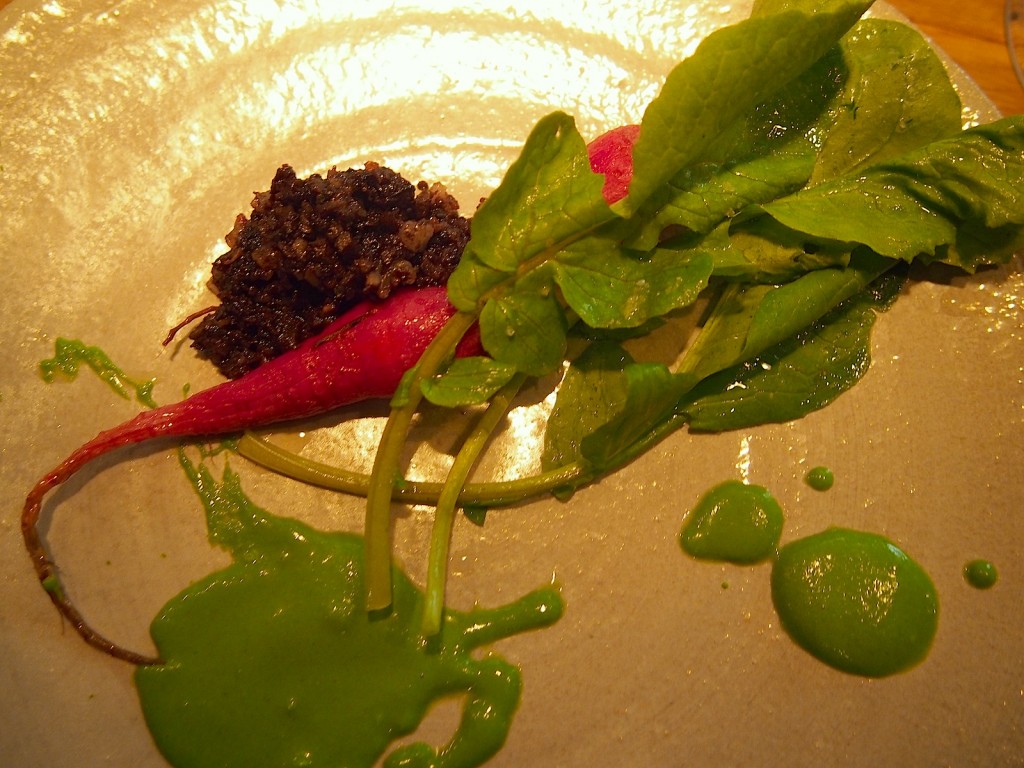 Radish is one of my favorite root vegetables and like parsley it feels at home in this region. Blood sausage is something fundamentally German with many subtle regional  variations and personal interpretations, as any genuinely national dish must have. It looks so right, elegant, but also so very down to earth, and that's exactly how it tastes. I can imagine that this dish is something of a shocker for some of the guests, just as Billy Wagner's wine combinations sometimes are. His drive to surprise and his delight in astonishing is one of his best traits, and N&S is a collision chamber where all of this takes place within its own space-time. And, I say that although I wasn't "pleased" – another nasty little 7 letter word – by every beverage and food combination he presented me during the evening. I was always surprised and often astonished.
Now, I've reached the halfway point and I'm wondering if this is the right way to tell this very fascinating story. Have I managed to fascinate you, that is to communicate something of the knot of impressions and feelings I had during my hours in N&S? Part 2 – hopefully – tomorrow will therefore not only be a description of the second half of the meal, but a second attempt to nail this story which keeps running away from my hammer and nails. Watch this space!