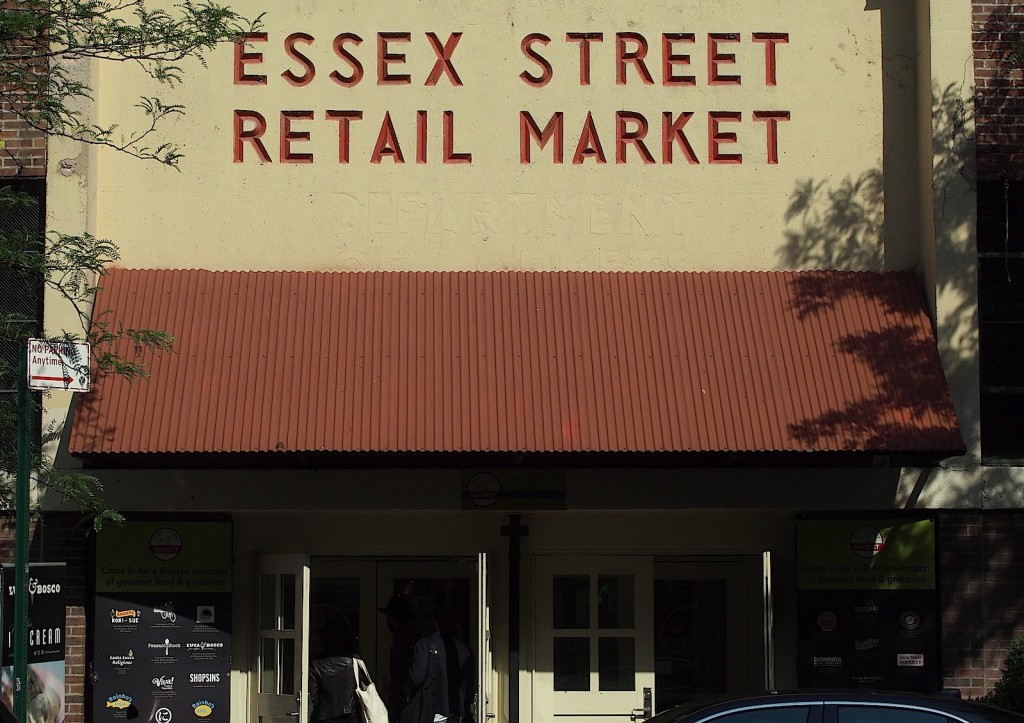 Essex Street Market at 120 Essex Street in the Lower East Side (LES) is celebrating its 75th birthday, having opened back in 1940 when the LES was anything but cool. I bumped into it back in May 2012 shortly before my first lengthy stay in the city. Because the first place I lived in New York Wine City (NYWC), the "Hotel of Hope" on East 7th Street in the East Village, was just a few blocks north of Essex Street Market it became a regular shopping destination. Although my current abode in NYWC is 9 blocks yet further north and 3 blocks further west I still head back to Essex Market at regular intervals, because there are some great deals there, and also because I love the place.
Although plenty of gentrification has happened in the LES in recent years, and this has undeniably had some effect on Essex Market, the great thing about the place is that the mix of customers in terms of income groups, ethnicities (I belong to one of many minorities there), and background is great. A lot of Spanish is spoken inside and out on the street. This is definitely not a hipster enclave where only politically correct, biodynamic products are sold to people who are only there, because it is one of the places you're supposed to shop for them. This is still the real world with all its contradictions and some all too human failings, and this means there's no pressure of any kind to do the right things or disqualify yourself from membership of the tribe of the cool.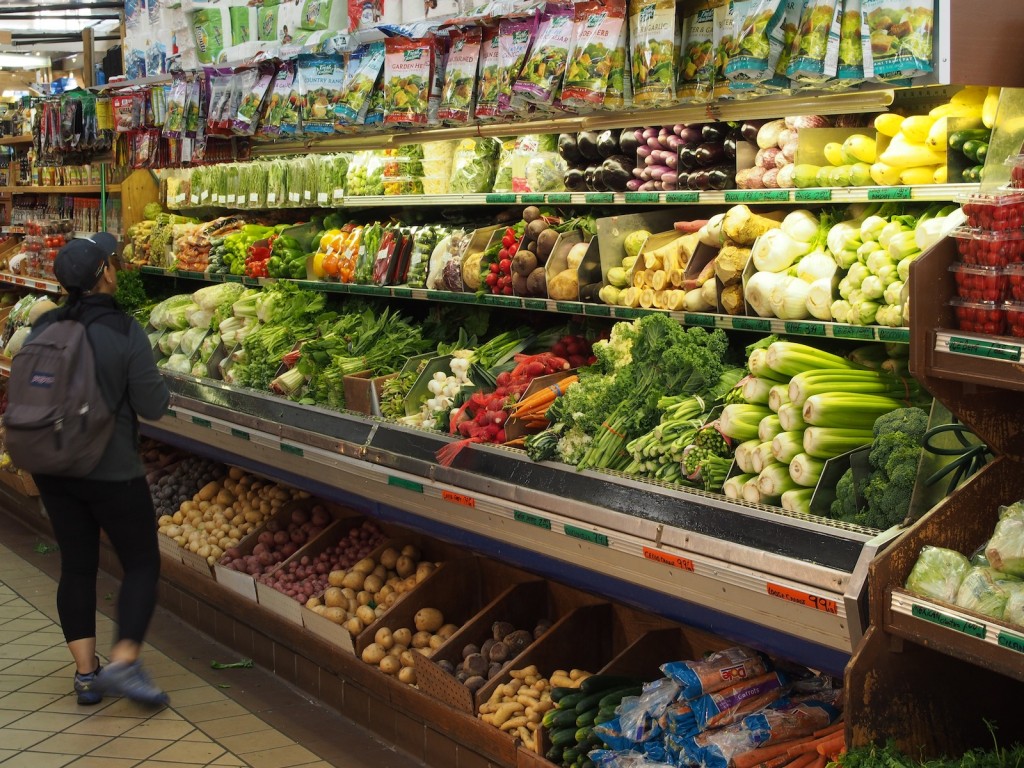 Yesterday, I purchased some vegetables at the stand pictured above. After three years of shopping here I just had to look up the name (Essex Farm Fruits & Vegetables)! I also had to look up the name of the fishmongers' stand where I bought a piece of salmon (New Star Fish). In contrast, I learnt the name of the bakers Pain D'Avignon on my first visit, and by the second visit I realized that you have to get there early enough in the day if you want to be sure they aren't sold out of the loaf you want. Yesterday, it was the whole wheat sourdough and I got one!
Cheese is one of the highlights of Essex Market, because there are two excellent purveyors with contrasting ranges. At Saxelby you find only cheeses from the Northeast and even those of them that you can easily pick up elsewhere like the Cabot Cheddar tastes much better from Saxelby than places like Whole Foods. My guess is that Saxelby get first pick in the Cabot aging cellar in the same way that Neal's Yard of London do of the superb Montgomery Cheddar. This stand in Essex Market is where my journey of cheese discovery in this part of the US began and continues. If only there was a stand that sells the wines of the Northeast with the same commitment to quality and individuality as Saxelby has for cheese!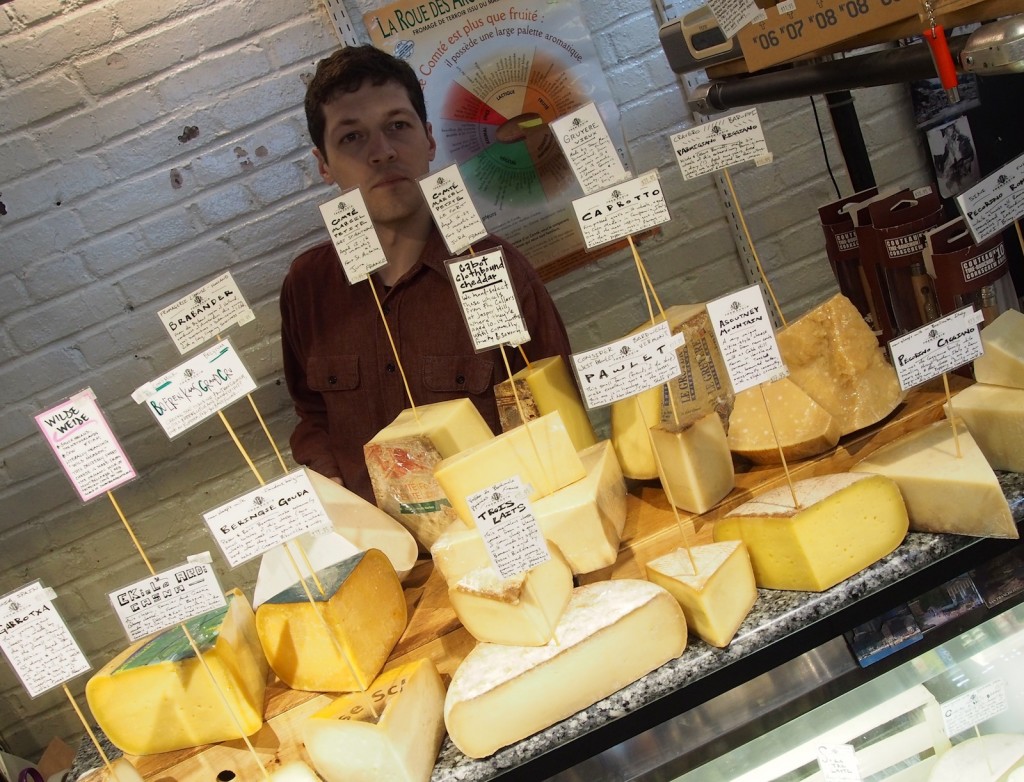 Pictured above is Andrew Clark of Formaggio Kitchen with his superb range of imported French, Italian and British cheeses. This tiny store at the rear of the building, just a couple of doors down from the even smaller Pain D'Avignon booth, also has a terrific selection of charcuterie, pasta, olive oils, and, and, and. I guess that it's fair to say this is the "fancy" end of Essex Market, but every time I compared prices Formaggio beat the grocery stores closer to my NYWC home just off Union Square, sometimes by a wide margin. Yesterday, I bought some cheese, oatcakes and date and walnut cake from Andrew as emergency supplies for my trip to Arizona that begins tomorrow. I will, of course, be reporting in full. Wish me luck!