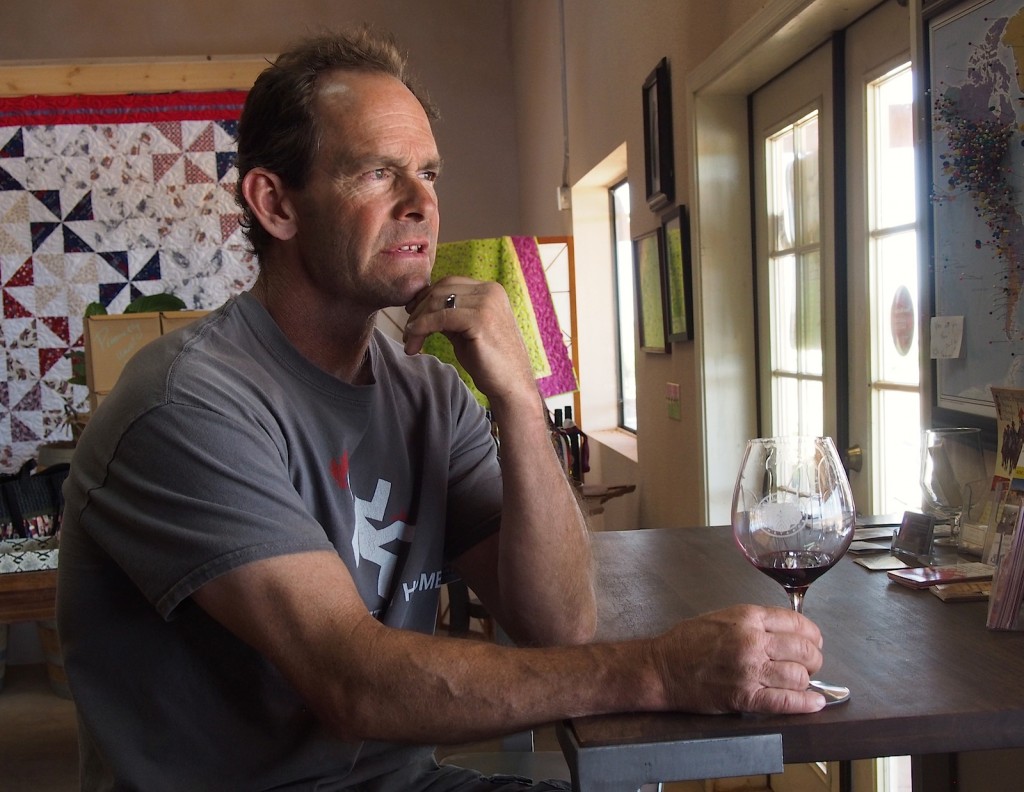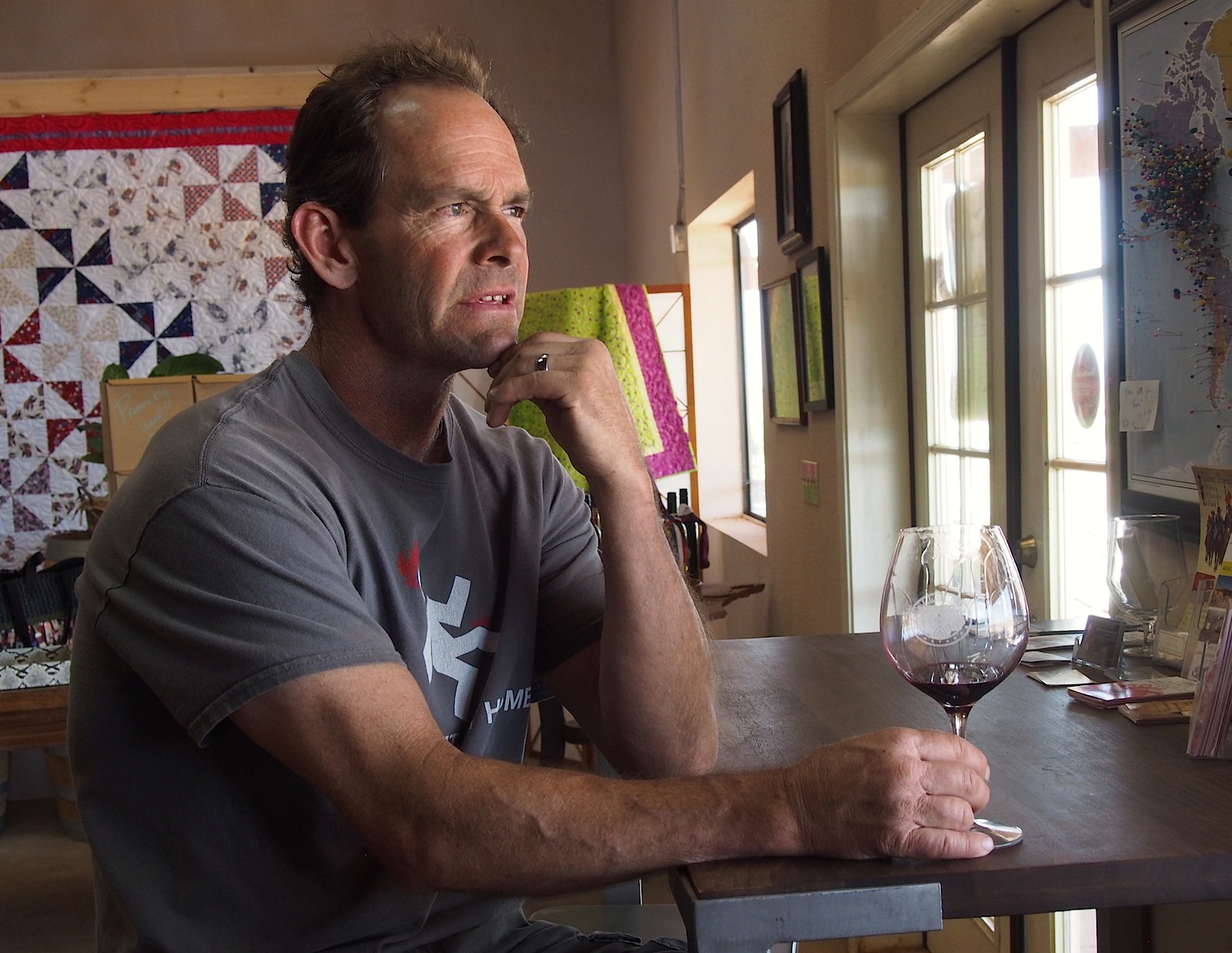 Kent Callaghan isn't claiming to be the founder of the Arizona wine industry, but it strikes me that he's the person with the longest experience of wine growing in the state, having founded his 25 acre vineyard between Sonoita and Elgin in 1990 when there was almost no Arizona wine industry. That sounds romantic, but as you can see from the picture of him above the truth is much less romantic. One of the things regular wine drinkers understand least well about growing wine grapes is that it is very hard work (they usually only think  about the pruning of the vines and the harvest, although between those two lies the hardest work of the grape grower's year) and how much the grape grower is at the mercy of the weather.
"2010 and 2011 were difficult years," Callaghan told me bluntly, "in both years there were  frosts on May 1st that killed the vines young shoots. In 2011 we got a tiny crop, but in 2010 there was no crop at all. So for two years we had almost no income. The there's the rain. In 2014 we had 14 inches of rain in just two months." Rain is something all crops need at certain times, but this rain came at the wrong time when the grapes were all more or less ripe and it was quite warm. If Callaghan hadn't run to pick the grapes before rot got all over them, then the result would have been another disaster; the third in five years! Bizarrely, the biggest problems for growing grape vine in Arizona are not the heat and the dryness for which the state is famous, but the exact opposite. What other business on this planet faces odds like these?
Of course, there's a reason that Callaghan has stuck with his vineyard, and that is the red wines he's able to make when frost, hail and rain didn't wipe out his crop. They are controversial wines for a slew of reasons, beginning with their scale and intensity. The aromas and flavors have contours as dramatic as those of the Mustang Mountains behind the vineyards (see the photo below), but they are rarely  conventionally fruity – no gobs of blackberry jam for the wine geeks who like to be spoon fed on goo! – instead the have intense lemon peel character, are smoky, earthy and often loaded with dry tannin. Often they need a year or two or three after bottling to loosen up, as do the dry white Lisa's (in 2013 a blend of Malvasia, Marsanne and Viognier) and  the dry Malvasia. With just over 13.5% alcohol these are comparatively light white wines for Southern Arizona, they are fresh without being tart, and they have a complex pithy-creamy texture that I found seriously fascinating. The only Callaghan wine that is just good clean fun is the Grenache Rosé, although the label suggests fun of a kind that not everybody will consider good and clean. I'm amazed that Kent and Lisa Callaghan got approval for it!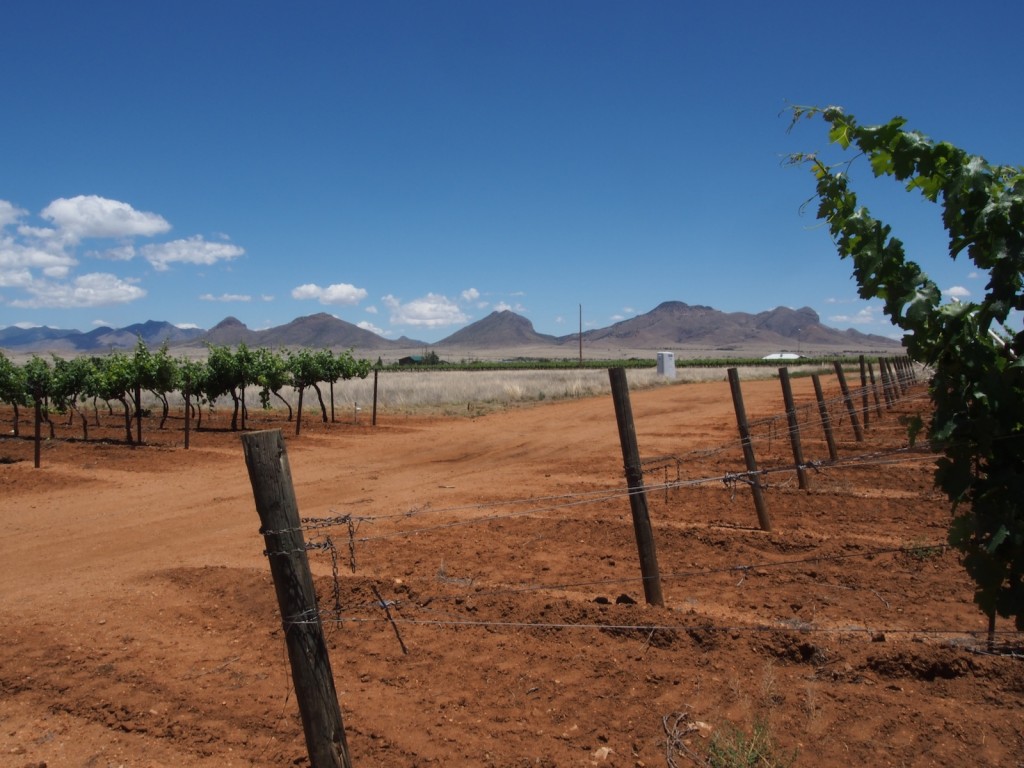 Sonoita-Elgin was my second stop in the South after an evening gathering with the winemakers of Wilcox, by far the largest grape growing region of Arizona. I drove down there with Chris Thurner, the chief vineyard manager for Caduceus Cellars and Merkin Vineyards. During that drive he told me that in Wilcox there was the additional problem for the vines there is wind. "Our Buhl Memorial Vineyard is on Wayward Winds Road, and that says everything!" he told me. When we arrived some rows of vines on the exposed edges of this and other Wilcox looked like the wind had partially dehydrated them. And that really wasn't a windy day for the region.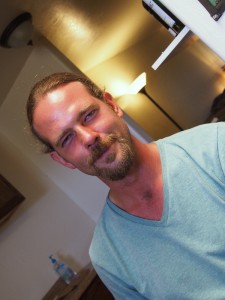 The gathering of Wilcox winemakers took place at the house of Jesse Noble who has been  managing the Buhl Memorial Vineyard for Singer-Winemaker Maynard James Keenan since September last year. Since then a lot of hard work, and at least as much hard thinking before it, have licked the vineyard into very good shape. If hail or apocalyptic rain don't negate all of that I feel pretty sure the grapes from this site are going to give some really neat wines. There's even some rows of Riesling that look good, although Mourvèdre, Sangiovese Gross and Syrah (amongst the reds), and Malvasia (amongst the whites) look happiest at present to my eye.
Each of the winemakers who participated in the tasting, Jason Domanico & Gary Kurtz of Passion Cellars, Rob Hammelmann of Sand Reckoner, Mark & Rhona Jorve of Zarpara Vineyard, plus Barbara & Dan Pierce of Bodegas Pierce and Saeculum, brought a number of new wines with them and the bond between them enabled us to have a very open discussion during the tasting. I think it's important to point out that all of these wines were at the least well made with a good basic harmony, and the discussion was not about weaknesses much less faults. Instead, all the geeky talk was all about how to optimize the positive features that all 12 wines had. The wines that Passion Cellars and Zarpara showed were the first that they had made themselves, so getting this far straight up was a serious achievement. I suggest that this entire group are Unsung Winemaker Heroes.
The stand out wines were the 2014 Picpoul from Sand Reckoner, a dry white with a lot of power and character that tasted amazingly crisp at the finish for 13.7% alcohol, and the 2012 One Stone red from Saeculum, the first vintage of this delicately spicy and silky red made from 94% Syrah and 6% Viognier. Afterwards Jesse opened a number of bottles from Caduceus Cellars made from grapes grown in the Buhl Memorial Vineyard and the 2012 Kitsuné, a red from the Sangiovese Grosse grape, wowed me again with its simultaneously dusty, dark and vivid personality.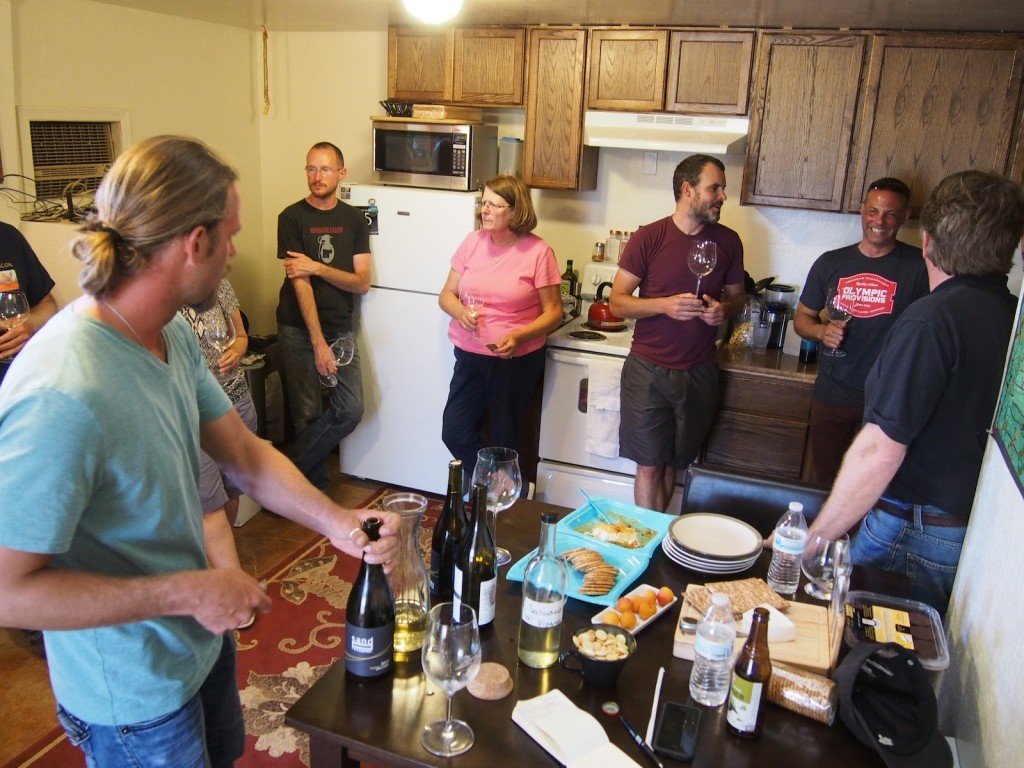 I have to admit remembering refilling my own glass several times during dinner and undoubtedly more fun was had than could rightly be considered entirely good or clean. The proof of this – my hangover and all the empty bottles –  have long since vanished, although some people may remember me repeating the conversation Chris Thurner and I had in his truck on the way down, and that might be used in evidence against me. Part of this was his attempt to persuade me to visit THE THING ? an attraction just of I 10 between Tuscon and Wilcox. "No thanks! I have to do THE WINE THING," I insisted, but it was no use. Thurner just pulled up in front of the entrance and reluctantly I conceded that a journalist should be professionally curious, "I suppose you have to try EVERY THING once." I have nothing to report here about what I saw here apart from the observation that having seen THE THING ? once I don't need to return. However, I know that I must return to the South of Arizona to meet its Unsung Winemaker Heroes.