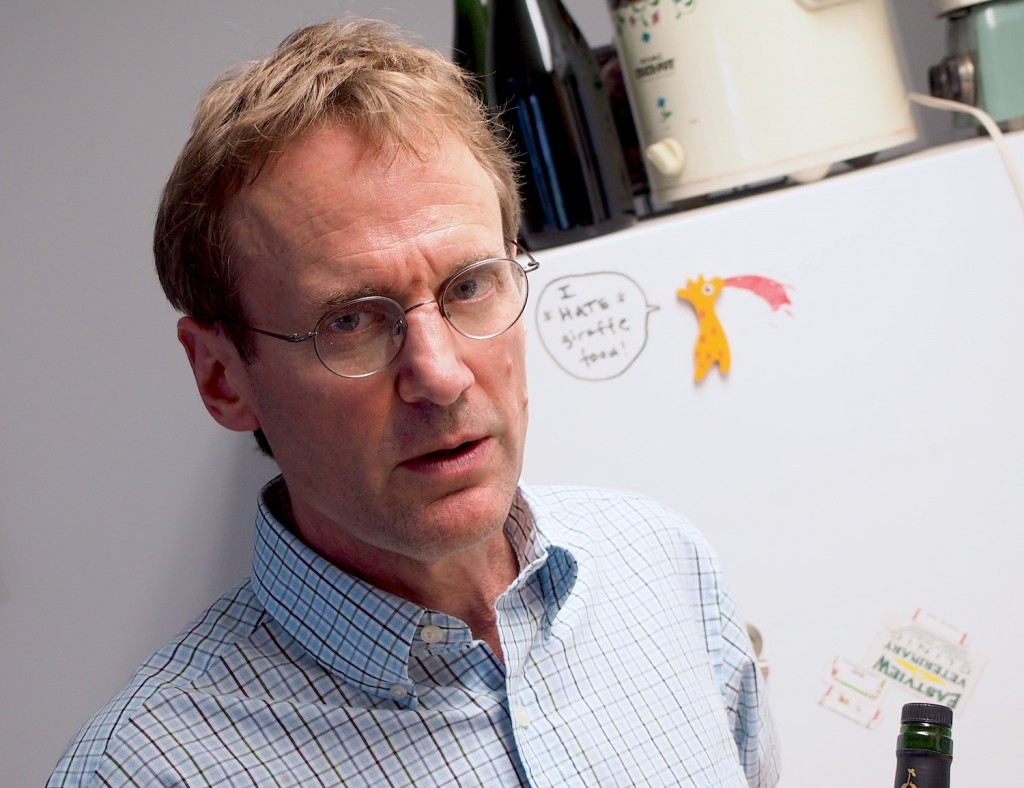 This is Peter Bell, the winemaker of Fox Run winery in the FLX as very few people see him, but I promise you this wasn't the only photographs of him I took this afternoon in his lab-office which looked this way. And just after I arrived there at 2pm he told me that, "this morning somebody who will remain nameless referred to both of us as loose cannons." That's almost exactly the opposite of his image as the friendly senior professor of FLX winemaking through who's "school" many then aspiring and now more or less  established winemaker have passed.  Every region needs wineries of this kind where standards are high across the board and there's an openness about all the work that was necessary to reach this standard, because they both radiate a culture of excellence and propagate the knowledge of how this can be done. In Peter Bell's case he did that without trying to indoctrinate his"pupils" about the "right" methods, although he he never left them in any doubt about what he thinks is right. The man is an open book and he has a heart of gold…
Then there's the "bad" Peter Bell pictured above who doesn't suffer fools gladly and is totally focused when the winemaking chips are down. I would have got all this much earlier, if my first experiences of the FLX wines just over a decade ago hadn't included so many green and aggressively tannic red wines (because it's ancient history I won't bother to say who produced them). Certainly it's easier to make good white wines in this climate (today it was warm and humid, felt like it would rain any time all afternoon, and it did rain a lot during the last weeks) than it is to make good reds, but I took a view that was too narrow.
The Cabernet Francs and Lembergers from Fox Run were some of the wines that convinced me that in future I would have to take the FLX reds much more seriously. Not "getting" the reds properly meant I missed the field of winemaking endeavor where Peter Bell is perhaps the greatest talent in the entire region. Every single red wine he poured for me this afternoon was impressive, and he knew exactly what wasn't perfect about those that missed the bullseye. In particular, I have to recommend the 2012 Cabernet Franc & Lemberger, a perfumed red with ripeness and a dry elegance; great value for around $20. As he so aptly said about it, "the different tannins of these two grapes agree with each other nicely." The barrel samples I tasted suggest that 2014 is another excellent vintage for the Fox Run red wines.
Riesling is Peter's other love and the Fox Run 2013 and '14 Rieslings are all spot on in the house style, which means medium-bodied with bright aromatics and a lot of freshness, but nothing funky at all. There are about 24,000 bottles each of the Fox Run  2014 Dry Riesling and 2014 Semi-Dry Riesling so these are not unimportant wines for the region, and I promise you that part of me always mentally calculates what the quality x quantity of a wine is in estimating it. 2,400 bottles of slightly better quality wine is not nearly as significant out there in the RWDW (real wine drinking world) as ten times that quantity! However, in the limited production category Peter also has an amazingly vibrant sweet 2014 Riesling in what I call "Spätlese style (after the German category of the same name), called Hanging Delta.  This grew on what geologists call a hanging delta, which means a river delta that was left high and dry by sinking waters (in this case the sinking waters of Seneca Lake). Even the terroir septic Peter Bell had to admit that the special soil of this site (sandy and gravelly) must be a factor contributing to the racy excitement and effusive (fresh pineapple!) aromatics of the wine.
Sorry wine geeks of the western world, but I have to agree with his terroir skepticism , because as he said, "You can take one lot of grape juice, split it between two tanks and ferment each with a different yeast and the wines will turn out very different. And that difference will be permanent!" That's a painful winemaking truth many producers who are considered seriously "cool" by the wine scene don't want to publicly admit to, but as I pointed out in Edition Two truth is the whole point of this blog.