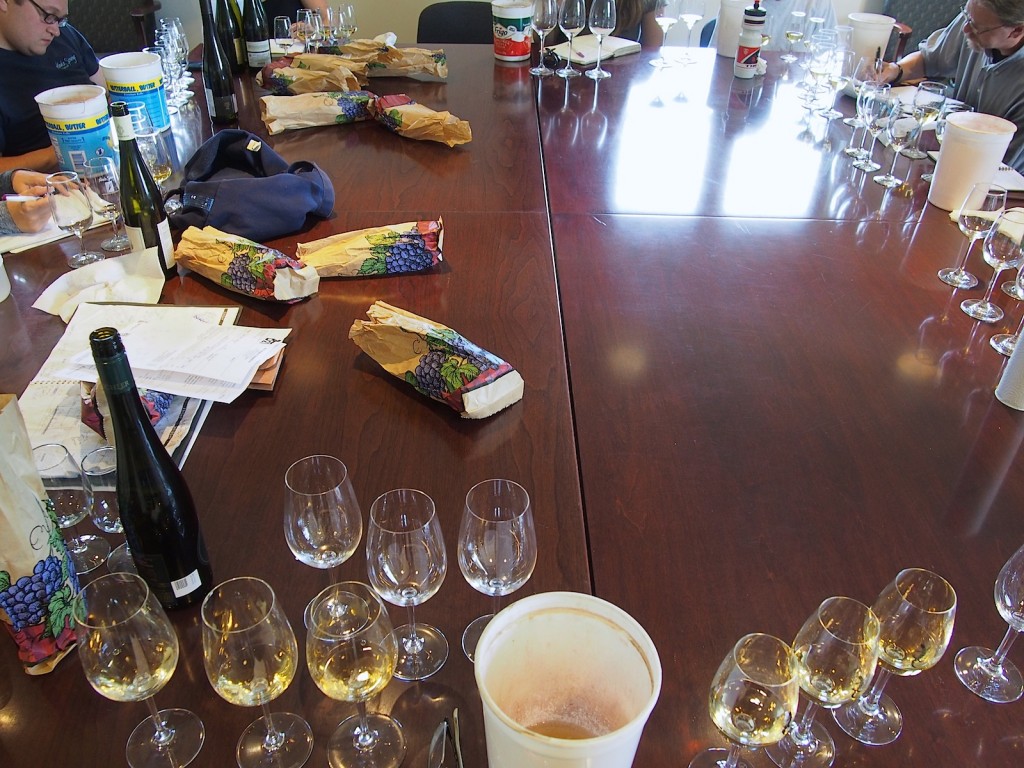 The idea of tasting Alsace and Austrian Rieslings next to each other blind has a compelling logic – both are full-bodied dry wines from rather warm and dry climates – but for some obscure reason, or no reason at all, it's years since I did that. So, I was delighted when the FLX winemakers' tasting group organized by Peter Bell of Fox Run winery (more on him soon!) invited me to join their blind tasting of those two categories. This also had the effect of announcing to the FLX wine industry (some of whom never read this blog) that I'm here for a while, and allowing me to get an idea of how this community sees Riesling and how its members communicates internally about wine in general. I promise you that they aren't as chaotic as the tasting table looked towards the end, when I took the above picture!
I wasn't surprised that the seven dry Austrian Rieslings in the tasting were generally well liked by the group, because they generally had a freshness and clarity that fit the FLX white wine context, but also a ripeness grape growers here are often challenged to achieve, sometimes can't achieve and long for. The highest rated wine of the tasting was the rich and succulent, 2013 Hochrain "Smaragd" from Franz Hirtzberger in Spitz, Wachau which brilliantly managed to carry a touch of noble rot due to its lively acidity. However, just a whisker behind it for the group (I expressed opinions, but did not give numerical ratings) was the 2010 Gobelsburger Riesling from Schloss Gobelsburg that costs just $19, or less than a third of the Hirtzberger wine's price, and we could clearly see why this medium-bodied wine with a great balance of freshness and ripeness  (and an attractive grapefruit note) is so popular. I'd agree that it is a great value for this price.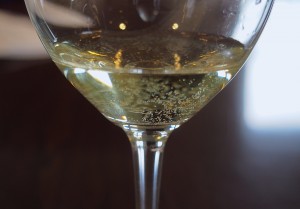 Three things surprised the group on the winemaking front, and their surprise says some important things about the regional perspective. Firstly, they found it hard to get their heads around the fact that, in warm years when high alcoholic content is a danger, many Austrian winemakers bring in part of the crop early enough that they get some wines with "only" about 12.5% alcohol. The effects of climate change in the FLX are clear to everyone who sat at the table today, but they were faced with the serious danger of picking grapes for dry Riesling that were so ripe the wines could have ended up with way too much alcohol. Secondly, many in the group were surprised by how long (3-6 months) the Austrian winemaker leave their dry white wines on the full lees (deposit of dead yeast) after fermentation, because this is not traditional in the FLX. It is, however, being adopted by more and more winemakers here with generally very positive effect for the harmony of the drier wines.  Lastly, there's what you can see in the glass pictured above, the natural carbon dioxide retained by all of these wines that accentuated their freshness and liveliness. Screw caps, which effectively seal the carbon dioxide in the bottle, meant that even the 4+ year old Gobelsburger had those tiny bubbles.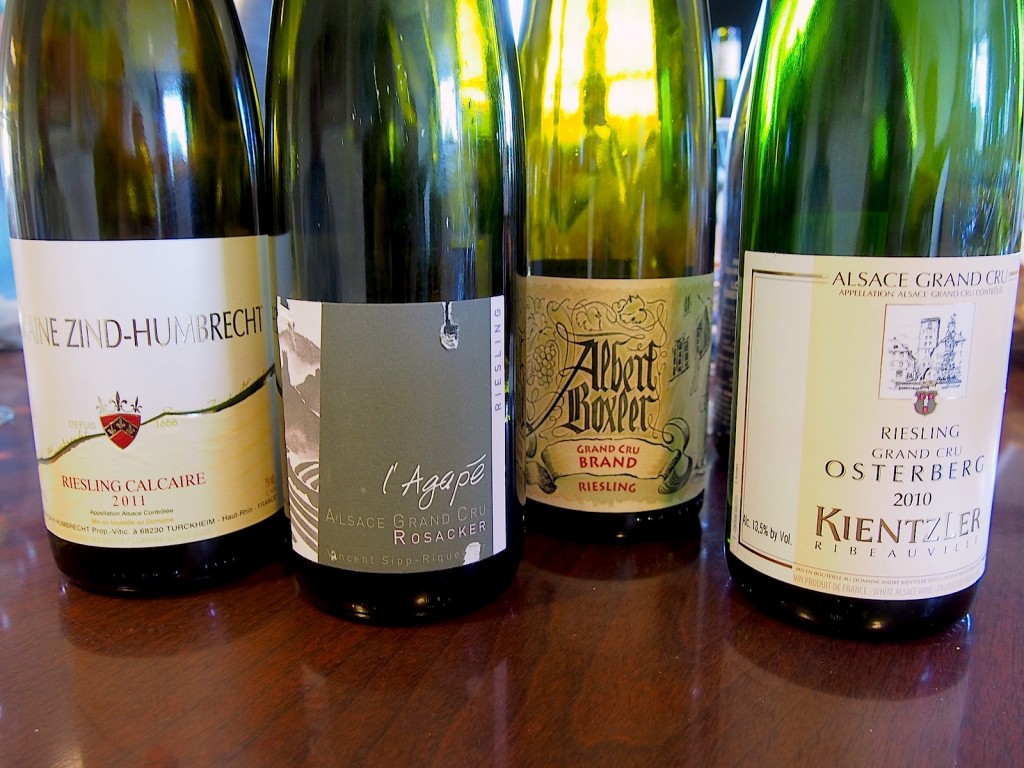 From the early 1990s Alsace went through a long phase when many winemakers had lost touch with the consumer's demand to know where they are in terms of sweetness, and for some years too many wines that looked like they were dry from the label were too just too sweet for most savory food. Thankfully, during the last five years there has been a major course correction back in the direction of the region's tradition for full-bodied properly dry Riesling. This lead to the amount of noble rot and over-ripeness in those wines being dialed back and my excitement was rekindled as a result. It was fascinating to follow the group discovering these things for themselves and pictured above are the four wines they more or less unanimously went for.
Of these the 2010 Grand Cru Osterberg Riesling from Kientzler was the most controversial, since it was high in acidity and quite austere in style (normal for this site and producer), but the freshness for this age amazed everyone at the table. The more exotic aromas (mango and ginger) and richer texture of the 2011 "Calaire" Zind-Humbrecht garnered a lot of praise, even if the wine struck some as slightly corky. For me, the 2011 Grand Cru Rosacker from l'Agapé was the most mineral wine of the entire tasting and had a delicate peachy aroma too; a charming and characterful wine. Yes, modern Alsace Riesling can also do charm! It was rather amazing how the 2012 Grand Cru Brand from Albert Boxler carried its 14% alcohol, the apple and lemon notes being anything but opulent, the finish clean and bright in spite of the power.
For some obscure reason, or no reason at all, I failed to get a picture of the last wine, although I brought the bottle of the 1997 "Cuvée Frédéric Emile from Trimbach with me from NYWC (New York Wine City). This polarized the tasters, some feeling it was too developed, but to be fair almost none of them were aware of the wine's age when they tasted it. There was quite some astonishment when it turned out to be 17+ years old. To my mind it had an attractively toasty mature character, was powerful and succulent, yet dry and elegant. I don't think there are any dry or medium-dry FLX Rieslings of comparable age that matured this well, but I can imagine that some of the best wines made here in recent years might do so. That is if someone can resist drinking some of them for that long!
All of this leaves me wondering how different would have been the perspective of a group of NYWC somms on the same wines have been…