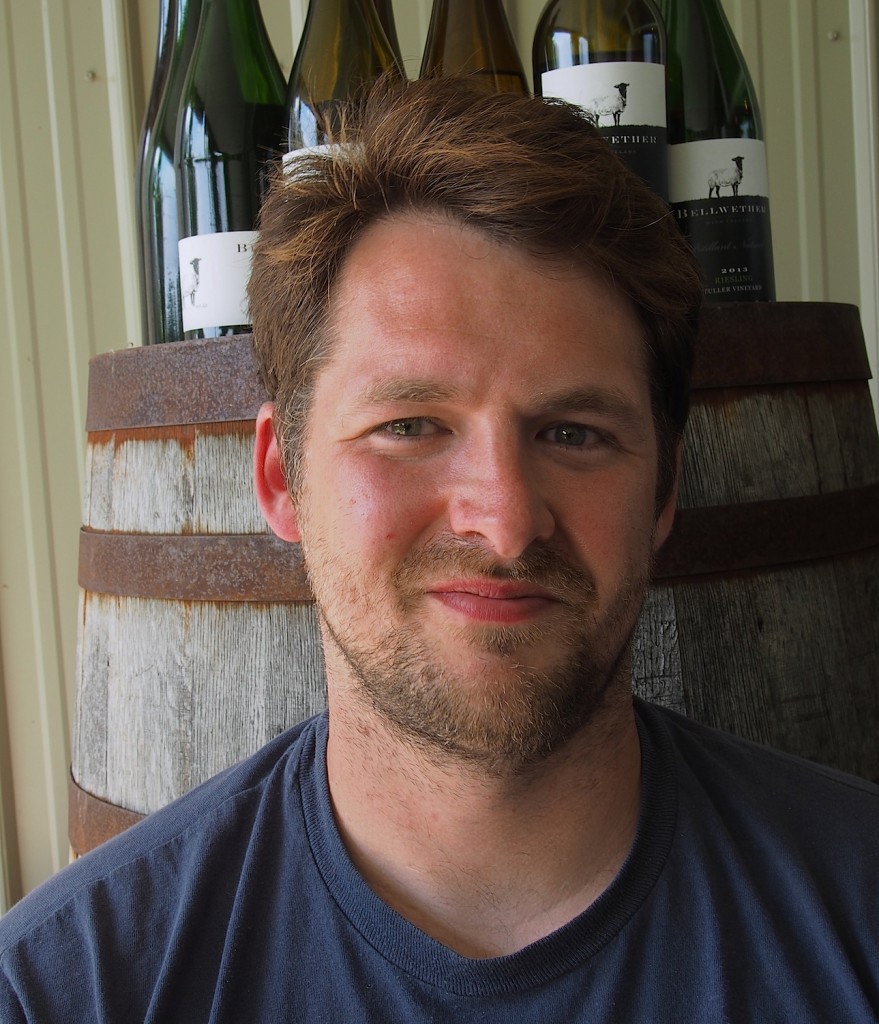 Although I visited both the wineries that are the subject of the Seventh Edition of my FLXtra yesterday, and both lie on Cayuga Lake to the north of Ithaca, that is not the reason that they're together in this blog posting. Rather, the contrast of approaches and wine styles says something important about the development of this region in the new wine century. No longer do the FLX need worry that stylistic diversity might confuse the consumer and dame sales, because both the quality and market acceptance (particularly in NYWC have recently increased above a crucial threshold. Now diversity is a positive thing that is opening doors for the FLX, influencing people and wining new friends for the region and its wines.
"We started back in the fall of 2011 with just one tank and a few bins," Kris Mathewson, the winemaker of Bellwether in Trumansburg, said to me. Back then he was just 30 years old and the assistant winemaker of Atwater on Seneca Lake. The 600 bottles of Pinot Noir he made that year was something of an experiment designed to answer the question in his and his wife's mind: should they go to work in the Oregon wine industry for some years, or commit to their home region right away. Kris is simultaneously excited and slightly dazed by how quickly production expanded to the roughly 25,000 bottles he made in the 2014 vintage. This would never have been possible without his determination from day one to make very different wines from the FLX norm, (although he doesn't dismiss the bright, fruit-driven, crisp style that is dominant in the region as is sometimes assumed). Making the wines in his father-in-law's hard cider company (founded in 1999) seems to have actively encouraged him to try a bunch of unconventional winemaking techniques. That every Bellwether wine isn't spot on is the modest price Kris has paid for a degree of experimentation and innovation that would have been unthinkable a decade earlier. No doubt other young winemakers will soon be following his example.
His 2012 A & D Vineyard Dry Riesling shows very well what I mean. It spent half a year on the full lees (yeast deposit) under carbon dioxide pressure from the fermentation, which is certainly not normal practice here, or in any other region where Riesling is produced. That enables it to still taste almost ridiculously fresh for its age. This kind of extreme lees contact enables Kris to harmonize the pronounced natural acidity of the region's Rieslings without the help of sweetness, and results in wines that are sleek, but with a complex mouthfeel impossible to achieve with conventional winemaking at just 11% alcoholic content and a properly dry balance. Although some of his best wines, like the vibrant and elegant 2013 Sawmill Creek Vineyard Dry Riesling, have been made in the fashionable egg-shaped vessels, Kris has no problem with using regular cellar kit. "We primarily use stainless steel, and I really like stainless steel," he told me.  The point is that he never allowed the fact that he often uses conventional winemaking vessels to turn him into a convention-bound winemaker.
I was expecting to taste some tank samples of his 2014 Rieslings yesterday, but he suggested I wait, "because I haven't prepped any of them for bottling yet." The most important thing that the leading pack of FLX Riesling producers have in common is that they're giving their wines a lot more time, and not hurrying them off the lees. However, Kris pushes this, like everything else, another mile. In spite of his considerable achievements with his first four vintages, I am sure that this story is really just beginning. Many more surprises and the best are surely still to come.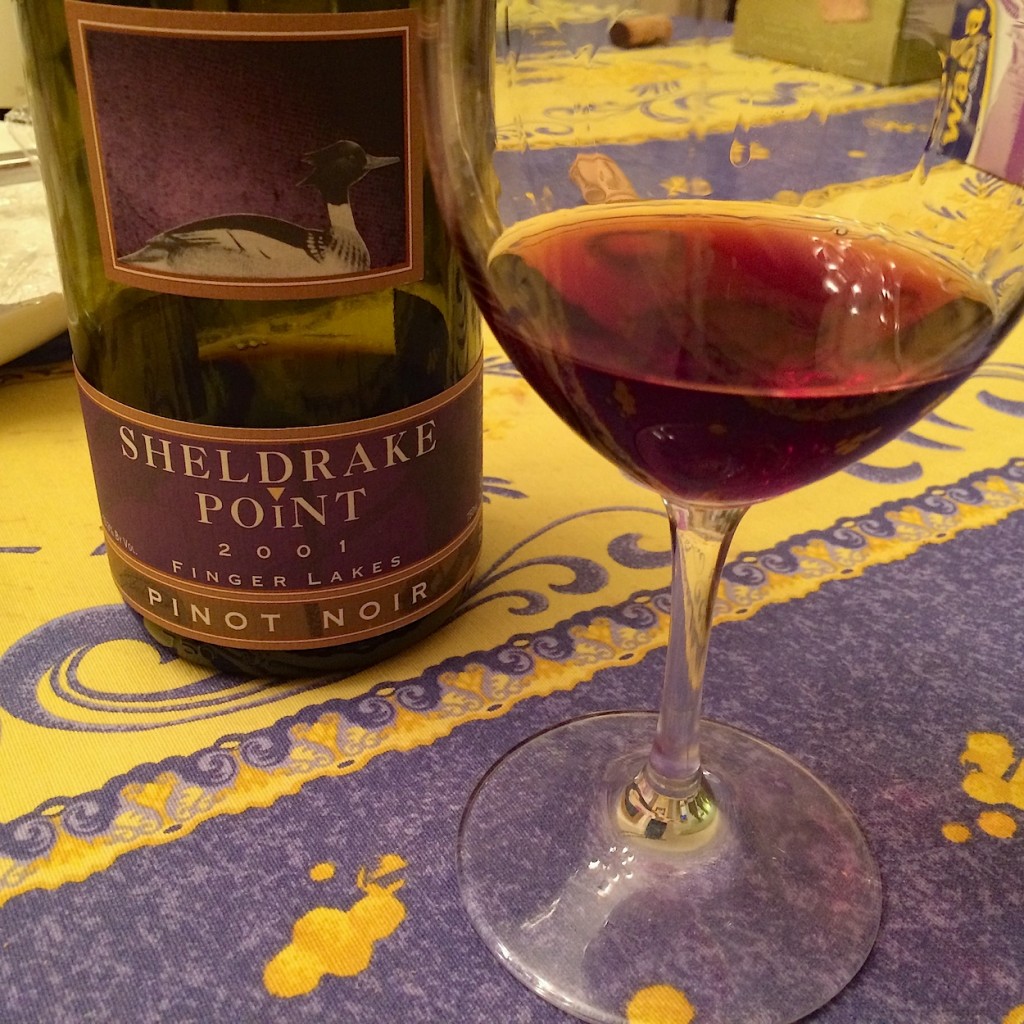 I first met Dave Breeden, the winemaker of Sheldrake Point estate winery, seven or eight years ago at one of the first Riesling Rendezvous events in Seattle (the next one takes place July 16th thru 18th, 2016 – watch this space for further information!) Sheldrake point was established back in 1997 and a few days ago one of the founders, Bob Madill, opened a bottle from the winery's early years. I was seriously amazed how well preserved and elegant the 2001 Pinot Noir pictured above was, and blind I would have guessed it to be from a cool corner of Burgundy in a regular vintage. I've had a few similarly impressive dry Rieslings from the early years of Sheldrake Point too, so, right from the beginning they were doing some things right. However, it's a long and stony path from making a few good wines to top quality across a range like this producer's, because if they're all your own grapes (as is the case in this instance) it means realizing something close to the full potential of a vineyard site. Dave Breeden never made a big noise about what he was doing, but his quiet perfectionism has often payed off during the last years, and sometimes in ways he really didn't expect.
Two of Sheldrake Point's best wines are it's biggest sellers, the Pinot Gris and Dry Rosè (100% Cabernet Franc). These are brilliant regular wines with great fruit, charm and a spot-on balance for this category. The 2014 Pinot Gris manages to effortlessly hide 13.9% alcohol and outdoes Oregon Pinot Gris at its own game (due to the greater freshness!) The 2014 Dry Rosé, of which almost 18,000 bottles were made, has a similar balance but weighs in at 12% alcohol. In spite of this it can handle quite spicy and substantial food without any trouble, and is one of the best wines in this rapidly growing category in the FLX. Even more stunning is the 2014 Dry Riesling with its effusive tangerine, passion fruit, yellow peach and lime aromas, wonderful succulence and a hint of gooseberry freshness in the long aftertaste. Daring to wait until November 12th to pick those grapes has resulted in the best Riesling Dave Breeden ever made and it will be great value at under $20 per bottle when released.
You'll have to wait a bit longer for the 2014 vintage of the wine pictured above, but assistant winemaker Julia Hoyle has crafted a serious wine from this grape that so frequently disappoints in the FLX. It will probably be bottled before the coming harvest and then age in the bottle for at least 6 months.
Namu Amida Butsu