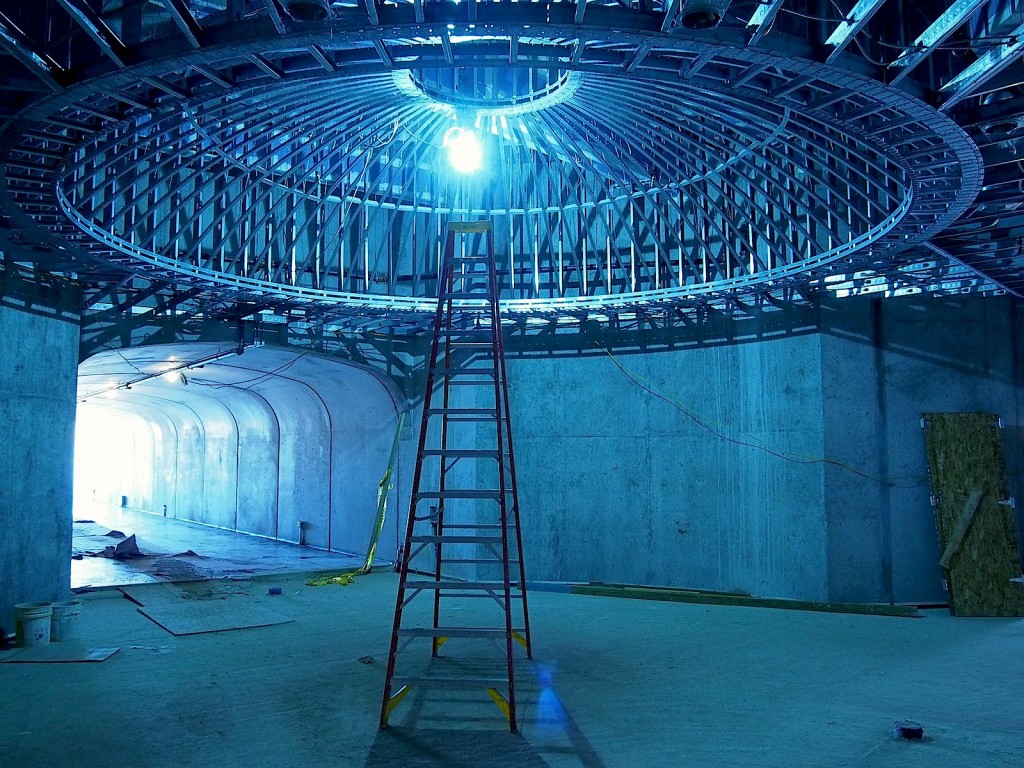 "What the fuck!" I almost blurted out as the tour of Mari Vineyards new winemaking facility on the Old Mission Peninsula (OMP) close to Traverse City in Northern Michigan approached it's conclusion. Had I just experienced a Close Encounter of the Third Kind? No! What you see above is the spectacular central space of the deepest level of the Mari Vineyards cellars, from which the three arms of the barrel cellar radiate. This is just one of the features that make this dramatic structure put every other winery I've seen east of the rockies in the shade. The closest thing I've seen to this anywhere on the North American continent is the complex of Mission Hill in the Okanagan Valley of British Columbia/Canada, a beautiful if slightly megalomaniac winery that made everything California has to offer look decidedly tentative in comparison.
In order to give you a better idea of what I'm talking about below is an exterior view of the construction site that gives a good general impression of the scale and style of the facades. And yes, although this winery will be producing a wide range of other wines including some Heavy Reds it will also be making many Rieslings. They, and a slew of other wines with a Germanic or cool climate personality, will be made by Sean O'Keefe (an ex-winermaker of Chateau Grand Traverse who remains a co-owner of that winery) and will appear under his Scriptorium brand. Don't forget, you first saw the Riesling Future of Northern Michigan on this blog today!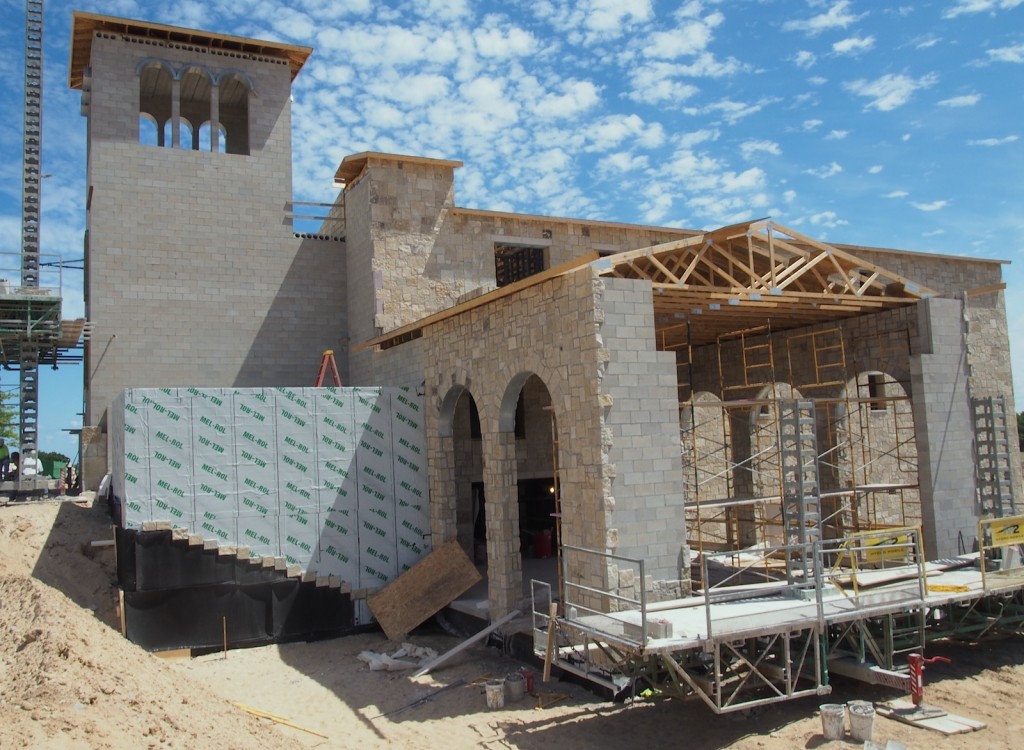 Of course, all of this is at least slightly crazy and the architecture edges in the Xanadu direction, but if founder Marty Lagina can fill this over-sized frame with a great picture, that is wines which live up to the expectations it awakens, then why not? Unfortunately I've so far only tasted a couple of the Mari Vineyards wines and none of the Scriptorium wines, so please be a little patient as a report on them will follow very soon. I only just arrived in Traverse City, MI a few days in advance of the @CityofRiesling festival that begins with the Night of One Hundred Rieslings on Sunday. And just as I thought that I was beginning to orientate myself here after four weeks in the Finger Lakes of Upstate New York this world of misfit wine toys has made my head spin.
Before this project even became the biggest heap of dirt I've seen in many years (during my previous visit to the region a year ago for the first @CityofRiesling) it struck me that Black Star Farms winery close to Downtown Traverse City was a pretty big operation for the OMP. Now what chief winemaker Lee Lutes and his assistant Vladimir Banov, pictured below, are doing looks distinctly cautious and positively modest in comparison. However, those words only apple to the scale and style of the operation. When it comes to the wine quality here nothing is modest. The three 2013 vintages Arcturos Rieslings from Black Star Farms are all seriously impressive wines not only in the OMP context, but also that of North America as a whole. Moderate in alcoholic content, but packed with fruit and herbal character (the licorice note typical of this region!), their acidity dancing on the palate rather than jabbing it with a spear or fading as quickly as a talentless Hollywood starlet. Even the 2013 Late Harvest Riesling – production of this wine sometimes pushes in the direction of 100,000 bottles per year – had terrific balance, the generous sweetness juicy and enticing, thanks to the wine's great freshness.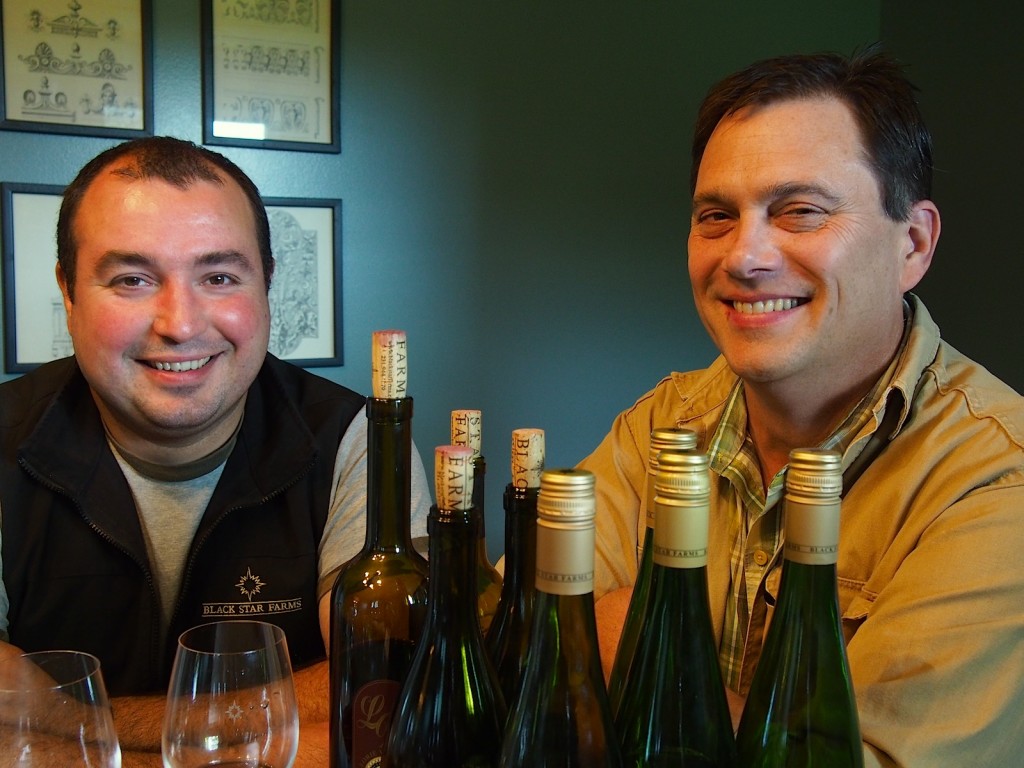 I was also seriously impressed by Lee and Vladimir's 2013 Pinot Gris and 2014 Sauvignon Blanc, both unusually elegant and subtle wines for grapes which are all too often used to make showy and sweetish wines with little real character, but fancy price tags. Then there were the red wines, which is not exactly a wine type that there big wide wine world associates with this northerly location at the America Wine Edge. I say those words not to be dramatic or melodramatic, but because during the last winter the vineyards of the OMP suffered some very serious frost damage and this year there will consequently be little crop. And that comes hot on the heels of the 2014 vintage, which was also way down due to the previous winter also being really harsh.
I almost instantly forgot that climatic disaster movie when we tasted the new red wines from Black Star Farms. I really liked the silky texture and delicate cherry aroma of the 2012 Pinot Noir, of which around 35,000 bottles were produced. The 2012 Cabernet Franc, which had a discrete roasted artichoke and herbal character and some well-judged dry tannins, struck me as being every bit as good. They reminded me of tastings during my previous visits to the region which had convinced me of the fact that the Cabernet Franc grape has excellent potential for both rosé and red wines here. In contrast, you and I could endlessly discuss if it makes sense in the long-term in a region as cool as this to make powerful red wines like the 2011 Leonie Vineyard, a blend of 71% Merlot and 29% Cabernet Franc from  a great site almost in the suburbs of Traverse City. Does the world need another high-end Merlot? No, but this wine has a lot of power and quite some richness, while remaining well balanced and retaining some subtlety. So, a little reluctantly, I concede that even Merlot may have a place here alongside Riesling at some vineyard locations on the ribbon of sand the size of Manhattan that is the OMP.